2022 Subaru WRX Pros Vs Cons. Should You Buy?
Subaru might be best known for their crossovers and SUVs, but their WRX is a sedan that makes a real statement whenever you see one zipping by you on the highway. Fully redesigned for the 2022 model year, the new Subaru WRX offers buyers swift acceleration, an available 11.6-inch infotainment touchscreen display that is easy on the eyes, and Subaru's standard all-wheel drive system. But with its unimpressive fuel economy and lack of driver aids on the manual transmission models, the WRX might not be everyone's cup of tea.
What's New for 2022?
Just about everything is new for 2022 thanks to this year's redesign. The new WRX comes with a more powerful engine, offers an option for an adaptive suspension, and an 11.6-inch touchscreen display that comes standard on the Limited and GT trim levels.
Top 10 Reasons to Buy a 2022 Subaru WRX – The Pros
1. Standard AWD
As is the case for all Subaru models, the WRX comes with standard all-wheel-drive (AWD). This provides a lot of extra traction control and stability when you need it most. For those who do a lot of back-country-road driving or who live in a place where there is often inclement weather, having AWD equipped can keep you from having slide-offs or getting stuck in the mud. While it takes a little bit away from fuel efficiency, it makes for more stability when you need it most.
2. A User-friendly Infotainment Screen
The standard 7-inch touchscreen display screen is decent enough, if not a tad small. But the 11.6-inch model that comes standard on the Limited and GT trim levels is much easier to read. It responds quickly to your inputs and produces sleek, crystal clear graphics. The portrait-style layout might take some getting used to, but once you've gotten through that curve, you might find you enjoy the set-up.
3. Quick Acceleration
The new engine has swift acceleration. This 2.4-L turbo flat-four is able to get from 0 to 60 miles per hour in 6 seconds flat when you have the manual transmission equipped. You will have to punch it upon launch, but it is definitely an achievable time. This type of punchy acceleration feels nice for a vehicle in this segment.
4. Superb Handling Capabilities
The WRX display Subaru's stellar handling capabilities. It can handle a winding mountainous road with ease, getting a beefy amount of mid-range power and plenty of traction from the standard AWD system. The steering is also quite responsive, and the well tuned suspension remains composed throughout the ride, making for an ultimately pleasant driving experience.
5. Seats Crafted For Comfort
Comfort is something Subaru does well but doesn't always necessarily get the praise they deserve. The seats can keep you comfy for an all-day-long road-trip, never giving you any pain or making you feel tired. The seats keep you locked in place while you round through turns but don't have overly aggressive bolstering.
6. A Spacious Cabin Design
This sedan might not look big, but for its segment, the WRX's cabin is quite spacious up front. Sure, the rear seats don't offer much space, but the front ones are more than generous. There is plenty of wiggle room for adjusting your seat to get into a comfortable position.
7. Easy To Get In And Out
Getting in and out of the 2022 Subaru WRX is easy since the doors have such wide openings. The ride height also makes it so that you do not have to duck down too far to get in and risk smacking your head on the top of the door frame. And, with how many ways you can adjust the driver's seat, sliding into the seat and getting comfortable is easy.
8. The Available Harman Kardon Sound System
If you are a serious music lover, the optional 11-speaker Harman Kardon sound system is a fantastic audio system to get. If you like to play your favorite jams at a high volume, then the Harman Kardon system should be pleasing since it does not produce any noticeable distortion. You get high quality audio that sounds crystal clear.
9. Easy Smartphone Pairing and Voice Controls
Technology has come a long way in recent years, and that is certainly true for Subaru's in-vehicle entertainment tech. The smartphone pairing you can engage in via Android Auto or Apple CarPlay is easy to do, and you will not get a bunch of disconnections like you do in other vehicles. The voice controls are also easy to use and are good at recognizing natural speech patterns.
10. Excellent Build Quality
The 2022 Subaru WRX displays Subaru's usual excellent build quality. The WRX has a classy vibe to it that you will feel as soon as you slide in behind the front wheel. Additionally, you will find plenty of soft touch surfaces throughout the cabin. Some of the plastic panels might look off-putting at first, but they seem sturdy and are easy enough to get used to.
Reasons Not to Buy a 2022 Subaru WRX – The Cons
1. A Noisy Performance
One of the biggest downfalls to owning the 2022 Subaru WRX is that it is noisy. The wind and road noise that comes in while you are zipping along on the highway is hard to tune out, and it does interfere with your enjoyment of the ride overall. The doors and windows will get a good amount of wind noise coming into the WRX even if you aren't driving on the highway.
2. A Mediocre Fuel Economy
Fuel efficiency is not the 2022 Subaru WRX's strong suit. The WRX with the manual transmission equipped yields 22 miles per gallon in combined driving. This puts it very close to the bottom of the segment. Not only is the 2022 WRX's fuel economy worse than most of its competitors, it is worse than any previous WRX model year. Even the Hyundai Elantra and Golf GTI offer much better fuel economies than the WRX.
3. A Cramped Rear Seat
While space up front is excellent, in the rear? Not so much. The rear seat feels somewhat cramped, and it is really best left for short adults and kids. You just won't want to put kids in car seats back there since those car seats will probably feel too bulky for the rear seat area.
4. Lacks Cargo Space
Cargo space in the 2022 Subaru WRX is also somewhat lacking. With only 12.5 cubic feet of cargo space available, this puts the WRX behind some of the segment's top performers. The rear seats do fold down to allow for extra space in the back seat. Still, putting the seats down in the back does not really help that much when you are dealing with multiple bulky items.
How It Stacks Up to the Competition:
2022 Subaru WRX vs. 2022 Hyundai Elantra
The 2022 Subaru WRX faces some stiff competition from the Hyundai Elantra. The Elantra N in particular puts in an engaging performance. There is a lengthy list of standard and available features for the Elantra, and the cabin feels spacious enough fore and aft. Also, the fuel economy is truly superb for this segment. On the downside though, the Elantra suffers from some seriously bland acceleration from its base 4-cylinder engine. You will want to upgrade to the Elantra N for a more engaging experience. Additionally, there are a lot of hard plastics located inside of the cabin, especially in the backseat area.
2022 Subaru WRX vs. 2022 Mazda 3
Another tough competition within this segment is the 2022 Mazda 3. The Mazda 3 is a little bit more competitively priced than the WRX and some of the other top rivals. The turbo engine option is pleasantly powerful, and there is all-wheel drive available if you want it. This vehicle can be quite fun to drive thanks to some enthralling handling capabilities, and the interior décor has a premium aesthetic that makes the Mazda 3 look more expensive than it really is. There are a few downsides though. This vehicle suffers from a lack of cargo space just like the WRX. Also, the rear seats do not offer much in the way of leg space.
Conclusion
Overall, the newly redesigned 2022 Subaru WRX provides owners with an engaging driving performance. Unfortunately, in making the engine more powerful, it took away from the fuel economy. With fuel prices being as high as they are, this might drive some potential buyers away from the WRX, especially since some of its top competitors offer much better fuel efficiency. Still, there are a lot of things to enjoy about the WRX, from its technology to its cozy seats.
Are you Shopping for a New Vehicle? Find the Best Deals with "Free - No Hassle" Prices Quotes.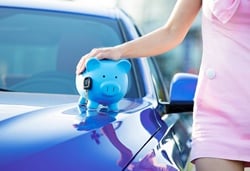 Get up to 4 local dealers to compete for your business by offering free, competitive pricing. Know before you go to the dealer.
Every dealer offers a secret price. Find yours here.