2019 Toyota C-HR vs RAV4
Many people will look for reliability and practicality alongside a sense of adventure when driving, although there aren't many options that include a healthy mix of each. This has meant that car buyers have often had to compromise on some of these features, if not all.
With both the 2019 Toyota RAV4 and C-HR, this doesn't have to be the case. In contrast, the new models excel at each of these, which means that they're worth looking at for many people. Both vehicles have a significant amount of benefits when compared to many other trucks on the market.
This has meant that, while many people may be able to narrow their choice down to the two, they may not be able to decide between them. There are a variety of comparisons that can be made between the two, although there are just as many differences that may help people in making their decision.
Size & Styling
The 2019 Toyota RAV4 is the fifth-generation of the vehicle and has undergone a redesign for the new release. This has given it a more muscular look than previous generations of the truck, which is something that many people may be more attracted to.
In comparison to this, the Toyota C-HR hasn't undergone much of a stylistic change over the past few years, with only a few minor tweaks here and there. Despite the RAV4 now being more muscular, there isn't much of a size difference between the two.
The only real difference in size between this and previous models is that the wheelbase in the RAV4 is 1.2 inches longer to compensate for its 19-inch alloys and to give it slightly more ground clearance. Outside of this, size differences from previous generations can be measured in millimeters.
Compared to the C-HR, there is a noticeable size difference, especially when you look at the various trims on offer. The C-HR is the more compact of the two, which could be a priority for some drivers. In length, it measures 171.2 inches and is 70.7 inches wide. The RAV4, on the other hand, measures 73 inches wide and 180.9 inches long.
While you may not be able to fit into smaller spaces with the RAV4, it does offer much more comfort in its interior as a result of this extra room. Many drivers will also want to look for a large amount of passenger and cargo space.
Given that the RAV4 is the bigger vehicle, it has much more on offer than the C-HR and features 98.9 cubic feet of passenger space alongside 37.6 cubic feet for cargo space. This is much more than the C-HR, which offers passenger space of 83.8 cubic feet and cargo space of 19 cubic feet.
If you're looking for overall style, then the C-HR may not be the choice for you, as it can seem somewhat dull compared to many other vehicles. This is primarily because it blends much of the stylistic choices of an SUV and a Coupe, with Toyota seemingly not knowing which direction to take.
From the front, the C-HR looks like a typical SUV and has large headlights and many of the other features that you may typically associate with the vehicle class. Viewed from the side, however, it can look much more like a Coupe, especially when it comes to its windscreen slope and roofline.
Many people may have a problem with how the C-HR looks from behind, however. This is because the model features a significant amount of bulging areas coupled with sharp angles that highlight these bulges.
Alongside this is an endless array of black cladding and boomerang-shaped lights, which can make the back of the vehicle look too busy and cluttered for many people.
The 2019 Toyota RAV4 comes across as much more stylish in comparison, as it features a much slicker design. Much of this can be highlighted depending on the trim that you choose, although it can be seen to varying degrees with each.
This style gives the RAV4 much more of a luxurious feel than the C-HR, which can be seen regardless of which view you take of it. This means that people looking for a larger amount of style and space should try the Toyota RAV4 over the C-HR.
Drivability
Outside of how stylish a vehicle looks, engine power will be the first thing that a buyer looks at. When comparing the Toyota RAV4 and C-HR, the engines couldn't be any more different from each other, with there being quite a significant difference in horsepower, fuel consumption, and almost every other area.
The C-HR features a turbocharged 1.2-liter, four-cylinder petrol engine, which creates 185Nm between 1500–4000rpm and approximately 85kW from 5200–5600rpm. The base model of the vehicle also boasts 144 horsepower and 139lb-ft of torque.
This may not be the most thrilling of drives, although the vehicle has been designed more for city streets, which may explain its limited capabilities.
While the RAV4 may not have the best engine across the Toyota range, it can certainly outdo the C-HR in a one-on-one competition. This is because it offers a 2.0-liter petrol engine that provides 203Nm of torque and 127kW of power.
The higher-end trims feature a 2.5-liter Dynamic Force four-cylinder engine that boasts 184lb-ft of torque and 203 horsepower.
The differences in engine power between the two are replicated across each of the trims that are available for the models. Depending on which trim you decide to purchase for either vehicle, there may be a variety of transmission options available.
The majority of C-HR trims feature a six-speed manual transmission, although this has a somewhat difficult rev-matching system. Alternatively, you could choose the automatic version, which comes as a continuously variable transmission (CVT). The CVT also has a manual mode which can build toward feeling like a traditional auto.
Much of this is also seen with the RAV4, although this depends on the trim that you choose. The six-speed manual transmission is typically available with the GX, while the CVT option comes with either the GXL and Cruiser.
When it comes to fuel consumption, there is a notable difference between the C-HR and the RAV4, although this mightn't be as large as some might think. The C-HR uses 6.3 liters of petrol for every 100km, although the RAV4 uses 6.8 liters.
These figures can change drastically depending on trim, although the C-HR does seem to use less fuel.
Comfort, Options and Performance
The overall performance of the cars can vary depending on what you're using it for. When it comes to daily city use, then the C-HR takes the prize, as it's built to be much more of a driver-friendly vehicle. This is primarily because the steering can be much smoother and predictable when in use.
The C-HR isn't designed to be a performance car for anything other than getting from A to B with a certain amount of comfort. Because of that, it can lag behind the RAV4 in many areas. One of the larger advantages to this is that it can be a much easier drive in traffic.
If you're looking for overall horsepower and performance rather than comfort while driving, then this is where the RAV4 stands out. Alongside this is the fact that this can offer a greater degree of overall comfort, even if it does mean having a tighter squeeze in some parking spots.
If you're looking for tech options inside the car, then the two are closely matched, as both come with a variety of similar features as standard. However, the C-HR does stand out somewhat here, as it features a multi-information touchscreen of a larger size than the RAV4.
This could mean that you'll need to upgrade the RAV4 to take advantage of this.
Safety
Regardless of what drive you're looking for, safety will play an important role. While both the Toyota RAV4 and C-HR excel in this department, the RAV4 has a few additional safety features that potential buyers will want to take advantage of.
Each of the trims available with the model come with built-in auto emergency braking (AEB) as standard, which can also be said of a few other features. This includes a daytime cyclist detection system, day and night pedestrian detection, auto high beam lights, blind-spot monitoring, and much more.
The cruise control option is also available across each of the models, with this not being limited by the speed you're traveling at.
While each of the trims come with parking sensors in the front and rear, it should be noted that they don't feature any autonomous parking assistance like you might find in other cars. There's also the fact that the RAV4 doesn't feature a rear AEB, which is something that you could find in the C-HR.
This doesn't mean that the Toyota C-HR doesn't have its own safety features to boast about. In contrast, it comes with quite a significant number of them as standard, although it is more limited than the RAV4.
One of the more notable of these is a lane departure system which senses when a driver is drifting and will take over the steering if this is the case. Alongside this is its AEB technology, which is available on both the front and rear wheels.
Buyers will also be able to take advantage of a rear cross-traffic alert, active cruise control, hill start assistance, and blind-spot monitoring. Both of the Toyota models feature seven airbags, with these being spread out across the side curtain, front side, dual front, and driver's knee.
While both of the models are incredibly safe, if you have a focus on safety and put this ahead of many other features, then you may want to go with the RAV4, as the features that have been implemented make it much more secure than many other vehicles on the market.
Buying Tip:
To avoid overpaying on a new car, shop prices online first. Get up front pricing before you walk into a dealership. We recommend the following free services;
Car Clearance Deals,
Edmunds,
CarsDirect,
NADAguides
&
Motortrend
. These free services will offer you
the lowest prices
and supply you with multiple competing price quotes. You will know the best price before you visit the dealer.
Which Model to Choose?
While both the Toyota C-HR and RAV4 have their benefits, there is a clear favorite when it comes to which one to purchase. This would be the RAV4, as it offers many more features that buyers will want to take advantage of, with much of this being focused on its drivability and safety.
Alongside this is the fact that it offers much more style and comfort than the alternative, which many buyers will look for. This could make it the ideal choice for somebody looking for a large degree of comfort while driving.
These benefits could also give it a certain amount of value for money, as you're getting much more for what you spend. You'll also be getting a much more luxurious-looking and stylish vehicle, which many people may factor into their choice.
If you're looking for a smaller SUV for driving in the city, though, then the C-HR may be the better choice. This is driven by how compact it is while still offering a significant amount of power behind the wheel.
Save Money on a 2019 Toyota C-HR:
Are you Shopping for a New Vehicle? Find the Best Deals with "Free - No Hassle" Prices Quotes.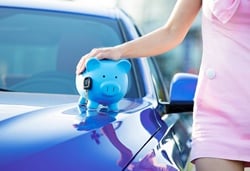 Get up to 4 local dealers to compete for your business by offering free, competitive pricing. Know before you go to the dealer.
Every dealer offers a secret price. Find yours here.