2022 Volkswagen ID.4 Pros vs Cons. Should You Buy?
There are a lot of EVs infiltrating the market right now, and the 2022 Volkswagen ID.4 is one of the newer models to hit the market. We've had our eyes on it since it debuted for the 2021 line-up. This year shows even more promise thanks to some well thought-out tweaks, which shows that VW is listening to what consumers have to say about the ID.4. Does it feel completely refined? Well, no. The experience is diminished by an excessive amount of hard plastics found throughout the cabin. Also, some of the ID.4's controls are not that straightforward, making for quite the learning curve.
But this EV has some promise; the impressive real-world electric range, spaciously designed interior, and slew of standard tech features tend to make up for the vehicle's shortcomings. But is the ID.4 the right EV for you, or should you keep browsing? Read on to learn more about what is new for 2022, what there is to like about the ID.4, what you might not like, and how it stacks up against a couple of fierce competitors in this segment.
What's New for 2022?
For 2022, Volkswagen kicks the DC fast charging up by 10 kW to 135 kW. The EPA estimated electric range is improved, and the charging experience is a bit easier and more streamlined. Additionally, you can now get three years of free 30-minute charging sessions at Electrify America stations.
Top 10 Reasons to Buy a 2022 Volkswagen ID.4 – The Pros
1. Swift Acceleration
It might not be the fastest vehicle in this segment, but the 2022 Volkswagen ID.4 puts in a good performance regardless. For an SUV, it is considerably quick. It takes this vehicle about 7.7 seconds to get from 0 to 60 miles per hour, which really is nothing to scoff at. When you have AWD equipped, it makes getting up and going a tad more thrilling.
2. Rear- and All-wheel-drive Are Available
Let's just touch on that fact that AWD is an option here. Rear-wheel-drive (RWD) is standard, but you can certainly opt up for AWD. And, quite honestly, it is the best way to go with the ID.4. On the AWD models, there is a power increase that gets the vehicle up to 295 horsepower. One of the motors is in charge of running the front wheels while the second motor takes charge over the rear wheels. It is a system that works well and gives an impression of power.
3. A Functional Climate Control System
The ID.4's climate control system has no problem heating or cooling the cabin to the set temperature and keeping it there. Rear air vents are standard with this system so that those in the rear seats can get just as much air as those who are sitting up front, thereby maximizing everyone's comfort throughout the vehicle.
4. A Quiet Ride
While there is a little bit of road and engine noise that will get generated at highway speeds, it isn't all that obvious. While cruising along in slow-speed traffic, you won't hear much of anything. The ID.4 gives a quiet ride inside of its tranquil cabin, making it easy enough to hear your music and converse with your passengers in the back seat.
5. A Spacious Interior Design
Another thing that VW gets right here is the spaciousness of the cabin. This cabin has plenty of room for heads and shoulders, plus there is even enough leg space in the back seats. Getting in and out is super easy, and you can simply adjust the front seats to get into a cozy sitting position with a commanding outward view. It really is easy to just get in and start driving.
6. The Driver Cluster Moves With The Steering Wheel
One of the niftiest features you will find inside of the 2022 VW ID.4 is the driver cluster. It actually shifts with the steering wheel, turning as you turn the wheel. This keeps the cluster perpetually within the driver's line of sight, which is indeed quite helpful and practical.
7. Standard Wireless Smartphone App Integration
While you can certainly use the wired option, you can use the wireless version of the smartphone app integration system in this vehicle. It is available for both Android Auto and Apple CarPlay. Wireless smartphone app integration obviously takes away the clutter you encounter otherwise and works just as well as the wired version.
8. Well-tuned Advanced Driver Aids
There are quite a few standard advanced driver aids, and they all seem to be well-tuned. You get things like blind spot monitoring with rear cross traffic alert and lane keep with the adaptive cruise control system. These features don't just work well on the highway, but they are especially helpful in slower traffic scenarios. Having them equipped can prove to be genuinely handy.
9. A Versatile Cargo Area
The cargo area might not be cavernous, but its 30.3 cubic feet of cargo space behind the rear seats is certainly generous. And, what's more, this area is versatile. Don't need the flat surface area? Well, then drop the rear cargo floor down one level to snag yourself a little more space. You can also stash your mobile charging cord in the small storage area beneath the floor.
10. Spaciously Sized Small Item Storage Areas
Throughout the cabin you will find a number of generously sized small item storage areas. The configurable center console comes with partitions and removable cupholders, making it incredibly versatile. Even the door pockets are massive and can fit a ton of things in them.
Reasons Not to Buy a 2022 Volkswagen ID.4 – The Cons
1. One-pedal Driving Isn't Available
One of the biggest drawbacks to owning this EV is simply that you do not get to use one pedal to drive the vehicle. The brake and accelerator are two separate pedals, much like what you get in a traditional, gas-powered vehicle. Taking your foot off of the accelerator kicks the regenerative brakes into gear, but you still need to apply a lot of finesse to using the brakes themselves.
2. A Too-soft Suspension
Another downside to driving the 2022 Volkswagen ID.4 is that the suspension feels overly soft. This makes for a less-than-pleasant ride quality in which bumps in the road are allowed entry into the cabin. You will indeed feel every bump you ride over. Needless to say, VW needs to work on fine-tuning this suspension to stiffen it up a touch.
3. Controls Can Feel Counterintuitive
Some of the controls inside of the VW ID.4 feel unnecessarily and overly complex. Even just the window controls are ridiculously complicated, and for no good reason. Having the touch sensitive button there to let you switch between the front and rear windows seems too complex - nowhere near as practical as just having one button for each window, which obviously makes a lot more sense. What's even worse is that the indicator lights for these buttons get blotted out of sight in direct sunlight.
4. Too Many Plastic Pieces
Our final gripe with the 2022 ID.4 is that VW cheapens the vehicle by incorporating too many plasticky pieces throughout the cabin. The high touchpoint areas should ideally include more soft touch surfaces, but that just is not the case for this SUV.
How It Stacks Up to the Competition:
2022 Volkswagen ID.4 vs. 2022 Ford Mustang Mach-E
It might be smaller, but the 2022 Ford Mustang Mach-E is undeniably sporty, especially if you buy the GT with its speedy acceleration. Its larger battery pack gives the Mach-E a good amount of range, plus drivers get the benefit of a nice looking and easy to use infotainment system. On top of that, the Mach-E has enough cargo space that is devised in a way that lets you easily make use of it. On the downside, though, the Mach-E does not have a lot of adjustments for the front seats. What's more, the GT is only able to serve up its peak performance in increments of five seconds.
2022 Volkswagen ID.4 vs. 2022 Tesla Model Y
Another top rival for the 2022 VW ID.4 is the 2022 Tesla Model Y. The Model Y is quite a bit more expensive than the ID.4, but it has an amazing amount of range. The Performance trim level especially embodies what Tesla can achieve in terms of performance. Long-distance driving is made easy due to the Supercharger network. The Tesla Model Y also has a lot of room in both rows of seats. On the flipside, the Model Y does not have smartphone app integration for Android Auto or Apple CarPlay. The Performance also has an overly stiff ride quality to it. It is also best to skip the optional third row of seats since they leave scarcely any leg room.
Conclusion
While the ID.4 clearly still needs a little refinement, it evokes the typical thoughtfulness and finesse that we have come to expect from Volkswagen. As far as EVs go, it gets a respectable range and is easy enough to drive for a first-time EV owner.
Are you Shopping for a New Vehicle? Find the Best Deals with "Free - No Hassle" Prices Quotes.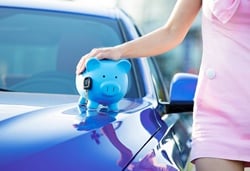 Get up to 4 local dealers to compete for your business by offering free, competitive pricing. Know before you go to the dealer.
Every dealer offers a secret price. Find yours here.