Reasons to Buy • Pros vs. Cons
2020 Volvo XC40
Should you buy? Find out below..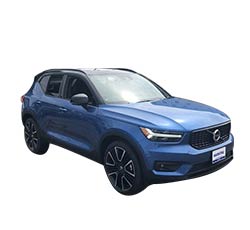 Buying Tip:
Before you walk into a dealership, price shop Online first. Avoid overpaying by using the following pricing services:
With these services you can:
• Force dealers to compete for your business.
• Start your own online price war.
• Many prices are not advertised online.
• It's Free and No Obligation.

Visit
Car Clearance Deals
,
CarsDirect
&
MotorTrend.
Small crossover SUVs are becoming more of a hit with auto enthusiasts. But how do they fare with average drivers? What is it about luxury crossover SUVs like the 2020 Volvo XC40 that might be so appealing? Even though the XC40 was just introduced for the 2019 model year, this subcompact SUV has been garnering some attention. While you'd think that the most affordable SUV in Volvo's line-up would show some cost-cutting measures, it actually reeks of quality and well-planned construction.
What's New for 2020?
Since the XC40 was initiated into Volvo's line-up in 2019, you should not expect to see too many differences between the model years. Changes to the 2020 Volvo XC40 include the base trim getting a faux leather/cloth combination upholstery instead of leather and the Inscription and R-Design getting more standard features. Otherwise, don't expect to see too many changes.
Top 10 Reasons to Buy a 2020 Volvo XC40 – The Pros
1. High-Quality Interior Materials
The 2020 Volvo XC40 looks every part the high-end luxury vehicle. Just take a look inside its cabin. The materials appear to be high-quality, as you should expect from Volvo. Even though the XC40 is the introductory model to their SUV line-up, there is nothing cheap-looking or hodgepodged together inside of the cabin. And the outside is just as exquisite. Overall, Volvo has done a great job of making the XC40 look high-brow and comfortable at the same time.
2. A Design Focused on Utility
One major element of the XC40 is its utilitarian design. The vehicle's inner space might be small compared to others in this class, but it is cleverly designed. The 60/40-split folding rear seats fold down flat, and there is a storage tray that can be folded and unfolded and even used as a grocery holder. The removable trash bin is also a handy feature.
3. A Lot of Standard Safety Features
Safety features come in abundance on all of the trim levels on the 2020 Volvo XC40 line. City Safety with automatic braking is particularly helpful since it can detect when a front end collision is about to happen. It will apply the brakes for the driver in order to stop the accident from happening. It can even detect animals and pedestrians. Lane keep assist and Park Assist Pilot are also helpful.
4. A Spunky Turbocharged Engine
The XC40 has a surprisingly spunky turbocharged 2.0-L engine. You can get it as the T4 (which gets 187 hp and 221 lb-ft of torque) or the T5 (which musters up 248 hp and 258 lb-ft of torque). The T5 is especially impressive with its beefed-up power output. You get all-wheel drive along with it, and engine stop-start comes standard and is not too obstructive while driving. You can get from 0 to 60 mph in about 6.8 seconds; it isn't super speedy, but it is a respectable time enhanced by the transmission.
5. A Comfy Ride Quality
As you should expect from a luxury vehicle, the 2020 Volvo XC40 provides a comfortable ride quality. It feels nice and smooth going over different road surfaces. Even the R-Design, which has a sporty performance, manages to feel cozy. The suspension and wheels do a good job of absorbing small to mid-sized bumps in the road. Also, for the most part, the seats remain supportive, and there is not a lot of intrusive noise that seeps into the cabin.
6. The Optional Harman Kardon Sound System
While the standard audio system works just fine, the optional Harman Kardon premium sound system is fantastic. It does not cause that much more to upgrade, and it provides crystal clear sound throughout the cabin. It is a system that is easy to use, even if you are not terribly tech-savvy. Spend the little bit of extra cash for the Harman Kardon system. It's totally worth it, especially if you're a music lover.
7. Voice Controls Work Well
A lot of automakers are struggling to give their vehicles voice control systems that work well. A lot of them do not respond properly to natural voice commands and can have tedious set-up processes. This is not the case for the 2020 Volvo XC60. The voice controls are easy to set up and respond pretty well to natural speech patterns. And, if you get tired of using these built-in functions, you can switch over to Google Voice or Siri via your smartphone.
8. A Lot of Value
You might feel like you are making a major investment here, but the truth is, Volvo adds a lot of value to the XC40. They equip even the base trim level with a plethora of desirable and helpful features and go above and beyond to create stunningly utilitarian interior spaces. You also get warranties that are somewhat longer than average for vehicles in this class, which is certainly a nice bonus. Compared to a lot of other vehicles in this segment, the XC40 has more to offer for your money.
9. A Decent Fuel Economy
Another high point of the 2020 Volvo XC40 is its fuel economy. For example, the T5 AWD R-Design gets 26 combined mpg (with 23 mpg in the city and 31 mpg on the highway). This is a bit better than what you will find on similarly equipped subcompact SUVs in the luxury market. And, as you can imagine, the front-wheel drive models do even better on fuel efficiency.
10. A Lot of Configuration Options
Getting your vehicle how you want it is something that sets Volvo's line-up apart from the competition. There are two different engines that you can get on three different trim levels: the Momentum, R-Design, and Inscription. The Momentum trim gets two optional packages, the Convenience and the Premium. Regardless of your unique needs, there is like a configuration here that will work for you.
Buying Tip:
To avoid overpaying on a new car, shop prices online first. Get up front pricing before you walk into a dealership. We recommend the following free services;
Car Clearance Deals,
CarsDirect &
MotorTrend.
These free services will offer you
the lowest prices
and supply you with multiple competing price quotes. You will know the best price before you visit the dealer.
Reasons Not to Buy a 2020 Volvo XC40 – The Cons
1. A Touchscreen That is Difficult to Use
Unfortunately, one of the things inside of the 2020 Volvo XC40 that does not work too well is the touchscreen display. Some of the controls are difficult to use, even though the touchscreen is large and accommodating. The menus just are not set up well, and some of the controls get to be confusing. The learning curve is a bit steeper than it is in some competitors. Some tweaks made by Volvo could really help to improve the infotainment system's interface.
2. A Small Cargo Area
There is not a whole lot of space available in the cargo area. With all seats left upright, there are only 20.7 cubic feet of cargo space. When you fold the 60/40-split folding rear seats down, that number only maximizes to 47.2 cubic feet. It is far from being spacious. Even though it has some innovative design features, the cargo area is small for its segment. Those looking for extra space will have to opt for a different vehicle. The XC40 just does not have it.
3. Forward Collision Gives False Warnings
One of the peskier features you will find on the 2020 Volvo XC40 is the forward collision warning. While it can be useful for avoiding front-end collisions, it is overly sensitive to the point where it issues false warnings. This makes for more than just an annoyance; it can become dangerous. It might not do this all the time or on every model, but it is known to occur.
4. Road Noise at Highway Speeds
While the cabin remains fairly muted at slower speeds, once you get it up to highway speeds, some road noise will make its way in. A minor amount of wind noise manages to seep its way in as well. Also, the engine will cut in with some noise, and you can hear it if you have the stereo turned off. Overall, it is not the most muted cabin in the luxury SUV market and is something Volvo should consider fixing if they want to be top dog in this category.
How It Stacks Up to the Competition:
2020 Volvo XC40 vs. 2020 BMW X1
Competitively priced, the 2020 BMW X1 is a top contender against the 2020 Volvo XC40. It has a powerful turbocharged engine, precision handling, and a ton of space in the cargo area. It also looks high-brow. However, the X1 lacks a refined ride quality, as things get bumpy when the vehicle is not driving on top of a smooth road surface. Also, like the XC40, it gets noisy when you take it up to speed on the highway.
2020 Volvo XC40 vs. 2020 Lexus UX 200
Another tough competitor for the model year is the 2020 Lexus UX 200. The UX 200 does not feel as powerful as the XC40, and it too suffers from a small cargo area. This vehicle's cargo areas also suffers from a high liftover height. All-wheel drive is not an available option, and the infotainment system is difficult to use as well. On the plus side, the UX 200 maneuvers through congested cities with ease, has a great fuel economy for this class, and packs in a ton of standard safety and infotainment features.
Conclusion
The 2020 Volvo XC40 might be the new kid on the block, but it speaks a lot to Volvo's refinement. Sure, there are a few drawbacks that might make some buyers look elsewhere, but, for the most part, it is a solid vehicle that makes for a good deal.
Did you find this article useful?
Please rate this page. Select a star rating from 1 to 5 below:


Save Money on a 2020 Volvo XC40:
Find New Car Clearance Prices - Many Vehicles are Selling Below Dealer Invoice Prices.
Every dealer offers a secret price. Many prices are below invoice.
Find yours here
.