2019 Chevrolet Volt Prices: MSRP vs Dealer Invoice vs True Dealer Cost w/ Holdback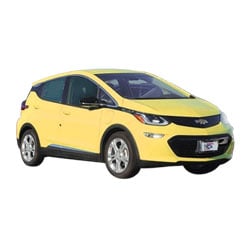 Price terms Used:
MSRP |
Invoice Price |
Destination Fee |
Holdback |
Dealer Cost
2019 Volt - Trim: 5dr Hatch Back LT w/ FWD. Powered by a 1.5L 4-CYL. Transmission: Electric Drive. Horsepower: 149 RPM. Torque: 294 RPM

2019 Volt - Trim: 5dr Hatch Back Premier w/ FWD. Powered by a 1.5L 4-CYL. Transmission: Electric Drive. Horsepower: 149 RPM. Torque: 294 RPM

Price Tip:
To avoid overpaying on a new Chevrolet Volt, shop prices online first. Get up front pricing before you walk into a dealership. We recommend the following free services;
These services will offer you the lowest prices and supply you with multiple competing price quotes. You will know the best price before you visit the dealer.
Chevrolet Price Guides::
Chevrolet Volt Overview:
The Volt is a plug-in hybrid vehicle that first hit the market in 2016. It's gone through only one major change, making the 2019 Chevrolet Volt part of the group of second-generation models.
For 2019, the Volt has been improved in various ways. It now can come with a more efficient 7.2 kW charger. Another key difference is that the engine-assisted heating system now kicks in at below zero temperatures rather than more milder ones; this lets drivers utilize the electric aspect more often in the winter. Fans of blue will also appreciate the new exterior color for the 2019 Chevrolet Volt: Pacific Blue Metallic.
Driving the Volt
One reason why many people prefer the set-up of the Volt is that it can use both electric and gas power. On electric power, its range of 53 miles can be sufficient for many who just want to get back and forth to work or around town on errands. 420 miles is its total range, taking into account a full tank of fuel and a full electric charge. This means that the 2019 Chevrolet Volt is equipped to go on longer trips just as well as it's designed for shorter drives.
There's no need to worry about deciding which mode to drive in. The electric power will be utilized first. When that charge runs out, the engine can work using standard gasoline. If one drives less than 50 miles each day and can charge the car at night, there's the possibility that gas station trips will be few and far between. Standard charging uses a 120-volt cord, and faster charging uses a 240-volt system.
The engine is a 1.5-liter model that works in conjunction with two electric motors and has 149 horsepower. While driving, the system can turn some of the energy generated during braking back into an electrical charge. If anyone wants to know how they're doing in terms of their charge or driving habits, information can be accessed via the in-dash touchscreen or the driver information center housed just behind the steering wheel.
Just under nine gallons can fit in the fuel tank. The sedan gets an estimated 106 MPGe with both systems factored into the calculation.
Trims
There are two trim choices for the 2019 Chevrolet Volt. The basic model is the LT, and the more advanced is the Premier.
The Volt LT has advanced features like LED daytime running lights to enhance visibility and a rear vision camera that lets drivers be aware of what's behind them while in reverse. The remote vehicle starter system has been put in place for convenience, and having keyless access and a push-button engine start means that key fobs can be securely placed at all times.
In the Premier, there are additional advantages such as leather seats in both rows, with the front seats being heated. The Premier comes with a premium sound system with eight Bose speakers. It also includes wireless charging for compatible devices, making it more advanced in terms of entertainment.
Technology
This car couldn't be built without high-tech components, and there are several interfaces that the driver and passengers can directly interact with. Starting with the eight-inch touchscreen in the center of the console, various types of information can be easily accessed. Additionally, the car comes with USB and auxiliary ports and has the ability to play satellite radio if the appropriate subscription is purchased. Likewise, SiriusXM navigation and traffic are available, but only on the Premier.
The audio system can be controlled via the touchscreen or steering wheel-mounted controls. The 2019 Chevrolet Volt was made for the modern consumer, as it comes with a 4G LTE hot-spot for portable wi-fi access.
Chevrolet MyLink is available on the Volt, and it allows one to use their phone through the car's infotainment system. Calls and text messages can be sent and received through the touchscreen, and there's even a way to keep an eye on teen drivers through the system.
Keeping Drivers Safe
On a 2019 Chevrolet Volt, there are more than a few mechanisms in place to either help prevent accidents or to protect people inside the car in case of an accident. First, a stability control system, named StabiliTrak, can play a role in case the wheels are slipping or the car seems to be moving out of control. It can make appropriate adjustments to the brakes and torque so that the wheels can keep gripping the road.
Further, the car can emit a signal in case it senses that a pedestrian is about to walk in its path. This can be set up to go off automatically when traveling at low speeds. The Premier has a parking assist feature that works when either parallel or perpendicular parking. It can actually steer the vehicle and brake and accelerate as needed.
How to Calculate The Dealer Cost of a Chevrolet Volt
Formula for Calculating Dealer Cost:
Example: Base Chevrolet Volt invoice price + the dealer Invoice price of all the options + destination - Holdback = Total Dealer Cost.
What is Holdback? A hidden amount that manufacturers give back to a dealer. It is a percentage of the MSRP or the Invoice price.
Total Dealer Cost - Rebate and Incentive + Taxes / Licensing Fees = True Dealer Cost. (You can get rebates and incentives here)
Note: All Chevrolet Volt MSRP, invoice and dealer cost dollar figures above are approximate amounts. Prices are subject to change without notice.
A note about rebates: Most rebates are subtracted from the "on the road" figure. In most cases, you can have the rebate if you are arranging your own financing or you are paying cash. If you decide to use the manufacturer's low interest financing, you do not usually get the rebate. Ask your dealer for details.