2021 GMC Savana Cargo Prices: MSRP vs Dealer Invoice vs True Dealer Cost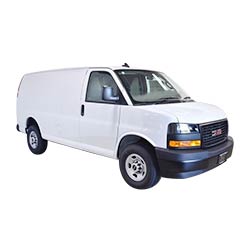 Price terms Used:
MSRP |
Invoice Price |
Destination Fee |
Holdback |
Dealer Cost
2021 Savana Cargo Van - Style: 2500 - 3 Dr Van w/RWD. Powered by a 4.3 L, 6 Cylinder, Gas Engine w/Automatic Transmission

2021 Savana Cargo Van - Style: Extended 2500 - 3 Dr Van w/RWD. Powered by a 4.3 L, 6 Cylinder, Gas Engine w/Automatic Transmission

2021 Savana Cargo Van - Style: 3500 - 3 Dr Van w/RWD. Powered by a 4.3 L, 6 Cylinder, Gas Engine w/Automatic Transmission

2021 Savana Cargo Van - Style: Extended 3500 - 3 Dr Van w/RWD. Powered by a 4.3 L, 6 Cylinder, Gas Engine w/Automatic Transmission

Price Tip:
To avoid overpaying on a new GMC Savana, shop prices online first. Get up front pricing before you walk into a dealership. We recommend the following free services;
These services will offer you the lowest prices and supply you with multiple competing price quotes. You will know the best price before you visit the dealer.
GMC Price Guides::
GMC Savana Overview:
The Savana Cargo is a widely-known vehicle that has been a pillar in the commercial GMC lineup for years. Chances are when you hear the term "cargo van," the GMC Savana Cargo is the vehicle that you envision. By focusing on offering a blank slate vehicle with impressive cargo space, individuals who are on commercial endeavors can personalize the Savana Cargo to portray their specific business. The new 2020 GMC Savana Cargo van offers a no-holds-barred approach to commercial transport. Learn more about this traditional cargo van in the content below.
What's New for 2020?
The GMC Savana Cargo van has not seen many changes across the years. This model has been so profitable and serves a real purpose in the market that there has been no need to deviate from a concept that is working. Simply put, the 2020 GMC Savana Cargo meets all customer needs and more.
To keep things fresh the new 2020 GMC Savana Cargo did change one minute detail: a new 8-speed automatic transmission. Paired with a Duramax diesel 2.8-liter engine, this transmission replaces the outdated 6-speed enhancing acceleration and fuel efficiency. This upgrade was much needed for this tried and true cargo van.
A standard wheel-based in 2500 and 3500 options govern towing capacity allowing buyers to select the option that best meets their needs. Three trim levels are available, including Work Van, LS and LT. These trim levels offer various features that are unique to each specific trim selection.
Exterior Design of the 2020 GMC Savana Cargo
An initial assumption of the GMC Savana Cargo is that it is basic and dated. Yet, the GMC Savana Cargo continues to be a best seller for mid- to large-sized businesses. Its seamless technology makes this vehicle the perfect canvas for business advertising or customization. No to mention, its no-nonsense design forms the ideal basis for a fleet of commercial units.
Utilizing a frame that resembles the structure of a ladder, the GMC Savana Cargo is based off of the design of GMC's full-sized pickup trucks. Body-on-frame makeup increases towing capacity and is inherently more durable and dependable over other model types.
Interior Feature Basics
The new 2020 GMC Savana Cargo comes in two different options: a 15-passenger van or a spacious cargo van. The cargo van option is the one that we will be highlighting for commercial purposes. This van does not offer the full roof height that other competitors might. However, the bare bones approach to interior cargo space offers immense potential for customization.
Want to carry around cargo? No problem! Need a vehicle you can convert into a food truck? You've got it! The GMC Savana Cargo includes large, comfortable front seats, durable black plastic features that are easy to clean and maintain, and standard control placement that promotes ease of use.
Power windows and locks offer convenience and front and rear air conditioning circulate air thoroughly. Amenities like these are rare in commercial-type cargo vans, but the GMC Savana Cargo is made to please.
Cargo vans come as a blank slate allowing for customization and configuration, but additional elements can be added to make it easier for customers to use immediately. Shelving, storage solutions and a sliding door or two door option all represent these variations.
Performance Where it Matters
The 2020 GMC Savana Cargo is great at getting the job done efficiently and reliably. Buyers of the GMC Savana aren't concerned with speed or power, necessarily, but they are focused on reliability that can be depended upon to complete daily tasks or deliveries. With V-6 and V-8 engine options, consumers can choose the amount of power they need for their business.
What makes this vehicle unique is the wide array of fueling options it caters to. Gasoline, diesel, propane and compressed natural gas are all plausible fueling options for the GMC Savana Cargo van. The most expensive and complex Savana Cargo engine option is the Duramax Diesel outputting 181 horsepower. Now that is impressive for this type of vehicle.
Quality and Comfort FAQs
Let's face it, cargo vans aren't always known for their quality and comfort attributes. Cruise control, a tilt steering wheel and integrated MP3 player may seem like basic qualities, but for a cargo van they are elite. Upper class amenities, like keyless entry, are offered in upscale trim levels but are not basic features.
While the GMC Savana Cargo van does not have a built in touchscreen infotainment system, 4G WiFi HotSpot and Bluetooth are readily available on this model. The myGMC mobile app, which allows for remote locking and unlocking is also integrated.
Safety Features
Due to its commercial nature, the GMC Savana Cargo is not universally rated for its safety and crash testing is not conducted. Yes, GMC is committed to making all of their vehicles as safe as possible, which is why the Savana Cargo does come equipped with safety and driver-assistance elements. Forward-collision alert, lane departure warning and blind-spot monitoring are just a few of the touted features. A solid list of driver safety features and dynamic safety systems is included with this cargo van.
Fuel Economy
Similar to the safety rating situation, this commercial vehicle is not awarded fuel efficiency ratings or testing by a governmental entity. Similar to GMC's Heavy Duty 2500 and 3500 pickups, the Savana Cargo van is not rated by the Environmental Protection Agency.
The 2020 GMC Savana Cargo may be a large, traditional cargo van, but it is so much more to that for buyers that have a vision and a dream. Let the GMC Savana Cargo help make your dreams a reality.
How to Calculate The Dealer Cost of a GMC Savana
:
Formula for Calculating Dealer Cost:
Example: Base GMC Savana invoice price + the dealer Invoice price of options + destination - Holdback = Total Dealer Cost.
What is Holdback? A hidden amount that manufacturers give back to a dealer. It is a percentage of the MSRP or the Invoice price.
Total Dealer Cost - Rebate and Incentive + Taxes / Licensing Fees = True Dealer Cost. (You can get rebates and incentives here.)
Note: All GMC Savana MSRP, invoice and dealer cost dollar figures above are approximate amounts. Prices are subject to change without notice.
A note about rebates: Most rebates are subtracted from the "on the road" figure. In most cases, you can have the rebate if you are arranging your own financing or you are paying cash. If you decide to use the manufacturer's low interest financing, you do not usually get the rebate. Ask your dealer for details.