2022 Honda Accord Hybrid Prices: MSRP vs Dealer Invoice vs True Dealer Cost w/Holdback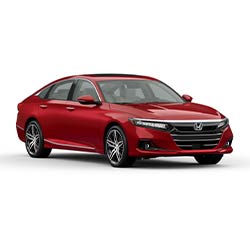 Price terms Used:
MSRP |
Invoice Price |
Destination Fee |
Holdback |
Dealer Cost
2022 Accord Hybrid - Trim: Hybrid - 4-Door Sedan with FWD. Powered by by a 2L, 4 Cylinder, Gas/Electric Engine w/ CVT Transmission.

2022 Accord Hybrid - Trim: Sport - 4-Door Sedan with FWD. Powered by by a 2L, 4 Cylinder, Gas/Electric Engine w/ CVT Transmission.

2022 Accord Hybrid - Trim: EX-L - 4-Door Sedan with FWD. Powered by by a 2L, 4 Cylinder, Gas/Electric Engine w/ CVT Transmission.

2022 Accord Hybrid - Trim: Touring - 4-Door Sedan with FWD. Powered by by a 2L, 4 Cylinder, Gas/Electric Engine w/ CVT Transmission.

These services will offer you the lowest prices and supply you with multiple competing price quotes. You will know the best price before you visit the dealer.
How to Calculate The Dealer Cost of a Honda Accord Hybrid
Formula for Calculating Dealer Cost:
Example: Base Honda Accord Hybrid invoice price + the dealer Invoice price of all the options + destination - Holdback = Total Dealer Cost.
What is Holdback? A hidden amount that manufacturers give back to a dealer. It is a percentage of the MSRP or the Invoice price.
Total Dealer Cost - Rebate and Incentive + Taxes / Licensing Fees = True Dealer Cost. (You can get rebates and incentives here)
Honda Accord Hybrid Overview:
Reliable and eco-friendly, the 2021 Honda Accord Hybrid adds more fuel efficiency to the Accord line-up. As is the case with the gas-powered counterpart, the Hybrid receives some nifty updates that help it compete. The front and rear fascia look even cooler than before, and smartphone app integration via Apple CarPlay and Android Auto is available across the entire Accord line-up. While the ride is mostly comfort, the Accord Hybrid can get a bit noisier than its competitors, and getting in and out isn't the easiest due to the low seat positioning. So, could this be the hybrid sedan for you? Let's dig deeper and find out.
What's New For 2021?
New for 2021 are the revised front and rear fascia, which constitute the most obvious changes to the line-up. Smartphone app integration via Apple CarPlay and Android Auto comes standard across the line-up, as does an 8-inch infotainment touchscreen display. On top of that, the engine has been tweaked to be quieter while accelerating.
Available Styles
The 2021 Honda Accord Hybrid is only available as a mid-size hybrid sedan. Of course, the gas-only Accord is available for anyone who isn't interested in buying the Hybrid.
Available Trims
This Accord Hybrid is available in your choice from four different trim levels: the base, the EX, the EX-L, and the Touring. Each of these trims comes with a 2.0-L 4-cylinder engine paired with a couple of electric motors that receive their power from a lithium ion battery pack. Altogether, this system generates 212 hp. The base trim starts you off with Honda Sensing, which bundles driver aids like lane keep assist, lane departure warning, forward collision warning, and adaptive cruise control. The base trim also has LED headlights, the 8-inch touchscreen display, smartphone app integration, a height-adjustable driver seat, dual-zone climate control, and keyless entry and ignition.
Stepping up to the EX gives you an 8-speaker sound system, front seats with a heating function, and power adjustability on the driver seat. Blind spot monitoring with a rear cross traffic alert gets tacked on to the list of standard driver aids.
The EX-L adds more features, such as a 10-speaker sound system and chic leather upholstery. It also equips the Accord Hybrid with an auto-dimming rear-view mirror, memory settings for the driver seat, and power adjustability for the front passenger seat.
At the top of the line is the Touring trim level. This trim packs in more luxury-oriented features, such as adaptive suspension dampers that are meant to give the vehicle more control for the handling as well as a smoother ride quality overall. You also get a standard head-up display, parking sensors for the front and rear, a built-in navigation system, heated rear outboard seats, and ventilated front seats.
Driving Impressions
Hybrids are not known for being speedy vehicles, but the Accord Hybrid actually manages to post a respectable 0-60 mph acceleration time of 7.2 seconds. This makes it better at accelerating than a lot of other hybrid sedans. However, when you need to get up to speed on the highway, the Accord Hybrid does lose some steam.
Handling feels well controlled, and there is basically no body roll to speak of. The Touring's adaptive suspension dampers aid in this sense of stability even more. The brakes are the let-down here since they struggle to do better at making panic stops than their competitors. Despite a pedal that feels appropriately firm and regenerative brakes that make a smooth transition, the panic stopping feels about like what you get from a full-size pick-up truck, not from a hybrid sedan.
There is plenty of comfort packed into the Accord Hybrid. From its cozy seats to its smooth ride quality, this cabin will make occupants feel right at home. The only drawback is some wind and road noise that gets let in at higher speeds and a bit of engine noise, although that has been greatly reduced since 2020.
Fuel Economy
The 2021 Honda Accord Hybrid is, by all means, a top-notch hybrid sedan. It pulls in a respectable estimate of 48 mpg combined, and real-world tests reflect the vehicle's ability to achieve this number. The only drawback to this is that, when you go over about 65 mph on the highway, the gas-powered engine is the predominant runner, meaning that your fuel efficiency will start to dwindle downward. Otherwise, in everyday slower-speed driving, you should feel the motors doing a good amount of leg work.
The 2021 Honda Accord Hybrid is a solid performer when it comes to mid-size hybrid sedans. While it might not be the quietest, it packs a lot of standard features into a vehicle that will help save you some money at the fuel pump.
Note: All Honda Accord Hybrid MSRP, invoice and dealer cost dollar figures above are subject to change without notice.
A note about rebates: Most rebates are subtracted from the "on the road" figure. In most cases, you can have the rebate if you are arranging your own financing or you are paying cash. If you decide to use the manufacturer's low interest financing, you do not usually get the rebate. Ask your dealer for details.