2022 Honda CR-V Hybrid Prices: MSRP vs Dealer Invoice vs True Dealer Cost w/Holdback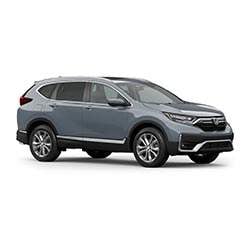 Price terms Used in this Guide:
MSRP |
Invoice Price |
Destination Fee |
Holdback |
Dealer Cost
Honda CR-V Hybrid Pricing for the EX, EX-L and Touring Trims
2022 CR-V Hybrid - Trim: EX - 5-Door SUV with AWD. Powered by by a 2L, 4 Cylinder, Gas/Electric Engine w/ CVT Transmission.

2022 CR-V Hybrid - Trim: EX-L - 5-Door SUV with AWD. Powered by by a 2L, 4 Cylinder, Gas/Electric Engine w/ CVT Transmission.

2022 CR-V Hybrid - Trim: Touring - 5-Door SUV with AWD. Powered by by a 2L, 4 Cylinder, Gas/Electric Engine w/ CVT Transmission.

These services will offer you the lowest prices and supply you with multiple competing price quotes. You will know the best price before you visit the dealer.
How to Calculate The Dealer Cost of a Honda CR-V Hybrid
Formula for Calculating Dealer Cost:
Example: Base Honda CR-V Hybrid invoice price + the dealer Invoice price of all the options + destination - Holdback = Total Dealer Cost.
What is Holdback? A hidden amount that manufacturers give back to a dealer. It is a percentage of the MSRP or the Invoice price.
Total Dealer Cost - Rebate and Incentive + Taxes / Licensing Fees = True Dealer Cost. (You can get rebates and incentives here)
Honda CR-V Hybrid Overview:
The Honda CR-V is a popular two-row SUV. Its success can be contributed, in part, to its affordability. Plus, it can attract attention because of its generous interior space, well-appointed cabin, and capability. The CR-V Hybrid has all of those things, and it's efficient, too. Many potential buyers will likely decide that the CR-V Hybrid is a wise investment.
Power and Efficiency
This model runs on a 2.0-liter Atkinson-cycle engine, and it also has an electric motor. It has a net horsepower of 181, and it comes with 232 pound-feet of torque. This isn't an incredible amount of power, but it's more than enough for most people. What many will appreciate is that the CR-V Hybrid comes standard with all-wheel drive.
A few other standard features can help this SUV out as well. Hill Start Assist control keeps it from rolling backwards after it's been stopped on a slope, and there are three drive modes. Sport mode makes the Honda feel just a bit more aggressive, whereas ECON does the opposite in order to maximize efficiency. The EV mode allows the vehicle to drive at low speeds for short distances using only electric power.
The main advantage of the CR-V Hybrid is that it's so efficient. When driving around on city streets, it can earn up to 40 miles per gallon. Highway driving results in an estimated fuel economy of 35 miles per gallon.
Size
The CR-V Hybrid is pretty average when it comes to two-row SUVs, at least on the outside. It sits about eight inches off the ground, and it looks tall and wide without being too difficult to park.
Inside the cabin, there are some surprises. Honda has done an excellent job at giving the cabin so much leg room. People riding in the back seat can spread out, having more than 40 inches of leg room. This is a few more inches than what some competitors offer.
Behind the seating area, there's a spacious cargo hold that can accommodate a variety of gear. It has a volume of 33.2 cubic feet. By lowering the rear seats, even more space can be opened up. Maximum cargo space is almost 70 cubic feet.
Safety Features
The Honda CR-V Hybrid is designed to keep passengers safe. Not only does it have a durable frame, three-point seat belts in every position, and multiple air bags, but it also has more advanced components that can actually work to prevent accidents. If necessary, the SUV can apply pressure to the brakes and/or make adjustments to steering in order to keep itself away from other vehicles or objects. Before this happens, though, it would warn drivers if they're approaching another vehicle too quickly or are inadvertently drifting out of their lanes.
The features just mentioned above are part of the Honda Sensing package. It also includes adaptive cruise control, which is a program that can adjust the Honda's speed so that it stays a safe distance away from from the vehicle in front of it. Aside from this safety package, the CR-V Hybrid has blind spot monitoring and rear cross-traffic alert, as well as automatic high beams.
Trim Levels
Customers can choose from the EX Hybrid, EX-L Hybrid, or the Touring Hybrid. These all come with a power moonroof and a seven-inch touchscreen that has SiriusXM, Apple CarPlay, Android Auto, and Bluetooth.
The EX Hybrid has LED headlights that can turn themselves on and off automatically. LED fog lights are included, too, and the smart entry system is convenient to have. Its side mirrors have heating elements built into them, and they come with integrated turn signal indicators.
Inside the EX Hybrid, there are heated front seats, with the driver's seat being power-adjustable and having two-position memory. The dual-zone automatic climate control system can be used to keep everyone comfortable.
At the EX-L Hybrid level, things become a bit more refined. To start, this trim features leather upholstery. Ambient lighting helps set the mood in the cabin, and the automatic-dimming rearview mirror can be appreciated at night. A few extra components are found at this level, such as a heated steering wheel and a power tailgate.
The last option is the Touring Hybrid. It's the most expansive out of all of the CR-V trims. It justifies its extra cost with more technology and higher quality elements. It's the only one that has wireless charging, a premium audio system, and integrated navigation. These things alone can bring this trim a lot of attention from modern consumers. Further, its tailgate can be opened by kicking a foot underneath the sensor, and its windshield wipers can turn on automatically when it rains.
Another way in which the Touring Hybrid stands out is by having parking sensors. These are placed at the front and back of the vehicle, and they'll be on alert when the vehicle is maneuvering in tight spaces. If a driver gets too close to an object, they'll send out a warning.
With advanced technology, a comprehensive driver-assist suite, and an efficient powertrain, the Honda CR-V Hybrid comes with many benefits. It might not be the most exciting SUV available, but it definitely is practical, and that's exactly what some people want.
Note: All Honda CR-V Hybrid MSRP, invoice and dealer cost dollar figures above are subject to change without notice.
A note about rebates: Most rebates are subtracted from the "on the road" figure. In most cases, you can have the rebate if you are arranging your own financing or you are paying cash. If you decide to use the manufacturer's low interest financing, you do not usually get the rebate. Ask your dealer for details.