2022, 2023 Honda Prices: MSRP, Factory Invoice vs True Dealer Cost - w/Holdback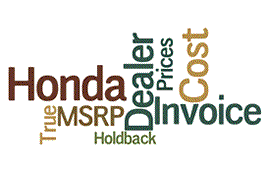 Most people mistakenly believe that the Honda Invoice Price reflects what the dealer paid for a new vehicle - The true Dealer Cost.
It is not!
The Dealer Invoice Price has hidden mark up such as holdback and other fees built into the price.
The following Honda price guides strip these hidden dealer profits out and illustrate the MSRP, the invoice price, Holdback and the true dealer cost. (See price definitions below.)
Why You Should Know the True Dealer Cost...
Knowing the dealer cost of a new Honda gives you needed leverage when it comes time to negotiate a great price. Negotiating from the cost up and not the MSRP down can save you thousands on your next purchase.
Honda Prices Terms & Definitions
If you would like to purchase an automobile, then you should familiarize yourself with the following Honda Price terms.

MSRP

This acronym stands for Manufacturer Suggested Retail Price, which is the price at which Honda recommends the sale of its products. This means the price remains the same irrespective of store or location. Dealerships are free to set their respective prices, but MSRP will help the buyer when negotiating the purchase price.

Dealer Invoice

This is the price that car a dealership pays a manufacturer to get the required car. It includes the price the manufacturer charges for the vehicle and charges for any optional accessories. Although the dealer must pay this amount, the exact price of the car may be less due to holdback and rebates.

Dealer Holdback

Holdback refers to the percentage of either dealer invoice or MSRP that a manufacturer repays the dealer. Dealers usually secure loans to pay for cars they order from manufacturers and hold them before they are sold, and manufacturers pay holdback to cater to the loan interest. The dealers can therefore profitably sell cars below invoice.

Dealer incentives

Manufacturers offer dealer incentives or "spiffs" that reduce the actual cost the dealers pay for cars. Manufacturers may offer the incentives after reaching particular sales targets where subsequent sales result in higher rebates. The incentives, which are offered regionally, can help in moving slower-selling stock.

Regional ad fees

The dealers pay the fees for promotions and advertising that manufacturers run in their areas. The charges form part of the car's cost and are not negotiable.

Destination fees

These are the fees the Honda charges dealers for delivering vehicles to the showrooms. The charges are fixed and do not depend on distance.

Manufacturer Incentives and Rebates

Honda sometimes give rebates to the buyers directly to either reduce excess inventory or increase sales. These can lower Honda prices by several hundred to several thousand dollars.
True Deal Cost - The actual price Honda dealers pay for their new vehicles. Here is how it is calculated:
Formula for Calculating Dealer Cost of a New Honda:
Base Honda Invoice Price + the dealer Invoice price of Options + Destination - Holdback = Total Dealer Cost.
What is Dealer Holdback? A hidden amount that manufacturers give back to a dealer. It is a percentage of the MSRP or the Invoice price. The holdback for Honda is 2% of the Base MSRP. (See the New Car Dealer Cost Example.)
Total Dealer Cost - Rebate and Incentive + Taxes / Licensing Fees = True Dealer Cost.(See Honda Rebates and Incentives.)