Honda Lease Deals, Specials & Offers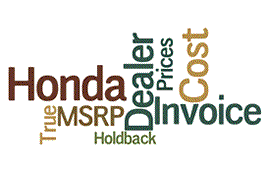 Honda Leasing FAQ
What is Honda Financial Services?
Honda Financial Services is a a DBA of American Honda Finance Corporation (AHFC) that is there to help Honda buyers finance their new Hondas. This includes SUVs, motorcycles, and even marine engines. Honda Financial Services has both leases and retail installment sales contracts available. And, in case you are wondering, the American Honda Finance Corporation is a wholly-owned subsidiary of American Honda Motor Co., Inc. and has been offering nationwide sales in America since July of 1980.
What is Honda Leadership Leasing?
Honda Leadership Leasing is a program Honda offers to help you - the buyer - get into a new Honda more easily. This program gives you more competitive rates than what you would get elsewhere. Also, you get more options, ranging from multiple allowances for mileage to more flexible terms for your lease.
Honda Leadership Leasing also provides customers with Guaranteed Asset Protection (GAP) coverage, not to mention a waiver for Excess Wear and Use or Damage. This means that drivers can worry less about little dings and scratches and enjoy being behind the wheel of their Honda.
What are Honda Loyalty benefits?
Honda wants buyers to return for more. That's why they have Honda Loyalty benefits for return customers. On top of what the GAP coverage gives you for Excessive Wear or Damage on your current lease, you also get a $500 Excessive Wear-and-Use or Damage Waiver (totaling up to $1,000). Add to that a fee waiver for the turn-in fee on your current fee.
This applies to a customer who purchases or leases a new Honda or Acura vehicle within 30 days of the original turn-in date. Bear in mind that the turn-in fee waiver will depend on the state that you live in. Check with your dealership for more information.
What are Honda One-Pay leases?
A Honda one-pay lease allows you to make a single, one-time-only payment while also getting a discount off of your qualifying rate. With this, you get GAP coverage, $500 Excessive Wear and Use or Damage Waiver (or the extra $500 if you are reaping the benefits of being a loyal Honda customer), sales an income tax benefits, and lower total out-of-pocket costs. This simplifies your financial transactions and allows you more peace of mind.
What are the insurance requirements when leasing a Honda?
Everyone who leases a Honda must have it insured. Honda Financial Services requires each owner to have the vehicle insured for collision coverage, comprehensive, and physical damage during the time of the lease, depending on the state-required minimums where you live. Be sure to check with your Secretary of State/Department of Motor Vehicles for more information on mandatory coverage.
What are the maintenance requirements when leasing a Honda?
As a part of your contract, you are expected to perform some maintenance on your leased Honda. You are expected to get the vehicle serviced in accordance with the minimum recommendations made by the manufacturer as well as be in compliance with any recall campaigns issued by the manufacturer.
What is the difference between One-Time pay and Easy Pay?
One-time pay is just a quick and easy way to make a single transaction toward your account. You can make it toward your regular monthly account or toward any supplementary account.
Easy Pay, on the other hand, is a simple way to ensure that you pay your monthly amount on time, every time. After you enroll in Easy Pay, your monthly payment will automatically be deducted from your linked bank account on the selected withdrawal date. Easy Pay will not in any way change your monthly due date.
What is the Honda Lease Maturity Center? What happens when the lease term is up?
The Honda Lease Maturity Center is staffed with friendly and knowledgeable staff who can assist customers with the lease-end process. We know this can be a confusing, multi-step process, so our specialists are here to help.
When a lease is close to ending, get in touch with a lease-end specialist. They can walk you through your three options: returning your current Honda and leasing another one, purchasing the Honda that you are currently leasing, or simply turning your keys over and parting ways.
Is the Honda College Grad Program available with a lease? What is it?
Paying for college is tough, so Honda is here to take some of the burden off. The Honda College Grad Program will kick in $500 toward any new Honda you like. You have the option to defer within the first 90 days, gain access to a number of comprehensive and flexible leasing packages, and have a way to help you build your credit.
You just need to show your proof of income (or a firm commitment from a new employer), that you have graduated within the last two years or will within the next six months, do not have an adverse credit history, and can show any credit documentation the dealership might ask for.
How does the Honda Military Appreciation Offer work with a lease?
Honda knows that military and civilian life is filled with difficulties and wants to help you drive on past them. That is why Honda set up the Military Appreciation Offer for Active Duty personnel, Retirees and Veterans, Ready Reserve, their spouses, and members of Gold Star families.
As part of the lease, the Offer savings are applied to the cap cost of your Honda. The monthly payment and total due at signing will be calculated after that reduction is made.
What is HondaCare? Can I get it with my leased vehicle?
HondaCare is a warranty that goes above and beyond to cover what Honda's already-generous coverage does not. The standard Honda Limited Warranty covers 3 years/36,000 miles is generous enough, as is the Honda Powertrain Warranty covers 5 years/60,000 miles. However, HondaCare adds terms up to 8 years/120,000 miles plus electrical and mechanical coverage that would otherwise be out-of-pocket costs for you. And, of course, you can get it with your lease.