2020, 2021 Cadillac CT5 Lease Deals, Specials and Offers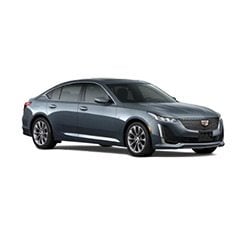 2020 CT5 - Style: AWD Luxury - MSRP: $37,890

($3,031 Down Payment)
24 Months
$493/mo. - 12,000 miles
$509/mo. - 15,000 Miles
36 Months
$397/mo. - 12,000 miles
$418/mo. - 15,000 Miles
48 Months
$390/mo. - 12,000 miles
$413/mo. - 15,000 Miles
2020 CT5 - Style: AWD Premium Luxury - MSRP: $41,690

($3,335 Down Payment)
24 Months
$537/mo. - 12,000 miles
$554/mo. - 15,000 Miles
36 Months
$433/mo. - 12,000 miles
$456/mo. - 15,000 Miles
48 Months
$417/mo. - 12,000 miles
$443/mo. - 15,000 Miles
2020 CT5 - Style: AWD Sport - MSRP: $42,690

($3,415 Down Payment)
24 Months
$555/mo. - 12,000 miles
$573/mo. - 15,000 Miles
36 Months
$447/mo. - 12,000 miles
$471/mo. - 15,000 Miles
48 Months
$430/mo. - 12,000 miles
$456/mo. - 15,000 Miles
2020 CT5 - Style: AWD V-Series - MSRP: $48,690

($3,895 Down Payment)
24 Months
$698/mo. - 12,000 miles
$719/mo. - 15,000 Miles
36 Months
$554/mo. - 12,000 miles
$580/mo. - 15,000 Miles
48 Months
$524/mo. - 12,000 miles
$554/mo. - 15,000 Miles
2020 CT5 - Style: RWD Luxury - MSRP: $37,890

($3,031 Down Payment)
24 Months
$493/mo. - 12,000 miles
$509/mo. - 15,000 Miles
36 Months
$397/mo. - 12,000 miles
$418/mo. - 15,000 Miles
48 Months
$390/mo. - 12,000 miles
$413/mo. - 15,000 Miles
2020 CT5 - Style: RWD Premium Luxury - MSRP: $41,690

($3,335 Down Payment)
24 Months
$537/mo. - 12,000 miles
$554/mo. - 15,000 Miles
36 Months
$433/mo. - 12,000 miles
$456/mo. - 15,000 Miles
48 Months
$417/mo. - 12,000 miles
$443/mo. - 15,000 Miles
2020 CT5 - Style: RWD Sport - MSRP: $42,690

($3,415 Down Payment)
24 Months
$555/mo. - 12,000 miles
$573/mo. - 15,000 Miles
36 Months
$447/mo. - 12,000 miles
$471/mo. - 15,000 Miles
48 Months
$430/mo. - 12,000 miles
$456/mo. - 15,000 Miles
2020 CT5 - Style: RWD V-Series - MSRP: $48,690

($3,895 Down Payment)
24 Months
$698/mo. - 12,000 miles
$719/mo. - 15,000 Miles
36 Months
$554/mo. - 12,000 miles
$580/mo. - 15,000 Miles
48 Months
$524/mo. - 12,000 miles
$554/mo. - 15,000 Miles
2021 CT5 - Style: AWD Luxury - MSRP: $37,990

($3,039 Down Payment)
24 Months
$527/mo. - 12,000 miles
$542/mo. - 15,000 Miles
36 Months
$430/mo. - 12,000 miles
$451/mo. - 15,000 Miles
48 Months
$425/mo. - 12,000 miles
$448/mo. - 15,000 Miles
2021 CT5 - Style: AWD Premium Luxury - MSRP: $41,790

($3,343 Down Payment)
24 Months
$586/mo. - 12,000 miles
$603/mo. - 15,000 Miles
36 Months
$466/mo. - 12,000 miles
$489/mo. - 15,000 Miles
48 Months
$461/mo. - 12,000 miles
$486/mo. - 15,000 Miles
2021 CT5 - Style: AWD Sport - MSRP: $42,790

($3,423 Down Payment)
24 Months
$605/mo. - 12,000 miles
$623/mo. - 15,000 Miles
36 Months
$480/mo. - 12,000 miles
$504/mo. - 15,000 Miles
48 Months
$466/mo. - 12,000 miles
$492/mo. - 15,000 Miles
2021 CT5 - Style: AWD V-Series - MSRP: $48,790

($3,903 Down Payment)
24 Months
$749/mo. - 12,000 miles
$769/mo. - 15,000 Miles
36 Months
$587/mo. - 12,000 miles
$614/mo. - 15,000 Miles
48 Months
$562/mo. - 12,000 miles
$591/mo. - 15,000 Miles
2021 CT5 - Style: RWD Luxury - MSRP: $37,990

($3,039 Down Payment)
24 Months
$527/mo. - 12,000 miles
$542/mo. - 15,000 Miles
36 Months
$430/mo. - 12,000 miles
$451/mo. - 15,000 Miles
48 Months
$425/mo. - 12,000 miles
$448/mo. - 15,000 Miles
2021 CT5 - Style: RWD Premium Luxury - MSRP: $41,790

($3,343 Down Payment)
24 Months
$586/mo. - 12,000 miles
$603/mo. - 15,000 Miles
36 Months
$466/mo. - 12,000 miles
$489/mo. - 15,000 Miles
48 Months
$461/mo. - 12,000 miles
$486/mo. - 15,000 Miles
2021 CT5 - Style: RWD Sport - MSRP: $42,790

($3,423 Down Payment)
24 Months
$605/mo. - 12,000 miles
$623/mo. - 15,000 Miles
36 Months
$480/mo. - 12,000 miles
$504/mo. - 15,000 Miles
48 Months
$466/mo. - 12,000 miles
$492/mo. - 15,000 Miles
2021 CT5 - Style: RWD V-Series - MSRP: $48,790

($3,903 Down Payment)
24 Months
$749/mo. - 12,000 miles
$769/mo. - 15,000 Miles
36 Months
$587/mo. - 12,000 miles
$614/mo. - 15,000 Miles
48 Months
$562/mo. - 12,000 miles
$591/mo. - 15,000 Miles
Deal Tip:
To avoid overpaying on a new Cadillac CT5 lease, get up front lease prices before you visit the dealer. We recommend the following free services;
These services will offer you the lowest prices and supply you with multiple competing price quotes. You will know the best price before you visit the dealer.
Cadillac Lease Guides:
Cadillac CT5 Overview:
The Cadillac holds a special place in the GM lineup as one of the world's oldest automobile brands. The Cadillac CT5 replaced its predecessor, the Cadillac CTS, in 2020 and has impressed so far. The CT5 holds its own against German heavyweights in its class, such as the BMW E Series and the Mercedes Benz C-class. The 2021 Cadillac CT5 builds on that success with notable improvements in crucial areas. This a complete guide for anyone considering the 2021 Cadillac CT5.
2020 vs. 2021: What is the Difference?
The 2021 Cadillac CT5 has made several changes to the 2020 edition. Like its smaller cousin, the Cadillac CT4, it spots Diamond Ski Metallic exterior colors exclusive to the package. Other changes are the addition of Apple Carplay and Android Auto with wireless capabilities. Another exciting inclusion is the Super Cruise feature that is easily the best driver aid feature on any car today. It is essentially a partially automated driving assistance system that allows hands-free driving on some highways.
What Do the Various Trim Levels Offer?
The 2021 Cadillac is available in four different trim levels. Options include Luxury, Premium Luxury, Sport, and the V-Series. Here is more of what each trim level offers.
Cadillac CT5 Luxury
The luxury is the base trim for the 2021 Cadillac CT5. Although it's reasonably well-equipped, it is understandable if you want to upgrade. The luxury comes with a standard 237-horsepower engine coupled with a ten-speed automatic transmission. Other Luxury trim features include synthetic leather upholstery, keyless entry, remote start, universal garage door opener, and a ten-inch screen infotainment system with voice recognition capabilities.
Buyers have two packages on offer. The Sun and Sound packages come with a dual-pane sunroof, 15 speaker Bose stereo system, navigation, and wireless device charging. On the other hand, the Cold Weather package includes heated front seats and steering wheel. Of course, any additions and customization will cost extra.
Cadillac CT5 Premium Luxury
The Premium Luxury has all the Luxury trim features with additional upgrades. For one, it comes with genuine leather upholstery. Additionally, it includes ambient interior lighting, blind-spot monitoring, an auto-dimming rearview mirror, and a wireless charging pad. Buyers are faced with three optional packages: the Driver Assist, Driver awareness, and Platinum packages.
The Driver awareness packages add lane-keeping assistance that alerts you when the car begins to drift. The Driver Assist package comes with automatic safety belt tightening, reverse automatic braking, and adaptive cruise control. The package also throws in a 12-inch digital instrument cluster. The Platinum package adds Bose premium audio, a sunroof, a head-up display, and heated or ventilated massage seats if you still want more.
Cadillac CT5 Sport
The Cadillac CT5 Sport shares a lot of features with the Premium Luxury. It comes with sports pedals and power-adjustable front seats, a rear spoiler, Brembo front brakes, and leather upholstery. Surprisingly, cruise control is not included in this trim. However, buyers can always upgrade. The V performance package adds limited-slip differential and magnetic control adjustable suspensions.
Cadillac CTS V-series
The Cadillac V-series is the highest premium trim for a good reason. It comes with a twin-turbocharged V6 engine, launch control, electronic limited-slip differential, adaptive suspension dampers, and summer tires. Although this trim level doesn't come with cruise control, there is an optional upgrade at an extra cost. It is worth splashing extra if you can afford it to get this top trim.
Which Trim is Right for Me?
With four different trims available, buyers have options. Ultimately, the trim they go for comes down to taste and preference. Cadillac CT5 Luxury includes all primary features, like all trim, a standard V6 engine, and a ten-speed automatic transmission. It is the perfect choice for someone with minimum driving needs. However, feel free to spend a few extra thousand dollars to get the top trims' aesthetics and performance.
What Kind of Technology Does It Have?
All the four Cadillac CT5 trim levels come with modern technologies one can expect from a car in this class. The 10-inch touchscreen is one of the first things that grabs a buyer's attention when getting in the car. Other available technologies include.
Satellite radio
Wi-Fi hotspot
Wireless Carplay or Android Auto
Navigation
Wireless device charging
Keyless entry
Dual-zone climate control
Cabin air ionization
How Does It Perform?
The real test of any car is how it performs on the road. The lower trims are a little underwhelming when it comes to power. The standard 237 hp engine is relatively low for its class. However, things get better as you move up the trims. The twin-turbocharged V6 engine provides 335 horsepower. This combines nicely with the ten-speed automatic transmission to allow smooth transitions. The 2021 Cadillac CT5 rear-wheel drive is EPA-rated at 23mpg in the city and 32 mpg on the highway. Expect a gas mileage of 19 or 28 mpg if you opt for the twin-turbo V6 engine.
Is It Safe and Reliable?
The 2021 Cadillac CT5 received an overall safety rating of five out of five stars from the National Highway Traffic Safety Administration. This impressive safety rating, combines with the available safety features, making this model one of the safest cars. Although the reliability rating of three out of five is average, buyers can take comfort in the four-year basic warranty and the additional six-year powertrain warranty.
What's the Interior Like?
Cadillac put some effort into correcting interior flaws from the 2020 model. The cabin feels a bit roomier, especially in the backseat. If you opt for the lower trims, expect subpar upholstery that takes away from the luxurious experience.
The biggest problem is the use of rigid plastic on accessories. Things are a little better as you move up the trim levels. One area that is still unsatisfactory is the cargo space. 11.9 cubic feet of trunk space is just not enough.
What are the Alternatives to this Model?
While the 2021 Cadillac CT5 is the right car, it doesn't stand out from the completion in any area. The most significant selling point is its price tag. However, even in that department, there is competition from brands such as the Acura TLX, which is cheaper. If you still have doubts, consider the BMW E series, which has better performance and comfort. But expect to spend a little more.
Find the best Lease Deal on a Cadillac CT5
:
Don't overpay for your Cadillac CT5 - get lease quotes from
To avoid overpaying, price shop online first. We recommend;


Car Clearance Deals

,

NADAguides

,

MotorTrend

& CarsDirect
... These free services will offer you the lowest prices.
Note: All Cadillac CT5 lease prices and dollar figures above are approximate amounts. Prices are subject to change without notice.