2020 Chevrolet Sonic Lease Deals, Specials and Offers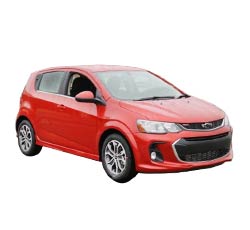 2020 SONIC - Style: Hatchback FWD LT 5-Door - MSRP $20295

( $2,029 Down Payment)
24 Months
$408/mo. - 12,000 miles
$416/mo. - 15,000 Miles
36 Months
$339/mo. - 12,000 miles
$350/mo. - 15,000 Miles
48 Months
$314/mo. - 12,000 miles
$325/mo. - 15,000 Miles
2020 SONIC - Style: Hatchback FWD Premier 5-Door - MSRP $22395

( $2,239 Down Payment)
24 Months
$447/mo. - 12,000 miles
$456/mo. - 15,000 Miles
36 Months
$372/mo. - 12,000 miles
$384/mo. - 15,000 Miles
48 Months
$345/mo. - 12,000 miles
$357/mo. - 15,000 Miles
Deal Tip:
To avoid overpaying on a new Chevrolet Sonic lease, get up front lease prices before you visit the dealer. We recommend the following free services;
These services will offer you the lowest prices and supply you with multiple competing price quotes. You will know the best price before you visit the dealer.
Chevrolet Lease Guides:
Chevrolet Sonic Overview:
2020 vs 2021: What's the Difference?
2021 is a rough year for vehicle cuts. One of the cars getting the ax this year is unfortunately the Chevy Sonic. After obliterating both the Cruze and the Impala from its line-up last year, Chevy is going the way of Ford in snipping smaller passenger vehicles from its line-up in favor of SUVs and trucks.
Chevy came out in 2020 with a statement about declining sales of the Sonic. In 2019, the Sonic only sold 13,970 units, whereas competitors were doing at least twice that. The good news? Chevy is re-focusing on the Bolt EV and EUV.
The 2020 Chevy Sonic was not altogether a bad vehicle, just a largely ignored one. What did it offer that buyers passed over? For one, its crash test scores were superb. Finding something as highly rated as the Sonic is tough. Its NHTSA ratings surpass many of those given to its rivals.
On top of that, the Sonic's engine generates a respectable amount of power without compromising on fuel. This 1.4-L 4-cylinder engine puts up a power output of 138 hp and 148 lb-ft of torque, sending it to the front wheels via a 6-speed automatic transmission. The power delivery is smooth enough to satisfy the everyday driver.
Inside of its spacious cabin, the Sonic is loaded with Chevy's latest technology. The standard infotainment system supports smartphone app integration via both Apple CarPlay and Android Auto, making it easy to sync your apps with the system. All in all, the interior is functional and loaded with features.
But is the 2020 Chevy Sonic the right choice for you? Which trim level offers the best features for the price? We will go through that, plus the Sonic's tech features, interior design, driving performance, safety and reliability ratings, and which competitors make for good alternatives.
What Do the Various Trim Levels Offer?
The 2020 Chevrolet Sonic comes in three different trim levels: the base LS, the mid-tier trim level LT, and the line-topping Premier trim level. They all come equipped with the same 1.4-L turbo 4-cylinder engine with its front-wheel drive and 6-speed automatic transmission. On the LT and Premier, you can choose between a hatchback or sedan body.
The LS is in every sense a base trim level. It keeps things minimal until you get to the list of infotainment features. The standard features on the LS include 15-inch wheels, LED daytime running lights, automatic headlights, manual side mirrors, manual mirrors, remote locking and unlocking, and a rear-view camera. There are also a tilting and telescoping steering wheel, a four-way manually adjustable driver's seat, and a 60/40-split folding rear seat.
The list of infotainment features is pretty extensive. This trim level has a 7-inch touchscreen display, smartphone app integration, Bluetooth connectivity for phone and audio streaming, a four-speaker sound system, and two USB ports. OnStar from GM comes standard as well, and it bundles in Wi-Fi hot spot connectivity and 4G LTE data connectivity.
Upgrading to the LT adds alloy to the 15-inch wheels, heated power side mirrors, power windows, satellite radio, a six-speaker sound system, and upgraded cloth upholstery. You can opt for the Convenience package, which comes with push button start on the keyless entry system, an enhanced driver information display, a power-adjustable driver's seat, and heating on both front seats. Equipping the Driver Confidence package adds forward collision warning, rear parking sensors, and lane departure warning.
The Premier trim level gives you the Convenience package as standard along with simulated leather upholstery and 17-inch wheels. The Premier sedan does offer the Driver Convenience package as an option, and a panoramic sunroof is a stand-alone option. There is also an RS package that adds multiple styling elements.
A sport-tuned suspension and a sport exhaust come with the Performance package, which can be equipped on the LT and Premier trim levels.
Which Trim is Right for Me?
The LT trim is a nice middle-of-the-road option. The inclusion of satellite radio and a six-speaker sound system makes it quite appealing, and you already get a ton of standard infotainment features. Adding the Convenience and Driver Confidence packages will enhance your creature comforts and your safety.
What Kind of Technology Does it Have?
As already mentioned, even the base LS comes well equipped with infotainment features. The standard 7-inch infotainment screen is sizable enough, and the interface itself is easy to read and navigate. Smartphone app integration makes it simple to sync your apps and utilize them as you need them.
How Does It Perform?
The Sonic is a surprisingly nimble and spirited little vehicle with plenty of maneuverability. The 1.4-L engine does lack some responsiveness at low rpm, but once you kick it into higher rpm, it performs well. The optional sport-tuned suspension makes handling and steering feel even more capable.
Is It Safe and Reliable?
The 2020 Chevy Sonic has some of the highest safety scores for its year. NHTSA assigned it a full five stars overall, and the IIHS gave it "Good" marks on its tests. With the Driver Confidence package equipped, you get plenty of driver aids to help keep the Sonic safe on the road.
What's the Interior Like?
The Sonic's cabin is plenty spacious and packed with comfort. The seats have near-perfect bolstering for plenty of support while handling. Also, getting in and out is easy thanks to the wide door frames. The drawbacks are the thick roof pillars that hinder rear visibility and the use of cheap plastic materials.
What are the Alternatives to this Model?
Not feeling the Sonic? Then you might want to look toward the Honda Fit, although it too has been discontinued as of 2021. The 2020 model offers plenty of space and a spunky engine. The Toyota Yaris has also been discontinued, but it has a great fuel economy. This segment is dwindling down fast, so you might need to consider going up slightly in size with a newer vehicle.
Find the best Lease Deal on a Chevrolet Sonic
Don't overpay for your Chevrolet Sonic - get lease quotes from
To avoid overpaying, price shop online first. We recommend;


Car Clearance Deals

,

NADAguides

,

MotorTrend

& CarsDirect
... These free services will offer you the lowest prices.
Note: All Chevrolet Sonic lease prices and dollar figures above are approximate amounts. Prices are subject to change without notice.