2020 Honda Fit Lease Deals, Specials and Offers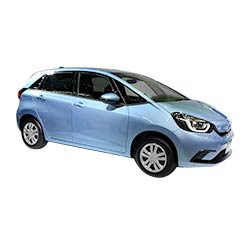 2020 Fit - Style: LX 6-Speed Manual - MSRP: $16,190

( $0 Down Payment)
24 Months
$356/mo. - 12,000 miles
$363/mo. - 15,000 Miles
36 Months
$268/mo. - 12,000 miles
$277/mo. - 15,000 Miles
48 Months
$251/mo. - 12,000 miles
$257/mo. - 15,000 Miles
2020 Fit - Style: LX CVT - MSRP: $16,990

( $0 Down Payment)
24 Months
$372/mo. - 12,000 miles
$379/mo. - 15,000 Miles
36 Months
$280/mo. - 12,000 miles
$289/mo. - 15,000 Miles
48 Months
$262/mo. - 12,000 miles
$268/mo. - 15,000 Miles
2020 Fit - Style: Sport 6-Speed Manual - MSRP: $17,600

( $0 Down Payment)
24 Months
$383/mo. - 12,000 miles
$390/mo. - 15,000 Miles
36 Months
$289/mo. - 12,000 miles
$298/mo. - 15,000 Miles
48 Months
$270/mo. - 12,000 miles
$277/mo. - 15,000 Miles
2020 Fit - Style: Sport CVT - MSRP: $18,400

( $0 Down Payment)
24 Months
$399/mo. - 12,000 miles
$406/mo. - 15,000 Miles
36 Months
$301/mo. - 12,000 miles
$310/mo. - 15,000 Miles
48 Months
$281/mo. - 12,000 miles
$288/mo. - 15,000 Miles
2020 Fit - Style: EX CVT - MSRP: $19,060

( $0 Down Payment)
24 Months
$419/mo. - 12,000 miles
$427/mo. - 15,000 Miles
36 Months
$315/mo. - 12,000 miles
$326/mo. - 15,000 Miles
48 Months
$294/mo. - 12,000 miles
$301/mo. - 15,000 Miles
2020 Fit - Style: EX-L CVT - MSRP: $20,620

( $0 Down Payment)
24 Months
$450/mo. - 12,000 miles
$458/mo. - 15,000 Miles
36 Months
$339/mo. - 12,000 miles
$349/mo. - 15,000 Miles
48 Months
$316/mo. - 12,000 miles
$324/mo. - 15,000 Miles
Deal Tip:
To avoid overpaying on a new Honda Fit lease, get up front lease prices before you visit the dealer. We recommend the following free services;
Car Clearance Deals

,
NADAguides,
MotorTrend &
CarsDirect
These services will offer you the lowest prices and supply you with multiple competing price quotes. You will know the best price before you visit the dealer.
Honda Fit Overview:
2020 vs 2021: What's the Difference?
This review is a tough one for us to do since there is no 2021 Honda Fit. Honda announced in July of 2020 that it was dropping the Fit entirely from its 2021 line-up . This spry little nymph of the Honda line has been well-loved since its inception onto the North American market back in 2001. It had replaced the B-Segment Honda Logo and is known as the Jazz outside of the US. But the Jazz will also be disappearing. So, the big difference with the Fit is just its existence. But allow us to go over some of the 2020 Honda Fit's features and show you why we are lamenting the loss of this nifty little subcompact hatchback.
What Do the Various Trim Levels Offer?
The 2020 Honda Fit has four trim levels available: the base LX, Sport, EX, and the line-topping EX-L. They are all powered by the same 1.5-L turbocharged 4-cylinder engine that delivers power to the front wheels . A manual six-speed transmission is standard on the LX and Sport trims, but the EX and EX-L come with a continuously variable automatic transmission (CVT). When equipped with the manual, the Fit is rated for 130 hp and 114 lb-ft of torque; with the CVT, it sits at 128 hp and 113 lb-ft of torque.
The LX starts you off with 15-inch wheels. The headlights are automatic. Inside, you get a tilting and telescoping steering column, a 5-inch central display, a 4-speaker sound system, and the Magic Seats. These seats - both front and rear - will recline and have a bunch of different configurations. This makes the Fit incredibly adept at handling cargo for being a subcompact hatch.
On the Sport, you get 16-inch alloy wheels, front fog lights, and sportier exterior stylings. There are also features like a steering wheel that is wrapped in leather, a 7-inch touchscreen display for the infotainment system, smartphone app integration via Apple CarPlay and Android Auto, a 6-speaker sound system, and paddle shifters that are mounted to the steering wheel.
The EX upgrades you with more creature comforts. This trim level has a sunroof, extendable sun visors, and keyless entry and ignition. You also get the Honda Sensing bundle of driver aids, meaning that you can benefit from having adaptive cruise control, a blind-spot monitor, lane departure warning and mitigation, and automatic emergency braking that comes with the forward collision warning system.
The line-topping EX-L trim adds leather upholstery to the mix, as well as a few other luxury features (such as heated front seats and heated side mirrors).
Which Trim is Right for Me?
If you are shopping on a budget, the Sport trim is probably going to hold the most value for you. The alloy wheels are a nice upgrade over the LX's steel wheel covers, and you get two more speakers for the sound system. Also, the 7-inch touchscreen display allows you to use your smartphone in conjunction with the vehicle, so you can easily sync your favorite apps and utilize those. There is no sunroof in this one, so if you are a taller driver, you will have a good amount of head room.
If you aren't a taller adult and want something a little bit fancier, the EX has some desirable upgrades - namely, the Honda Sensing suite, which now comes standard on all 2021 Hondas.
What Kind of Technology Does it Have?
Technology inside of the 2020 Honda Fit is pretty standard. If you upgrade from the LX trim, you get the better array of tech features. The Sport and above all come with a 7-inch infotainment system that syncs up with your smartphone through Apple CarPlay and Android Auto. Having these features means that you do not need to upgrade to the optional built-in navigation system if you don't want to. The Sport also adds two speakers to the sound system for a total of six. The armrest bin and center console both have USB ports, so the driver and occupants will have enough places to hook up and charge their smartphones and tablets.
How Does It Perform?
The 2020 Fit is powerful enough for cruising around town. It does take about 8.8 seconds to get from 0 to 60 mph, as the CVT shows some sluggish responding capabilities. The brakes will progressively firm up and become pretty easy to modulate. Effortless and light steering is a defining characteristic for the Fit, and its handling is equally nimble and inspiring of driver confidence. If you do get the manual transmission, you will get even more precision from its shifting.
Is It Safe and Reliable?
The 2020 Honda Fit comes equipped with a number of active and passive safety features. The Honda Sensing bundle is worth the cost to upgrade, as it provides more advanced features like adaptive cruise control and forward collision warning.
Both the Insurance Institute of Highway Safety (IIHS) and National Highway Transportation Safety Administration (NHTSA) have given the 2020 Honda Fit high scores on their respective safety tests. NHTSA assigned it a full five stars overall . IIHS gave it "good" marks for every test that was performed . Overall, Honda is renowned for their safety and reliability, and the Fit is no exception.
What's the Interior Like?
The 2020 Honda Fit has an interior that is well pieced-together with high quality materials. Although the touchscreen interface isn't the easiest to use, most of the other controls are straightforward. The short doorframes make climbing in and out pretty painless, and the cabin is designed with spaciousness in mind. No one should feel cramped, fore or aft.
What are the Alternatives to this Model?
There are still a few vehicles left in this dwindling segment. You can opt for the 2021 Chevrolet Spark, the distinctly British MINI Cooper, the budget-friendly Kia Soul, or the Mitsubishi Mirage. Unfortunately, the demand for these vehicles is lagging far behind that for SUVs, trucks, and even sedans. That's why there is no 2021 Honda Fit. But the 2020 Fit is a solid choice.
Find the best Lease Deal on a Honda Fit
Don't overpay for your Honda Fit - get lease quotes from
To avoid overpaying, price shop online first. We recommend;


Car Clearance Deals

, NADAguides, MotorTrend & CarsDirect
... These free services will offer you the lowest prices.
Note: All Honda Fit lease prices and dollar figures above are approximate amounts. Prices are subject to change without notice.