2020, 2021 Jeep Compass Lease Deals, Specials and Offers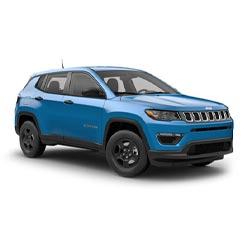 2020 Compass - Style: Sport - FWD - MSRP: $37,950

($2,981 Down Payment)
24 Months
$636/mo. - 12,000 miles
$652/mo. - 15,000 Miles
36 Months
$511/mo. - 12,000 miles
$531/mo. - 15,000 Miles
48 Months
$484/mo. - 12,000 miles
$506/mo. - 15,000 Miles
2020 Compass - Style: Sport - 4x4 - MSRP: $23,780

($2,981 Down Payment)
24 Months
$421/mo. - 12,000 miles
$431/mo. - 15,000 Miles
36 Months
$334/mo. - 12,000 miles
$347/mo. - 15,000 Miles
48 Months
$317/mo. - 12,000 miles
$331/mo. - 15,000 Miles
2020 Compass - Style: Latitude - FWD - MSRP: $25,625

($2,981 Down Payment)
24 Months
$461/mo. - 12,000 miles
$471/mo. - 15,000 Miles
36 Months
$365/mo. - 12,000 miles
$379/mo. - 15,000 Miles
48 Months
$347/mo. - 12,000 miles
$362/mo. - 15,000 Miles
2020 Compass - Style: Latitude - 4x4 - MSRP: $25,625

($2,981 Down Payment)
24 Months
$461/mo. - 12,000 miles
$471/mo. - 15,000 Miles
36 Months
$365/mo. - 12,000 miles
$379/mo. - 15,000 Miles
48 Months
$347/mo. - 12,000 miles
$362/mo. - 15,000 Miles
2020 Compass - Style: Altitude - FWD - MSRP: $27,045

($2,981 Down Payment)
24 Months
$505/mo. - 12,000 miles
$517/mo. - 15,000 Miles
36 Months
$406/mo. - 12,000 miles
$420/mo. - 15,000 Miles
48 Months
$375/mo. - 12,000 miles
$391/mo. - 15,000 Miles
2020 Compass - Style: Altitude - 4x4 - MSRP: $27,045

($2,981 Down Payment)
24 Months
$530/mo. - 12,000 miles
$541/mo. - 15,000 Miles
36 Months
$418/mo. - 12,000 miles
$433/mo. - 15,000 Miles
48 Months
$394/mo. - 12,000 miles
$411/mo. - 15,000 Miles
2020 Compass - Style: Sun & Safety - FWD - MSRP: $27,320

($2,981 Down Payment)
24 Months
$506/mo. - 12,000 miles
$517/mo. - 15,000 Miles
36 Months
$406/mo. - 12,000 miles
$421/mo. - 15,000 Miles
48 Months
$375/mo. - 12,000 miles
$391/mo. - 15,000 Miles
2020 Compass - Style: Sun & Safety - 4x4 - MSRP: $27,320

($2,981 Down Payment)
24 Months
$530/mo. - 12,000 miles
$542/mo. - 15,000 Miles
36 Months
$418/mo. - 12,000 miles
$434/mo. - 15,000 Miles
48 Months
$394/mo. - 12,000 miles
$411/mo. - 15,000 Miles
2020 Compass - Style: Limited - FWD - MSRP: $26,475

($2,981 Down Payment)
24 Months
$522/mo. - 12,000 miles
$533/mo. - 15,000 Miles
36 Months
$411/mo. - 12,000 miles
$426/mo. - 15,000 Miles
48 Months
$386/mo. - 12,000 miles
$402/mo. - 15,000 Miles
2020 Compass - Style: Limited - 4x4 - MSRP: $30,130

($2,981 Down Payment)
24 Months
$555/mo. - 12,000 miles
$567/mo. - 15,000 Miles
36 Months
$446/mo. - 12,000 miles
$463/mo. - 15,000 Miles
48 Months
$414/mo. - 12,000 miles
$431/mo. - 15,000 Miles
2020 Compass - Style: High Altitude - FWD - MSRP: $30,650

($2,981 Down Payment)
24 Months
$598/mo. - 12,000 miles
$611/mo. - 15,000 Miles
36 Months
$469/mo. - 12,000 miles
$485/mo. - 15,000 Miles
48 Months
$438/mo. - 12,000 miles
$456/mo. - 15,000 Miles
2020 Compass - Style: High Altitude - 4x4 - MSRP: $32,150

($2,981 Down Payment)
24 Months
$607/mo. - 12,000 miles
$621/mo. - 15,000 Miles
36 Months
$487/mo. - 12,000 miles
$505/mo. - 15,000 Miles
48 Months
$450/mo. - 12,000 miles
$469/mo. - 15,000 Miles
2021 Compass - Style: Sport - FWD - MSRP: $23,915

($2,984 Down Payment)
24 Months
$394/mo. - 12,000 miles
$404/mo. - 15,000 Miles
36 Months
$324/mo. - 12,000 miles
$337/mo. - 15,000 Miles
48 Months
$310/mo. - 12,000 miles
$324/mo. - 15,000 Miles
2021 Compass - Style: Sport - 4x4 - MSRP: $25,415

($2,984 Down Payment)
24 Months
$408/mo. - 12,000 miles
$418/mo. - 15,000 Miles
36 Months
$336/mo. - 12,000 miles
$350/mo. - 15,000 Miles
48 Months
$324/mo. - 12,000 miles
$339/mo. - 15,000 Miles
2021 Compass - Style: Latitude - FWD - MSRP: $25,915

($2,984 Down Payment)
24 Months
$314/mo. - 12,000 miles
$325/mo. - 15,000 Miles
36 Months
$274/mo. - 12,000 miles
$288/mo. - 15,000 Miles
48 Months
$277/mo. - 12,000 miles
$292/mo. - 15,000 Miles
2021 Compass - Style: Latitude - 4x4 - MSRP: $27,415

($2,984 Down Payment)
24 Months
$313/mo. - 12,000 miles
$325/mo. - 15,000 Miles
36 Months
$278/mo. - 12,000 miles
$293/mo. - 15,000 Miles
48 Months
$290/mo. - 12,000 miles
$306/mo. - 15,000 Miles
2021 Compass - Style: Altitude - FWD - MSRP: $27,335

($2,984 Down Payment)
24 Months
$346/mo. - 12,000 miles
$357/mo. - 15,000 Miles
36 Months
$299/mo. - 12,000 miles
$314/mo. - 15,000 Miles
48 Months
$299/mo. - 12,000 miles
$315/mo. - 15,000 Miles
2021 Compass - Style: Altitude - 4x4 - MSRP: $28,835

($2,984 Down Payment)
24 Months
$343/mo. - 12,000 miles
$355/mo. - 15,000 Miles
36 Months
$301/mo. - 12,000 miles
$317/mo. - 15,000 Miles
48 Months
$312/mo. - 12,000 miles
$329/mo. - 15,000 Miles
2021 Compass - Style: 80th Anniversary - FWD - MSRP: $28,215

($2,984 Down Payment)
24 Months
$360/mo. - 12,000 miles
$372/mo. - 15,000 Miles
36 Months
$302/mo. - 12,000 miles
$317/mo. - 15,000 Miles
48 Months
$304/mo. - 12,000 miles
$320/mo. - 15,000 Miles
2021 Compass - Style: 80th Anniversary - 4x4 - MSRP: $29,715

($2,984 Down Payment)
24 Months
$369/mo. - 12,000 miles
$381/mo. - 15,000 Miles
36 Months
$312/mo. - 12,000 miles
$328/mo. - 15,000 Miles
48 Months
$322/mo. - 12,000 miles
$339/mo. - 15,000 Miles
2021 Compass - Style: Limited - FWD - MSRP: $29,315

($2,984 Down Payment)
24 Months
$354/mo. - 12,000 miles
$366/mo. - 15,000 Miles
36 Months
$309/mo. - 12,000 miles
$325/mo. - 15,000 Miles
48 Months
$314/mo. - 12,000 miles
$331/mo. - 15,000 Miles
2021 Compass - Style: Limited - 4x4 - MSRP: $30,815

($2,984 Down Payment)
24 Months
$360/mo. - 12,000 miles
$373/mo. - 15,000 Miles
36 Months
$318/mo. - 12,000 miles
$334/mo. - 15,000 Miles
48 Months
$331/mo. - 12,000 miles
$349/mo. - 15,000 Miles
Deal Tip:
To avoid overpaying on a new Jeep Compass lease, get up front lease prices before you visit the dealer. We recommend the following free services;
These services will offer you the lowest prices and supply you with multiple competing price quotes. You will know the best price before you visit the dealer.
Jeep Lease Guides::
Jeep Compass Overview:
2020 vs 2021: What's the Difference?
For 2021, the Jeep Compass goes with only small changes. The top Limited and Trailhawk trims got a few extra safety features, including lane-keeping assist and adaptive cruise control. There is also a brand-new 80th Anniversary Edition available for the 2021 Compass. It starts out as a Latitude model but adds an 8.4-inch touchscreen, remote start, power-adjustment for the driver's seat, and leather upholstery with contrast stitching. The 80th Anniversary Edition also gets unique 19-inch wheels.
What Do the Various Trim Levels Offer?
Four main trims exist for the Compass, along with a few special editions. The entry-level model is the Sport. It is decently equipped, coming with smartphone integration, a 7-inch touchscreen, and dual-zone automatic climate control. The Sport also gives drivers USB ports for both rows of seating.
The Latitude trim upgrades from steel wheels to alloy ones and also adds roof rails. Other exterior upgrades found here include foglights and automatic headlights. Inside, the Compass gains a leather-wrapped steering wheel. Based on the Latitude is the Altitude model, which has unique interior and exterior accents, as well as the 80th Anniversary Edition.
For the Limited model, the 2021 Compass gets a heated steering wheel and heated front seats. The upholstery is upgraded to leather, and the rearview mirror gets an auto-dimming feature. This is also the first model to come with several advanced driver aids standard, such as lane-keep assist, forward-collision warning, and blind-spot monitoring.
The iconic Trailhawk comes standard with all-wheel drive. Its suspension is raised, it adds underbody skid plates, and gets off-road-oriented tires to help improve its performance off of the pavement. Tow hooks and hill descent control are included as well.
Which Trim is Right for Me?
The right trim level will depend on what kind of driving the buyer intends on doing. Families will want to go with the Limited trim level, which adds extra peace of mind with its safety aids and a few extra creature comforts. Those who are looking for a Jeep for their adventures will find that the Trailhawk is the only way to go.
What Kind of Technology Does it Have?
A 7-inch touchscreen, Android Auto, and Apple CarPlay are all standard for the 2021 Jeep Compass. All models also have Bluetooth and voice recognition to help drivers keep their hands on the wheel. Two USB ports and a six-speaker audio system come standard. Also available is an 8.4-inch touchscreen along with an integrated navigation system for extra convenience. Buyers who love music can get a nine-speaker Alpine audio system and HD radio to enjoy.
How Does It Perform?
Any model of the 2021 Compass that buyers choose will have a 2.4L four-cylinder engine. It creates a respectable 180-horsepower and 175 lb-ft of torque. For the majority of models, front-wheel drive is standard and all-wheel drive is available. The Trailhawk is the exception, coming exclusively with all-wheel drive. A six-speed automatic transmission gets paired with front-wheel-drive models, while a nine-speed automatic works with the all-wheel-drive models.
Off-road, the Compass is a champion. This is obviously the truest of the Trailhawk model. On the pavement, unfortunately, the Compass is a bit lacking. The body lean is noticeable and steering feedback leaves a lot to be desired.
Is It Safe and Reliable?
The National Highway Traffic Safety Administration gives the 2021 Compass an overall score of four stars. It did manage to get five stars for its side crash test, but only received four stars for frontal crashes. Dragging the overall score down is also the rollover test, in which the Compass received only three stars.
When going with the Sport or Latitude trim, a rearview camera is the only standard driver aid. Higher trim levels have sophisticated safety features, however, such as blind-spot monitoring, adaptive cruise control, and forward-collision warning. Also available are rain-sensing windshield wipers and automatic high beams, both of which take the strain off of the driver.
According to J.D. Power, the 2021 Jeep Compass has a lower than average predicted reliability. It received only 2.5 out of a possible five stars.
What's the Interior Like?
This is a two-row SUV that can seat five adults comfortably. While the seats are supportive, they could benefit from a bit more padding. Lower trim levels have decent cabin materials, while upper models get more luxurious.
When it comes to cargo space, the Compass is a mixed bag. It has only 27.2 cubic feet behind the second row and 59.8 cubic feet behind the first row, which is low for the compact SUV class. At the same time, its wide opening makes it practical for hauling a variety of items. Small-item storage in the cabin is plentiful, too.
What are the Alternatives to this Model?
Anyone who values performance over space should consider the Jeep Renegade. It offers the same great off-road capability as the Compass but has more power. The overall ride of the Renegade is also more pleasing.
Outside of the Jeep family, buyers may want to consider the Honda CR-V. This vehicle is not nearly as capable off of the pavement. At the same time, it comes with a long list of driver aids, has better fuel economy estimates, and has a higher predictability rating.
The new Ford Bronco Sport may give the Compass a run for its money when it comes to off-roading. Unlike the Compass, the Bronco Sport also offers an upgraded engine. Other options in the compact SUV class include the Chevrolet Trailblazer, GMC Terrain, and Kia Seltos.
Find the best Lease Deal on a Jeep Compass
Don't overpay for your Jeep Compass - get lease quotes from
To avoid overpaying, price shop online first. We recommend;


Car Clearance Deals

,

NADAguides

,

MotorTrend

& CarsDirect
... These free services will offer you the lowest prices.
Note: All Jeep Compass lease prices and dollar figures above are approximate amounts. Prices are subject to change without notice.