2020 Kia Optima Hybrid Lease Deals, Specials and Offers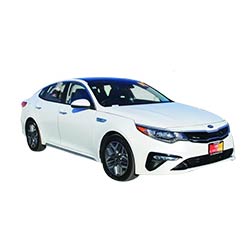 Deal Tip:
To avoid overpaying on a new Kia Optima Hybrid lease, get up front lease prices before you visit the dealer. We recommend the following free services;
These services will offer you the lowest prices and supply you with multiple competing price quotes. You will know the best price before you visit the dealer.
Kia Lease Guides::
Kia Optima Hybrid Overview:
2020 vs 2021: What's the Difference?
Hybrids are in hot demand right now, and Kia is meeting that demand within multiple segments. The best thing about these vehicles is that Kia prices them in an affordable manner. Consumers who once thought, "Gee, I'd like a hybrid, but that's too expensive for me" can now get one at a reasonable price.
And the 2020 and 2021 Kia Optima Hybrid models are definitely affordable. These mid-size sedans are almost exactly like their gas-powered counterparts, save for the fact that they are equipped with hybrid powertrains.
Does anything set the 2021 apart from the 2021 Optima Hybrid? Well, yes. There is no 2021 Kia Optima Hybrid or Plug-in Hybrid. Are they gone for good? Not exactly. The Optima Hybrid has actually been rebranded as the K5!
The 2021 K5 is hitting hard with some seriously sporty elements that we've never seen before on a Kia Optima. The name change matches the Optima Hybrid's Korean name, and EPA estimates are already being released for this vehicle (which will likely drop onto the market later this model year). All-wheel drive is slated to be the standard drivetrain paired with the 1.6-L turbo engine, 8-speed automatic transmission, and hybrid powertrain. The K5 is also sporting a much more aggressive design.
What Do the Various Trim Levels Offer?
The 2021 Kia K5 gas-powered variant comes in your choice of five trim levels: the LX, LXS, GT-Line, EX, and GT. The GT upgrades you to a turbo 2.5-L 4-cylinder that gets 290 hp. Since the K5 Hybrid hasn't been released yet, we don't know much about which trim levels it will have. We would also venture a guess that there will be a plug-in hybrid version as well at some point.
The 2021 K5's base trim starts you off with 16-inch wheels and LED headlights on the exterior. Inside, you get dual-zone climate control, cloth upholstery on the seats, a 6-speaker sound system, wireless smartphone app integration via Apple CarPlay and Android Auto, and an 8-inch touchscreen. Standard advanced safety features include a lane keep system, forward collision warning, and a driver attention warning. Upgrading to the LXS gets you the rear passenger safe-exit system, a blind spot monitor, and remote monitoring and control via your smartphone. The GT-Line equips 18-inch wheels, a leather-wrapped steering wheel, and USB ports in the rear. The EX adds a panoramic sunroof and simulated leather upholstery while the GT swaps in sport seats and a sport-tuned suspension.
The 2020 Kia Optima Hybrid comes in just one trim level, the EX. On this trim level, you get treated to standard leather seats, the Uvo 8-inch touchscreen display, smartphone app integration via Apple CarPlay and Android Auto, and a push button start. Standard safety features include pedestrian detection, forward collision warning, adaptive cruise control, a blind spot monitoring system, and lane departure warning.
On the 2020 Optima Hybrid, you can choose to include the Technology package. This optional bundle upgrades you to a Harman Kardon premium sound system, LED headlights, built-in navigation, sound-reducing side windows, ventilated front seats, and a handful of additional driver aids.
Which Trim is Right for Me?
If we had to pick, we'd wait for the K5 Hybrid to come out. We're guessing that it will also be made in the EX trim. And, if this is the case, we would definitely recommend giving it a test drive. The gas-powered K5 is already a huge upgrade over the outgoing 2020 Optima, but both are excellent vehicles. If you do need a hybrid right now, the 2020 Optima Hybrid is a smart choice. The EX has a lot of standard features - including some fairly luxurious ones - packed into it for a decent overall value.
What Kind of Technology Does it Have?
The 2020 Optima Hybrid comes with a fair amount of standard technology. The Uvo infotainment system comes with an 8-inch touchscreen display that is relatively easy to use. Smartphone app integration comes standard and allows you to sync your apps with the infotainment system. If you don't want to use the integrated navigation, you can just sync your favorite navigation app from your phone. The optional Harman Kardon sound system makes the Technology package quite desirable though, and that would give you the navigation system.
How Does It Perform?
The Optima Hybrid is quiet and spacious on the inside. Going around town or up to speed on the highway is smooth, although acceleration and handling aren't exactly spunky. They're just about average for what you get on a hybrid sedan.
The gas-powered K5 is spunky, getting up to speed from 0 to 60 mph in just 8 seconds. The brakes feel smooth too, but we don't know how the Hybrid's regenerative brakes will work. Overall, the gas-powered K5 is easy to drive, and we suspect that the Hybrid will be as well.
Is It Safe and Reliable?
Kia has been receiving some consistently good safety ratings. National Highway Transportation Safety Administration (NHTSA) assigned the 2021 K5 a full five stars overall, and the 2020 Optima Hybrid received the same. The Insurance Institute of Highway Safety (IIHS) gave the 2020 Optima Hybrid "Good" ratings on its tests.
Kias are known to be reliable vehicles. Quite a few people have already given up their other sedans for the new 2021 K5 and report that it drives well. The Optimas have been around for a while and have become known for improved build quality and reliability.
What's the Interior Like?
The Optima Hybrid's interior is cozy with a 12-way power-adjustable driver seat to get you in the right driving position. The battery pack does cost the cargo area 2.5 cubic feet, placing it behind the Honda Accord Hybrid and Toyota Camry Hybrid. The leather upholstery looks nice and is breathable, and most of the controls are logically laid out.
What are the Alternatives to this Model?
The 2020 Kia Optima Hybrid's primary alternative will be the K5 Hybrid when it debuts. For now, though, the Camry and Accord are the toughest competitors in this segment. They both offer more cargo space and get competitive fuel economies.
Find the best Lease Deal on a Kia Optima Hybrid
Don't overpay for your Kia Optima Hybrid - get lease quotes from
To avoid overpaying, price shop online first. We recommend;


Car Clearance Deals

,

NADAguides

,

MotorTrend

& CarsDirect
... These free services will offer you the lowest prices.
Note: All Kia Optima Hybrid lease prices and dollar figures above are approximate amounts. Prices are subject to change without notice.