2020 Toyota 86 Lease Deals, Specials and Offers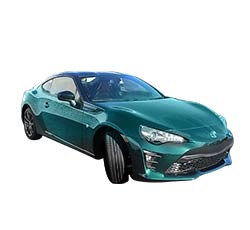 2020 86 - Style: 2.0L 4-Cylinder 6-Speed Manual - MSRP: $28 055

( $2,000 Down Payment)
24 Months
$573/mo. - 12,000 miles
$504/mo. - 15,000 Miles
36 Months
$417/mo. - 12,000 miles
$430/mo. - 15,000 Miles
48 Months
$438/mo. - 12,000 miles
$400/mo. - 15,000 Miles
2020 86 - Style: 2.0L 4-Cylinder 6-Speed Automatic - MSRP: $28 775

( $2,000 Down Payment)
24 Months
$589/mo. - 12,000 miles
$521/mo. - 15,000 Miles
36 Months
$430/mo. - 12,000 miles
$444/mo. - 15,000 Miles
48 Months
$450/mo. - 12,000 miles
$412/mo. - 15,000 Miles
2020 86 - Style: Hakone Edition 2.0L 4-Cylinder 6-Speed Manual - MSRP: $30 865

( $2,000 Down Payment)
24 Months
$635/mo. - 12,000 miles
$568/mo. - 15,000 Miles
36 Months
$468/mo. - 12,000 miles
$483/mo. - 15,000 Miles
48 Months
$485/mo. - 12,000 miles
$447/mo. - 15,000 Miles
2020 86 - Style: Hakone Edition 2.0L 4-Cylinder 6-Speed Automatic - MSRP: $31 585

( $2,000 Down Payment)
24 Months
$651/mo. - 12,000 miles
$585/mo. - 15,000 Miles
36 Months
$481/mo. - 12,000 miles
$496/mo. - 15,000 Miles
48 Months
$497/mo. - 12,000 miles
$459/mo. - 15,000 Miles
2020 86 - Style: GT 2.0L 4-Cylinder 6-Speed Automatic - MSRP: $30 905

( $2,000 Down Payment)
24 Months
$636/mo. - 12,000 miles
$569/mo. - 15,000 Miles
36 Months
$469/mo. - 12,000 miles
$484/mo. - 15,000 Miles
48 Months
$485/mo. - 12,000 miles
$448/mo. - 15,000 Miles
2020 86 - Style: GT 2.0L 4-Cylinder 6-Speed Manual - MSRP: $31 185

( $2,000 Down Payment)
24 Months
$642/mo. - 12,000 miles
$576/mo. - 15,000 Miles
36 Months
$474/mo. - 12,000 miles
$489/mo. - 15,000 Miles
48 Months
$490/mo. - 12,000 miles
$453/mo. - 15,000 Miles
Deal Tip:
To avoid overpaying on a new Toyota 86 lease, get up front lease prices before you visit the dealer. We recommend the following free services;
These services will offer you the lowest prices and supply you with multiple competing price quotes. You will know the best price before you visit the dealer.
About the Toyota 86:
2020 vs 2021: What's the Difference?
As far as small sports cars go, none are as fun as the Toyota 86. Having been co-developed with Subaru BRZ, the 86 is almost exactly like its counterpart. Aside from a few different available features and styling choices, the Toyota 86 and Subaru BRZ could easily be mistaken for one another. And, quite honestly, this isn't a bad thing. Toyota and Subaru play off of each other nicely with these two vehicles. Neither one has changed very much since they were released, but you won't hear us complaining. If it ain't broken, don't fix it.
That being said, don't expect any big changes to the 2021 Toyota 86. Last year's line-up did introduce the 86 Hakone Edition trim level, which added a black spoiler, bronze-hued wheels, and a unique and distinctive green metallic paint job. The downside to this trim level is the fact that it cannot be paired with the optional TRD Handling package - a package that boosts the vehicle's braking and handling performances.
So, should you stick with the 2020 Toyota 86, or should you get a 2021? As they are essentially the same, that is going to really depend on what you can afford. There aren't too many direct competitors for the 86 since a lot of other automakers have stopped making rear-wheel drive (RWD) coupes that are affordable like this. The focus has shifted to making SUVs and hybrid variants.
If the 86 sounds appealing, then read on. We will go over its trim level offerings, technological specs, how it performs, how safe and reliable it is known to be, what you'll find in the interior, and which vehicles make for good alternatives.
What Do the Various Trim Levels Offer?
The Toyota 86 is a RWD model that comes equipped with a 2.0-L flat-4 cylinder engine. This engine has a power output of 205 hp and 156 lb-ft of torque and is paired up with your choice of a 6-speed automatic or 6-speed manual transmission. The 6-speed automatic does rate the vehicle's power output down to 200 hp and 151 lb-ft of torque, so at least that is not a significant difference. And you can equip either transmission on any of the three trim levels: the base 86, the mid-tier 86 GT, and the 86 Hakone Edition.
Sticking with the base 86 trim level gets you 17-inch wheels for the vehicle to ride on. You also get LED headlights, smartphone app integration via Apple CarPlay and Android Auto, and a 7-inch touchscreen infotainment system. On this trim level - as well as on the 86 GT - you can opt to equip the TRD Handling package. This package adds on upgraded Brembo brakes and Sachs suspension dampers.
Kicking it up a notch with the 86 GT swaps in 18-inch wheels for the base 86's 17-inch wheels. This trim level also adds standard heating to the simulated suede-upholstered front seats and a rear spoiler for an extra sporty vibe. A dual-zone climate control system, a 4.2-inch multi-information display for the instrumentation cluster, and keyless entry and ignition get tacked on as well.
The 86 Hakone Edition adds that unique green paint to the body and swaps the 17-inch wheels back on instead of the 86 GT's 18-inchers.
Which Trim is Right for Me?
Creature comforts are on the minimalist side here. You're not going to be buying the Toyota 86 because of feature-richness. Instead, you're buying it for what is under the hood. That is why we recommend sticking with the base 86 and adding the TRD Handling package for that enhanced performance.
What Kind of Technology Does it Have?
Technology is sparse, as we have already hinted at. You do get standard smartphone app integration from Apple CarPlay and Android Auto, but basically everything in the infotainment system is in need of an update. Bluetooth connectivity is standard but unreliable, and the sound system's audio quality is underwhelming.
How Does It Perform?
The 2021 Toyota 86 is all about driving performance. Its handling and steering feel superbly accurate. The tires don't have much grip, but it doesn't really make that much of a difference. You can actually have fun while rounding through turns. Both the manual and automatic transmissions deliver a steady supply of power and don't detract from the enjoyable nature of the driving performance. The manual does accelerate more quickly though, beating the automatic's 0-60 time of 8.3 seconds with a time of 6.7 seconds. Too bad the engine is so lackluster; full-throttle upshifts make the engine falter in its performance.
Is It Safe and Reliable?
Each of the front barrier crash tests that NHTSA conducted on the 2020 line-up received 4/5 stars. NHTSA did assign 5 stars on the rollover risk assessment, and IIHS gave the 86 "Good" marks on its tests. There are a few standard driver aids equipped too, such as a back-up camera and hill descent control. However, there aren't any fancier ones like forward collision warning or lane keep assist.
What's the Interior Like?
The Toyota 86's interior is also minimalist in design. All of the controls are placed right within your reach, and there's no guesswork involved in how they are supposed to operate. You can easily maneuver this vehicle and do so from a good vantage-point behind the wheel. The only thing is that the rear seats are best left for items, not people. They are definitely small and not that comfy.
What are the Alternatives to this Model?
Not feeling the Toyota 86? The Mazda MX-5 Miata is a fun little convertible that offers up quite a bit of fun. You do lose some sportiness in the handling due to it being a drop-top, but it is still an exciting two-seater. There is also the front-wheel-drive Honda Civic, which offers superb fuel economy blended with a strong performance all-around.
Find the best Lease Deal on a Toyota 86
Don't overpay for your Toyota 86 - get lease quotes from
To avoid overpaying, price shop online first. We recommend;


Car Clearance Deals

,

NADAguides

,

MotorTrend

& CarsDirect
... These free services will offer you the lowest prices.
Note: All Toyota 86 lease prices and dollar figures above are approximate amounts. Prices are subject to change without notice.