Mazda Lease Deals, Specials & Offers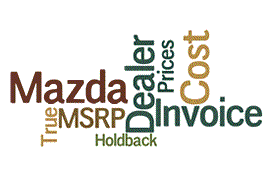 Price Tip:
If you hate negotiating and still want the best possible deal, always price shop online first. We recommend
Car Clearance Deals,
NADAguides,
Motortrend, and
CarsDirect
. These free services will offer you the lowest prices on a new Mazda and supply you with multiple competing price quotes. You will know the best price before you visit the dealer.
Mazda Lease FAQ
What are the benefits of leasing a Mazda over financing?
If you find yourself constantly looking for change or admiring other vehicles, a Mazda lease would be the ideal option for you. A lease allows a consumer more flexibility than traditional financing options because it only holds buyers to the same vehicle for a short period of time. Lease payments are also often much lower than financing payment requirements.
What is Mazda Financial Services?
Mazda Financial Services is the branch of the Mazda enterprise that is responsible for offering lending options to Mazda consumers. This entity is responsible for making lending decisions, servicing the loans and leases of Mazda consumers, and completely the least end or pay-off processing.
How does Mazda's Owner Loyalty Discount work if I lease?
To repay consumers for their loyalty to the Mazda brand, current customers gain access to Mazda's Owner Loyalty Discount. This is a program that rewards current customers who choose to invest in a new vehicle within the Mazda family after their current lease or loan is up.
What are the options at the end of my lease?
Whether you are in love with the vehicle you leased and want to keep it or are ready for a change, consumers have many options at the end of their lease term. While maintaining ownership of the leased vehicle is offered, so is an exchange for another Mazda vehicle. A lease can be ended as intended, as well. This is perfect for consumers who would rather finance or pay outright for a new vehicle purchase.
What are the insurance requirements when I lease a Mazda?
The mandatory insurance requirements that accompany a Mazda lease are like that of any other financing agreement. While liability limits may be selected by the individual, they must at least meet the minimum in their state of residency. Also, physical damage must be carried to protect the lessor's interest in the vehicle.
What is the excess mileage charge at the end of the lease?
Excess mileage charges are different for every lease agreement. Typically, consumers can expect to pay a set amount per mile exceeded in the original lease agreement. This amount is usually around 15 or 20 cents per mile.
What is the maintenance package on a Mazda lease?
When you lease a Mazda vehicle you are expected to keep that vehicle in good condition during the term of the lease. If you should experience financial hardship or move, the previous purchase of a maintenance package will be a welcome relief in times of vehicle repair and servicing.
Should I buy extra warranty protection when I lease a Mazda?
There is no such thing as too much coverage on a vehicle. If you are concerned about maintaining the condition of your leased Mazda vehicle, extra warranty protection provides an extra layer of assurance.
What does Mazda consider normal wear and tear and excess wear and tear?
Mazda expects drivers and passengers of leased vehicles to use their vehicle like it is owned. However, this accommodation only extends to a certain point before the vehicle begins to depreciate more than expected. A damage allowance of up to $1,000 is provided by Mazda to cover excess wear and tear beyond the lease agreement. However, anything beyond that would be up to the lessee to compensate.
What is the Mazda Lease Pull Ahead Program?
If you saw a new Mazda vehicle that you like but thought it was out of reach due to a current Mazda lease, think again. The Mazda Lease Pull Ahead Program accommodates consumers who want to get out of their lease early to exchange their vehicle for another Mazda model.
When I lease with Mazda, are there extra up-front costs and/or fees at the end of the lease?
Oftentimes, there are extra fees that are incurred at the beginning and end of a lease term. Initially, lessees may be expected to pay sales tax, costs for optional protection, or origination fees. After a lease ends consumer may be expected to pay for any damage or wear outside of what is allotted in the lease agreement.
Is Mazda Excess Wear and Use Protection worth it?
Some consumers can predict they are likely to exceed the allotted wear and tear amount in their lease agreement. Lessees with children or those who are hard on their vehicles may find the Mazda Excess Wear and Use Protection is well worth the extra investment.