New Ram Prices: MSRP, Factory Invoice vs True Dealer Cost - w/Holdback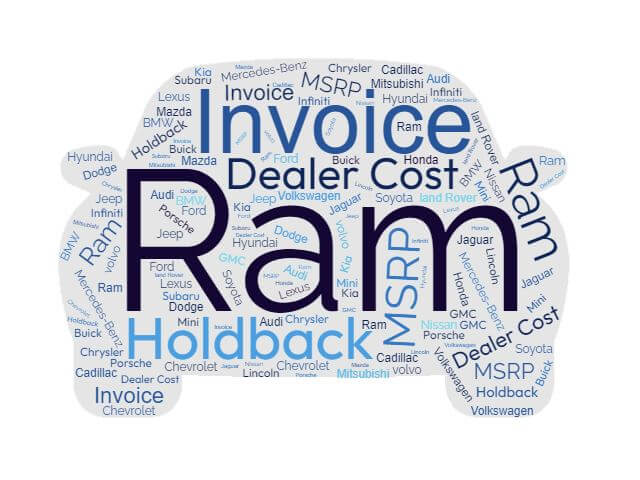 Price Tip:
These days it's hard to get good deals. Many consumers are paying above sticker price. To find the best deals, price shop online first. We recommend
Rydeshopper,
NADAguides,
Motortrend, and
CarsDirect
. These free services will offer you the lowest prices on a new Ram and supply you with multiple competing price quotes. You will know the best price before you visit the dealer.
Why You Should Know the True Dealer Cost...
Most people mistakenly believe that the Ram Invoice Price reflects what the dealer paid for a new vehicle - The true Dealer Cost.
It is not!
The Dealer Invoice Price has hidden mark up such as holdback and other fees built into the price.
The following Ram price guides strip these hidden dealer profits out and illustrate the MSRP, the invoice price, Holdback and the true dealer cost. (See price definitions below.)
Knowing the dealer cost of a new Ram gives you needed leverage when it comes time to negotiate a great price. Negotiating from the cost up and not the MSRP down can save you thousands on your next purchase.
Ram Price Terms & Definitions
When you start looking for a new car it is about more than just the right model or color it is about getting the very best deal that you can on that car. Well, there are a few key terms that you need to understand that will help you get the best deal.

MSRP this means Manufacturers Suggested Retail Price. This is the price that the manufacturer places on the vehicle that will allow for the cost of making the car and include some profit.

Dealer invoice price is the amount that a dealer pays to the manufacturer of the car.
This price includes the cost of making the car and adding any of the items they consider extras or upgrades.

Dealer holdback is 2% to 3% of the manufacturers price that is paid back to the dealer. This money helps the dealer be able to finance their cares so they can have more of a selection for you to choose from.

Manufacturer incentives and rebates these are offered to buyers to help the dealers sell the cars on their lots. Usually given on overstock or slow sellers.

Destination fee is an amount that is charged by the manufacturer to get the car delivered from the factory to the dealership. This is usually a non-negotiable amount.

Dealer incentives are given when a dealer reaches sales goals. They are offered by the factory.

Regional ad fees are the amount that the dealer pays to help defray the advertising costs of the manufacturer.

If you know these key definitions then you will be prepared to go into a dealership, see what they are charging you and know where to ask for a break and expect to get it.
True Deal Cost - The actual price Ram dealers pay for their new vehicles. Here is how it is calculated:
Formula for Calculating Dealer Cost of a New Ram:
Base Ram Invoice Price + the dealer Invoice price of Options + Destination - Holdback = Total Dealer Cost.
What is Dealer Holdback? A hidden amount that manufacturers give back to a dealer. It is a percentage of the MSRP or the Invoice price. The holdback for Ram is 3% of the Total MSRP. (See the New Car Dealer Cost Example.)
Total Dealer Cost - Rebate and Incentive + Taxes / Licensing Fees = True Dealer Cost.(See Mazda Rebates and Incentives.)