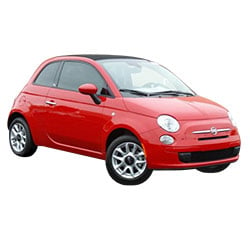 Are you in the market for a high-end subcompact car that also offers an open-air driving experience? Look no further than the 2017 Fiat 500C. This luxurious little convertible is a sleek counterpart to the 2017 Fiat 500 hatchback. This model year, Fiat is slashing prices on the 500 and 500C, so you might want to consider test-driving one of these sophisticated vehicles.
What's New for 2017?
Prices have been cut from the 2016 model. The base 500 trim has been reduced by $3905 while the top-of-the-line Abarth convertible is $5205 cheaper than the 2016 model. Also, unlike the 2016 models, the 2017 Fiat 500C is quite similar to the 500 in terms of features and standard items.
Top 10 Reasons to Buy a 2017 Fiat 500C – The Pros
1. Superb Gas Mileage
Although the 2017 Fiat 500C will get about 27 mpg combined (24 city/32 highway mpg) on the Abarth with an automatic transmission, on the Abarth's manual transmission, you can get a respectable 30 mpg combined (28 city/33 highway mpg).
2. Affordability
The 2017 Fiat 500C and 500 are both competitively priced with a starting MSRP of $14,995. Competitors in its class price from about this MSRP to about $20,000 for a starting MSRP on the higher end. Fiat reduced prices on the 500 and 500C last year, potentially in an attempt to be more competitive in the market.
3. It Handles City and Highway Driving
The 2017 Fiat 500C handles both city and highway driving particularly well. If you opt for the 5-speed manual transmission, you can switch into sport mode for that extra 'oomph' when navigating difficult roadways. Other competitors in its class do not feature a sport mode on their manual transmissions.
4. Sufficient Front Seat Space
Despite being a subcompact car, the 500C has enough interior space. There is plenty of legroom for taller individuals in the front seats. Of course, the back seats are on-par with any other subcompact car in that you can only fit small children back there. You can get about 23.4 cubic feet of cargo space with the rear seats folded down.
5. Distinctive Style
The 2017 Fiat 500C is discernible on the road for its unique style. You can select from 15 vibrant and dynamic exterior paint colors, and there are a number of color combinations you can make between the body and the soft top, giving it an ultra-chic and sporty edge.
6. Electronic Stability Control
You won't have to worry about losing control over your vehicle while driving, thanks to Fiat's safety technology. The 500C and 500 come with Electronic Stability Control (ESC), which automatically adjusts the car's throttle and applies the brakes to individual wheels when the system detects a difference between the direction you're driving and your steering input.
7. The Abarth's Two Intercoolers
Since they're turbocharged cars, the 2017 Fiat 500C and 500 Abarth models have two intercoolers that create more densely-charged and cooler air. Two "nostrils" on the front fascia allow for airflow in and out of the intercoolers to be maximized.
8. ParkSense Rear Park Assist System
Some automakers are starting to implement parking monitor systems, and Fiat prides itself on making safety a priority with the ParkSense Rear Park Assist System. Sensors can detect if you are too close to an object behind you and will alert you on screen and by making a chiming sound.
9. A Generous Basic Limited Warranty
Fiat provides a longer Basic Limited Warranty than many of its competitors, includign Volkswagen, Nissan, and Honda. The Fiat 500C comes with a 48-Month, 50,000-Mile Basic Limited Warranty, which seems pretty generous.
10. Optional Beats Audio Sound System
Fans of Beats Audio might want to consider opting for the Beats Audio Sound System. This system includes a trunk-mounter subwoofer and provides crisp, clear sound throughout the cabin.
Buying Tip:
To avoid overpaying on a new car, shop prices online first. Get up front pricing before you walk into a dealership. We recommend the following free services;
Car Clearance Deals,
NADAguides,
CarsDirect & &
MotorTrend.
These free services will offer you
the lowest prices
and supply you with multiple competing price quotes. You will know the best price before you visit the dealer.
Reasons Not to Buy a 2017 Fiat 500C – The Cons
1. The Soft Top Limits Rear View
Unfortunately, the 2017 Fiat 500C's soft top has an accordion-like way of stacking when it is put down. This significantly limits rear view perspective and actually seems somewhat dangerous.
2. It Turns Like an SUV
The 500C has accurate steering (minus a slight lack of feedback), but the Abarth is especially clunky when making turns. The car has a 37.6-foot turning diameter, making it handle turns similarly to much larger SUVs.
3. Some Sub-par Interior Materials
Although the interior has some stylish elements, some of the materials seem a bit sub-par. Other vehicles in its class utilize more quality materials that make you feel less surrounded by cheap plastic parts.
4. A Slow Base Engine
The base engine is painfully slow. The base 1.4-liter four-cylinder engine puts out 101 hp and 98 lb-ft of torque. This engine, when paired with the automatic transmission, gets a horrendously slow acceleration, going from 0 to 60 in about 12.4 seconds.
How it stacks up to the competition:
500C vs. 2017 MINI Cooper
Although significantly pricier than the 500C, the 2017 MINI Cooper has a lot to offer in terms of its engine and handling. The base engine ( a 1.5-liter three-cylinder that generates 134 hp and 162 lb-ft of torque) by far outperforms the base engine on the 500 and 500C. The MINI Cooper also gets exponentially better gas mileage and looks much more upscale on the interior.
500C vs. 2017 Smart ForTwo
Hovering in the same price range is the 2017 smart ForTwo. The smart Fortwo's engine only generates about 89 hp, making it a pretty sluggish engine, even compared to the 500C. It can be customized quite a bit with optional heated seats and automatic climate control. The Smart ForTwo does get slightly faster acceleration, but it will feel even more cramped than the 500C.
Conclusion
The 2017 Fiat 500C is not the highest-performing car in its class, as its engine/transmission pairings seem a bit lackluster, especially with the automatic transmission. The interior could use some improved materials. However, the vehicle is pretty modern-looking on the inside, has sufficient space up front, a decent amount of tech and safety features, and is distinguishable for its unique style.