2022 Hyundai Santa Fe vs Honda CR-V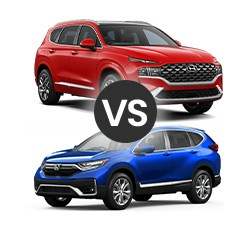 Hyundai and Honda have both created remarkable two-row SUVs that offer plenty of space, capability, and cutting edge technology. The Santa Fe from Hyundai is matched in these regards by the CR-V from Honda – but which one should you choose? This overview will compare them to give buyers all the information they need before making a decision. Dive into this study for an expert assessment of what sets each vehicle apart!
The Powertrain
Hybrid technology is rapidly taking center stage in the automotive industry, and Hyundai and Honda are at the forefront. The two automakers have embraced this shift by offering multiple engine options for both their Santa Fe SUV and CR-V crossover--including traditional gasoline models plus hybrid variants to suit every driver's needs.
The Santa Fe offers two powertrains for drivers looking to customize their ride. For a more classic drive, opt for the 2.5-liter engine that churns out 191 horses and 181 pound-feet of torque with an eight speed automatic transmission featuring SHIFTRONIC manual shifting ability. Or get behind the wheel of turbocharged performance with the same sized engine boasting 281 horsepower and 311 pound feet, connected to an enhanced 8 speed wet dual clutch transmission also equipped with SHIFTRONIC options.
The Santa Fe is equipped with an impressive variety of performance and fuel-efficiency options. It offers up to 25 mpg in city driving or 28 on the highway for front-wheel models without a turbocharger, while all-wheel versions are capable of getting as much as 22/25 (city/highway) miles per gallon. For those who prefer more power under their hood, adding a turbocharger can provide either 22/28 mpg or 21/28 depending on drivetrain configuration -- so you get higher performance levels that don't sacrifice efficiency.
Experience the power of acceleration with an all-wheel drive Santa Fe Hybrid and its staggering 226 net horsepower. A 1.6 liter turbocharged engine along with a 6 speed automatic transmission offers optimum performance while driving efficiently at high speeds on any terrain! For even higher specs, upgrade to the Plug-in Hybrid version boasting 261 maximum horsepower - guaranteed to turn heads as you cruise down your favorite stretch of road.
The brand new Santa Fe Hybrid and Plug-In Hybrid vehicles promise an unprecedented gas mileage experience with a combined 31/36 mpg, while the latter also offers up to 30 miles of electric range. Furthermore, if you take advantage of all its available features your MPGe could reach 76!
Honda's CR-V offers a hybrid option with all the power of an AWD machine. Don't let its modest 2.0 liter engine fool you - this car packs a punch, generating 181 horsepower and 232 pound-feet of torque! Not to mention that it easily outperforms competitors when efficiency is factored into consideration with up to 40 mpg in city driving conditions and 35 mpg on the highway.
The Honda CR-V's 1.5-liter turbocharged engine packs a punch with 190 horsepower and 179 pound-feet of torque, amounting to almost the same power as the Hyundai Santa Fe - but that isn't all! Allowing for optional all wheel drive, it gives drivers utilitarian options to customize their rides. But if you're looking for fuel efficiency too then look no further; with front wheel drive up 23/34 mpg or 27/32 when upgraded to AWD , your wallet will love this SUV just as much as you do.
When it comes to hauling heavy cargo, the Hyundai Santa Fe is a clear favorite. While both vehicles have similar specs in terms of horsepower and torque, the differences show when looking at their respective weight limits: The CR-V can handle up to 1,500 pounds - but with options like turbocharged non-hybrid models available on most versions of the Santa Fe providing 3,500 pound capacity , Hyundai easily takes home the gold medal here.
The Santa Fe is designed to tackle the toughest terrain while keeping you safe and secure. With trailer sway control as a standard feature, this SUV uses its advanced technological systems to monitor every move and make necessary adjustments for maximum stability no matter what your destination may be - proving that it's truly built for whatever life throws at it.
Drivability
Drivers rejoice! Honda's CR-V and Hyundai's Santa Fe offer the perfect balance of liveliness, maneuverability, and size. At 182.1 inches for the former and a petite six inches more for latter - these models are just right to provide you with an enjoyable ride without taking up too much space on your driveway or in your garage.
Taking five passengers on your next family vacation? The Santa Fe and Honda CR-V SUVs have got you covered! Both vehicles provide plenty of space to accommodate everyone, with generous amounts front row legroom - 44.1 inches for the Santa Fe and 41.3 inches for the Honda CR-V - plus 40+ inch rear seat legroom in both cars so that nobody feels cramped up after hours behind the wheel. Whether it's a long drive or just across town, these two beloved models will keep all riders comfortable throughout their journey.
With room for up to 75.8 cubic feet of cargo, the CR-V is one spacious ride! The non-hybrid version beats out its hybrid counterpart with an additional 4.6 cubes of storage space behind the rear seats - perfect for those long road trips and big shopping sprees. But if you're looking for something on par when it comes to size, then opt in favor of the Santa Fe; boasting 36.4 cubes before opening things up even further at 72.1 once both backseats are folded down.
For today's tech-savvy drivers, a reliable car is not only about engine performance and safety features - entertainment options can be just as important. Many cars now come with large touch screens along with Android Auto, Apple CarPlay and Bluetooth capability to ensure that no matter the journey you're always connected.
The CR-V's entry-level model lacking a touchscreen is among its biggest drawbacks. Instead, it just possesses a five-inch color LCD screen. All of the other trims in the lineup have seven-inch touchscreens with smartphone compatibility. Three out of the five Honda trims have SiriusXM and HD Radio. These higher trims can have eight or nine speakers, and the most upscale trim has integrated navigation.
On the contrary, the Hyundai Santa Fe comes standard with an eight-inch touchscreen and smartphone compatibility. Many of its trims have 10.25-inch touchscreens having integrated navigation. Along with the large screen comes a Harman Kardon 12-speaker sound system, having special technology to make the sound come through more clearly.
The Santa Fe is well-equipped when it comes to staying connected on the go thanks to its wireless charging technology and four total USB ports, allowing you and your family members to charge multiple devices at once. Meanwhile, the CR-V gives drivers one standard port for their use which some trims have been upgraded with two additional outlets in second row -allowing easy access no matter where they're sitting! So if modern day life requires lots of mobile gadgetry, it's good news that these vehicles make keeping up with our digital world just a bit easier.
Safety
These days, it's nearly anticipated that new vehicles come equipped with driver assistance system installed. It's quite amazing what vehicles like the CR-V and Santa Fe can do. Always on the lookout for potential issues, it's as if they have eyes all around them. If there is a potential safety concern, these vehicles can warn their drivers and can possibly initiate corrective measures.
Hyundai's Santa Fe SUV is setting the new standard in driver safety, offering an array of innovative protective features. From Forward Collision-Avoidance Assist with detection capabilities for pedestrians and cyclists to Lane Keeping Assist and adaptive Cruise Control - this remarkable vehicle takes road protection seriously. And its Driver Attention Warning ensures optimal alertness at key moments during your drive.
Mid-level Santa Fe trims have blind spot monitoring and rear cross-traffic alert, and they have the corresponding braking and steering mitigation systems. If a Santa Fe driver is about to change lanes at the wrong time, the steering would be corrected, and if someone is about to back up into cross traffic, pressure to the brakes would be applied.
The Honda CR-V basically has all of those same features, with a few exceptions. It doesn't have a specific program intended to spot cyclists on the roads, and it doesn't have a driver attention warning. Further, its blind spot monitoring and rear cross-traffic alert systems lack mitigation abilities.
The Hyundai Santa Fe is equipped with over the top technology perks that make driving a breeze! Boasting features such as safe exit assist and an available 360-degree monitoring system, this SUV knows how to take care of its driver. And for those who want extra convenience, there's even an optional remote smart parking assistant which can autonomously park your car after you step out - just press one button and you're good to go.
Which Has the Best Value?
The Honda CR-V offers versatility and convenience in a range of prices that can fit any budget. Starting at just $26,800 it's an affordable choice while its top level trim tops out at $36,600 with reasonable jumps along the way to customize your ride. For eco-friendly drivers wanting more from their vehicle, there are hybrid powertrain options for those willing to pay slightly extra.
The costs of the Santa Fe seem comparable to these numbers, but that's only accurate for the mid-level and lower trims. The most basic version of the Santa Fe costs $27,700. Moving up in the lineup is associated with rising prices, and the increases are somewhat significant. The Limited trim, which has a turbocharged engine and many luxurious features, costs nearly $40,000, and the Calligraphy costs more than $41,000.
Investing in a Hybrid or Plug-In SUV pays off for drivers, as the long term savings at the gas station can be considerable. And with two tiers of available trims even further increasing those potential cost implications, there's no shortage of options when it comes to choosing your desired level and model. The Santa Fe Hybrids come starting from $34,300 while plug-ins start slightly higher at around $40k until reaching an upper tier trim priced just shy of 47 thousand dollars.
Which is Better?
Hyundai Santa Fe is a top-tier choice for drivers who prioritize both performance and safety, offering advanced technology in addition to its available hybrid and plug-in hybrid options. Meanwhile, Honda CRV provides an optimal balance of economy with enough cargo space for most buyers' needs; this makes it the go-to option if budgeting constraints are at play. Ultimately, customers must decide which set of features best matches their driving preferences: the high performing Santa Fe or cost effective CRV?