2022 Hyundai Santa Fe vs Honda CR-V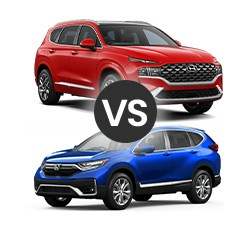 Hyundai and Honda are two vehicles that make a number of quality SUVs. Two-row SUVs remain quite popular, and the Hyundai Santa Fe and Honda CR-V are great options. They both have a generous amount of space in their cabins, along with excellent capability and impressive technology. There's a lot to like about both vehicles, so which one should someone select? This overview will highlight what's the same and, more importantly, what's different about these models.
The Powertrain
There are several engine options with both of these vehicles, as Hyundai and Honda have seemed to embrace the industry's shift towards hybrid vehicles. There is a traditional Santa Fe as well as a hybrid and plug-in hybrid, and there are traditional and hybrid versions of the CR-V.
The regular Santa Fe actually offers two different powertrains. The first is a 2.5-liter engine that can generate a good deal of power, with 191 horsepower and 181 pound-feet of torque. It's paired up with an eight-speed automatic transmission that has the SHIFTRONIC program, which offers manual shifting.
The other traditional Santa Fe powertrain is a turbocharged one. It's actually the same size as the standard engine, with a displacement of 2.5 liters, but its turbocharger gives it a huge boost. This engine can make 281 horsepower and 311 pound-feet of torque, and it works with an eight-speed wet dual clutch transmission. It also has SHIFTRONIC.
Without the turbocharger, a front-wheel-drive Santa Fe can earn 25 miles per gallon in the city and 28 mies per gallon on the highway. All-wheel versions have an estimated fuel economy of 22/25 (city/highway) miles per gallon (mpg). With the turbocharger, fuel economy is 22/28 mpg or 21/28 mpg, depending on whether the SUV has front-wheel or all-wheel drive.
The Santa Fe Hybrid uses a 1.6-liter turbocharged engine and an electric motor, and it can make a net horsepower of 226. Another version is the Santa Fe Plug-in Hybrid, which comes with a more robust electrical component and the same type of engine as found in the hybrid. It has a total horsepower of 261, which is even more impressive.
While the traditional Santa Fes have all-wheel drive as an option, the hybrids come standard with all-wheel drive. They use six-speed automatic transmissions.
Fuel economy is going to be much better with the hybrids. The Santa Fe Hybrid can earn up to 31/36 mpg, and the Santa Fe Plug-In Hybrid has an electric range of 30 miles and has a combined MPG of 33. When its electrical component is factored into play, it has an estimated MPGe of 76.
Honda's CR-V SUV can come as a hybrid, but there's no option for a plug-in hybrid. The hybrid comes standard with all-wheel drive, and it uses a 2.0-liter engine and an electric motor. Together, they generate 181 horsepower and 232 pound-feet of torque. The hybrid CR-V isn't as powerful as the hybrid Santa Fe, but it does better when it comes to efficiency. It's able to earn up to 40 mpg in the city and 35 mpg on the highway.
The regular CR-V uses a 1.5-liter turbocharged engine, and it has 190 horsepower and 179 pound-feet of torque. This is almost the same amount of power than the standard Santa Fe can generate. Again, all-wheel drive is optional.
The non-hybrid CR-V is more efficient than its Hyundai counterpart. The CR-V earns up to 23/34 mpg when it has front-wheel drive, and it can still achieve 27/32 mpg when it has all-wheel drive. These numbers are a step up from those on the Santa Fe, and this will be something that many potential buyers will notice.
Despite there not being a huge difference in horsepower and torque between the CR-V and most of the Santa Fe models, there is a discrepancy related to towing capacity. The CR-V can tow up to 1,500 pounds when properly equipped. In contrast, most versions of the Santa Fe can tow up to 2,000 pounds, with the turbocharged non-hybrid ones being able to tow up to 3,500 pounds. Clearly, Hyundai takes the lead in this area.
Trailer sway control is a standard part of the Santa Fe's mechanical package. With this program, the SUV can sense when it needs to make adjustments in order to keep everything stable. This is another indicator that the Santa Fe is the more durable, rugged option out of these two vehicles.
Drivability
These models feel lively and are easy to maneuver. Many drivers will appreciate that they're not too big and cumbersome. The CR-V measures 182.1 inches, and the Santa Fe is approximately six inches longer.
With two rows of seats, these SUVs have space for up to five passengers. Even if their cabins are loaded down with passengers, everyone will still be comfortable. The Santa Fe has 44.1 inches of leg room in the front row and 41.7 inches of leg room in the second row. The hybrid and plug-in hybrid have a bit less space in their back seat, but with around 40 inches of leg room, they still feel pretty spacious.
In the Honda CR-V, rear seat passengers can enjoy 40.4 inches of leg room. Up front, there's even more space with there being 41.3 inches of leg room.
Behind the rear seats of the Santa Fe, there is 36.4 cubic feet of cargo space. That area can be expanded to have a volume of 72.1 cubic feet by folding down the rear seats. There's a bit more room in the CR-V, as it has 39.2 cubic feet of space behind its rear seat and a maximum cargo capacity of 75.8 cubic feet. Please note that the hybrid version of the CR-V has a little less space than its non-hybrid counterpart.
Some of the Honda trims have manually adjustable driver's seat, but the rest have power-adjustable driver's seat with four-way power lumbar support. Select trims have two-position memory to make it easier to get everything ready before heading off on a drive. Heated front seats, which are found in nearly every trim of the CR-V, add extra warmth on colder days.
The Hyundai Santa Fe has some similar features. Its entry-level trim has a manually adjustable driver's seat, but all the rest have power-adjustable driver's seats with either two-way or four-way power lumbar support. This seat could even have a leg cushion extension to offer more support. The Santa Fe has an available memory system for the driver's seat, and it also offers heated and ventilated front seats and a heated rear seat. These extra components make the Santa Fe feel more like a luxury vehicle.
Keeping passengers entertained can be important for some buyers, and technology plays a major role these days. These vehicles can have sizable touchscreens as well as Android Auto and Apple CarPlay. Bluetooth is standard, too.
The biggest issue is that the CR-V's entry-level model doesn't have a touchscreen. In its place, it just has a five-inch color LCD screen. All of the other trims in the lineup have seven-inch touchscreens with smartphone compatibility. Three out of the five Honda trims have SiriusXM and HD Radio. These higher trims can have eight or nine speakers, and the most sophisticated trim has integrated navigation.
In contrast, the Hyundai Santa Fe comes standard with an eight-inch touchscreen and smartphone compatibility. Many of its trims have 10.25-inch touchscreens that have integrated navigation. Along with that larger screen comes a Harman Kardon 12-speaker sound system. It has special technology to make the sound come through more clearly.
Several trims of the Santa Fe have wireless charging, but only one CR-V trim has this kind of equipment. Every Santa Fe comes with four total USB ports, with two in the front and two in the rear. With the CR-V, one USB outlet is standard. Most trims have two front USB ports, and some of the trims have two more ports in the second row. Since so many households have many mobile devices that travel with them, it can be nice to have at least a few places to charge phones, tablets, and other pieces of equipment.
Safety
It's almost becoming expected that new vehicles come equipped with driver-assist technologies. It's quite amazing what vehicles like the CR-V and Santa Fe can do. Always on the lookout for potential issues, it's as if they have eyes all around them. If there is a potential safety concern, these vehicles can warn their drivers and can possibly initiate corrective measures.
Hyundai has set up the Santa Fe with a number of advanced mechanisms. It has forward collision-avoidance assist, and that program can detect the presence of pedestrians and cyclists in addition to other vehicles. The SUV has lane keeping assist and lane following assist, and it also has adaptive cruise control and driver attention warning.
Mid-level Santa Fe trims have blind spot monitoring and rear cross-traffic alert, and they have the corresponding braking and steering mitigation systems. If a Santa Fe driver is about to change lanes at the wrong time, the steering would be corrected, and if someone is about to back up into cross traffic, pressure to the brakes would be applied.
The Honda CR-V basically has all of those same features, with a few exceptions. It doesn't have a specific program intended to spot cyclists in the roads, and it doesn't have driver attention warning. Further, its blind spot monitoring and rear cross-traffic alert systems don't have mitigation abilities.
Hyundai has managed to give the Santa Fe a few more impressive programs. One is safe exit assist, which lets people know when it's safe to open the doors after parking and exit the vehicle. The Santa Fe has an available 360-degree monitoring system, too, and it has an available remote smart parking system. With this type of technology, the SUV can park itself after the driver steps out of the vehicle. All it takes to initiate this procedure is a push of a button.
Which Has the Best Value?
After reading the previous section, it may seem like the Hyundai Santa Fe is much more well equipped than the CR-V is. That may be true to some extent, but remember that price has to be accounted for when deciding which one to invest in.
The CR-V has a starting price of $26,8000, and its top-level trim costs $36,600. There are reasonable jumps in the middle of these two price points. Keep in mind that a hybrid powertrain can cost a few thousand dollars extra.
Costs of the Santa Fe seem comparable to these numbers, but that's only accurate for the mid-level and lower trims. The most basic version of the Santa Fe costs $27,700. Moving up in the lineup is associated with rising prices, and the increases are somewhat significant. The Limited trim, which has the turbocharged engine and many luxurious features, costs nearly $40,000, and the Calligraphy costs more than $41,000.
There are three trims of the Santa Fe Hybrid, ranging from $34,300 to $40,710. Then, there are two trims of the Santa Fe Plug-In Hybrid, and those two are priced at $40,000 and $46,010, respectively. In the long run, people can most certainly save a lot of money at the gas station when they drive a hybrid or plug-in hybrid SUV, but it's hard to ignore the high initial costs of these types of vehicles.
Which is Better?
The Hyundai Santa Fe has more to offer in many areas, and it's intriguing because it's available as a hybrid and plug-in hybrid. The CR-V, on the other hand, has slightly more cargo space.
To those on a budget, it might be difficult to argue for the Santa Fe since it's the more expensive of the two models. However, it has better technology and more available safety features, and its turbocharged models are very capable. To some buyers, these things will be worth it.
Hyundai's Santa Fe will likely end up appealing more to potential buyers with refined tastes and higher performance expectations, while the Honda CR-V may be better for consumers who are mostly concerned with budget and who would be perfectly satisfied without having too many extra features.