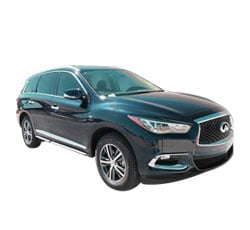 Find New Car Deals Near You
Get multiple price quotes from the Internets leading automotive websites
• Car Clearance Deals
• CarsDirect
• NADAguides
• Motortrend
Trying to find the right luxury SUV can be difficult in today's saturated market. While there are a lot of attractive options available this model year, the 2019 Infiniti QX60 might not immediately stand out as well as some of its competitors. It lacks the sporty look and feel of other vehicles in its class, but the QX60 makes up for this with a fantastic ride quality, hushed cabin, and a smooth continuously variable automatic transmission (CVT).
What's New for 2019?
Not too many changes have been made to the 2019 Infiniti QX60. The only notable differences are some of the new trim level names. Previously, the line-up consisted of just one trim level with two package options, the Premium and Premium Plus. For 2019, the QX60 is available in two trim levels: the base Pure trim and the Luxe. Packages for 2019 include the Essential, Theater, ProAssist, Sensory, and Limited.
Top 10 Reasons to Buy a 2019 Infiniti QX60 – The Pros
1. A Quiet and Cozy Cabin
One of the most attractive aspects of the 2019 Infiniti QX60 is the fact that it provides an impressively quiet and well-mannered ride inside of the cabin. Long-distance rides are enjoyable no matter where you are seated thanks to the firm-but-cushy seats, and you will not hear much in the way of road or wind noise. Traveling along bumpy pavement or at higher speeds will not cause a commotion, and the engine remains relatively silent minus a few hushed and sporadic rattles.
2. The Refined Ride Quality
In addition to the cabin remaining quiet throughout the ride, the quality of the ride embodies luxury as well. The suspension is able to soak up all types of bumps and keeps the Infiniti QX60 running smoothly along. You can load up on passengers and cargo and not suffer a noticeable decrease in the vehicle's ride quality - something that cannot be said of all other SUVs in its class.
3. A Smooth Performance From the CVT
As a rule of thumb, CVT transmissions generally do not work well in luxury SUVs. They tend to take on an overly pliant feeling while the vehicle accelerates. However, the automatic CVT that you find in the 2019 Infiniti QX60 shifts smoothly between gears and makes quick enough changes when taken up to full throttle. With the 3.5-L V6 engine that comes standard, this powertrain is both smooth and snappy, getting the QX60 from 0 to 60 mph in roughly 7.3 seconds.
4. Third-row Seats Are Easy to Access
A lot of large third-row SUVs make it difficult for adults and even some children to get to the third row. Space is typically pretty tight. However, accessing the third row of the Infiniti QX60 is relatively simple for all types of passengers. This is because the second row has a rather unique feature that allows the seats to both tilt and slide in order to make room. Additionally, the third row offers a little bit more room for comfort than some of its competitors since it is able to recline.
5. Driver Aids Work Well
The driver aids on the 2019 Infiniti QX60 are plentiful and appear to be appropriately responsive. One of the most interesting and helpful features you can get is the automatic braking system, which comes standard on all trim levels. This feature helps to keep occupants safe by detecting when the vehicle needs to brake in order to avoid road hazards. You can also get safety features like lane departure warning and blind-spot monitoring by equipping an additional package.
6. Some Towing Capabilities
Many people who buy luxury SUVs are not looking for something with a magnificent towing capacity. Still, if you have some things that you need to haul, the Infiniti QX60 with all-wheel drive is capable of towing up to 5,000 pounds when it is properly equipped. This number matches a few top competitors in the segment and exceeds quite a few others.
7. High-quality Interior Materials
One glimpse inside of the new 2019 Infiniti QX60 lets you know that you are going to be riding around in style. While there is a little bit of hard plastic on the dash, it does not look cheap and outdated like the hard plastic surfaces that sometimes crop up in other luxury vehicles. The wood trim is quite pleasing to the eye, and the leather upholstery lends to the sense of refined elegance. The workmanship that is visible inside the cabin makes the QX60 look like it should be more expensive than it actually is.
8. Climate Control Features
Climate control on the new Infiniti QX60 is nothing short of superb. The system can be controlled by either hard physical knobs or through the touchscreen display; it all depends on your level of comfort with the technology. The air is evenly distributed throughout the cabin at the desired temperature. Also, you get the extra luxury of having heated and ventilated seats, which make rides all the more pleasant during really cold winters and hot summer days.
9. Plenty of Small Item Storage Spaces
You might not need 14 cup holders, but the 2019 Infiniti QX60 has them just in case that you do! In fact, the whole cabin is packed with well-sized storage areas that are ideal for storing portable devices, purses, and books. The center bin is plenty large, as is the glove box. There is a holder for sunglasses and a cubby hole area that is located in front of the gear selector.
10. Child Safety Seats Are Easy to Install
Since accessibility to the third row is relatively easy, installing child safety seats anywhere in the rear is not too much of a hassle. There is a single set of lower LATCH anchors in the third row and four latches for the second. The anchors are found between the seat cushions as opposed to being underneath flip covers, but they are still easy to get to.
Buying Tip:
To avoid overpaying on a new car, shop prices online first. Get up front pricing before you walk into a dealership. We recommend the following free services;
Car Clearance Deals,
NADAguides,
CarsDirect &
Motortrend.
These free services will offer you
the lowest prices
and supply you with multiple competing price quotes. You will know the best price before you visit the dealer.
Reasons Not to Buy a 2019 Infiniti QX60 – The Cons
1. Minimal Third-row Leg Space
A common issue for third-row SUVs is that third-row leg space is pretty limited. This holds true for the 2019 Infiniti QX60, although it could be much worse. With 30.8 inches of leg room in the third row of seats, taller adults will have to find creative ways to fit their knees in. But thanks to the seat's ability to recline, there is some leeway for getting a little bit of extra space. Smaller adults and children will have fewer troubles fitting their legs into the third row.
2. Not Built For Off-roading
Luxury SUVs like the new Infiniti QX60 are not typically built for anything more than very light off-roading. On the all-wheel drive variant of the QX60, you can manage some light off-roading down dirt roads. However, the amount of traction that the vehicle gets is not really suitable for anything more than that. It is best to stick to the paved roads in the QX60.
3. Lacks a Sporty Vibe
There is nothing remarkably sporty about the 2019 Infiniti QX60, unlike some of the other luxury SUVs hitting the market this model year. The QX60 is more of a passenger hauler than a spirited performer. While acceleration and braking are incredibly smooth, there is nothing terribly exciting about them. Steering on the QX60 lacks precision and, overall, just does not feel natural. Handling is equally as off-putting. There is quite a substantial amount of body roll, even for an SUV of its size. You will want to turn on all of the traction control systems to get the best possible handling capabilities out of this vehicle.
4. Too Many Features Are Bundled Into Pricey Packages
While there are a good number of standard driver aids, the infotainment features that you might want tend to be bundled into expensive packages. Whereas many of the QX60's competitors make these types of features standard or at least available as stand-alone options, Infiniti has seen fit to tack hefty price tags onto its bundled packages. For some customers, it might not be worth it to add several thousand dollars in packages just to get some extra infotainment features.
How it stacks up to the competition:
2019 Infiniti QX60 vs. 2019 Nissan Pathfinder
One of the biggest competitors for the 2019 Infiniti QX60 is the 2019 Nissan Pathfinder. This third-row SUV might not be the most spacious in the rear, but it offers a sporty quality that cannot be found in the QX60. Its powerful V6 engine provides a good return on fuel and gets a swift acceleration speed. Unfortunately, its small item storage areas are not as plentiful or versatile as those in the QX60, and there is not a lot of cargo space to use.
2019 Infiniti QX60 vs. 2019 Audi Q7
Another top competitor for this model year is the 2019 Audi Q7. Although it prices well above the more affordable QX60, the Q7 offers a superior ride quality, a lengthy list of both safety and infotainment features, and material quality that borders on flawless. However, you have to spend more to get more, as many of the highly desirable features are not available on the base trim. Also, the Q7 lacks cargo space, putting it somewhat behind its competitors.
Conclusion
The 2019 Infiniti QX60 might not live up to the "sport" part of the "sport utility vehicle" description, but it certainly provides its occupants with a comfortable ride that speaks to its embodiment of luxury. The features you get on the QX60 seem to work well, and it is hard to find such refined interior craftsmanship on a vehicle in this price range.
Save Money on a 2019 Infiniti QX60:
Find New Car Clearance Prices - Many Vehicles are Selling Below Dealer Invoice Prices.
Every dealer offers a secret price. Many prices are below invoice.
Find yours here
.