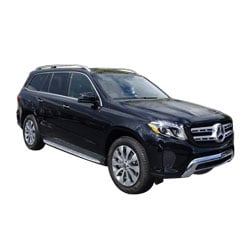 Find New Car Deals Near You
Get multiple price quotes from the Internets leading automotive websites
• Car Clearance Deals
• CarsDirect
• NADAguides
• Motortrend
Since its inception in 2016, the first generation of the 2019 Mercedes-Benz GLC-Class has set the bar high for performance, luxury, and high-tech gadgetry. From the entry-level 300 to the line-topping AMG GLC 63, there is no shortage of the power and prestige that drivers have come to associate with Mercedes-Benz over the years. With numerous packages and stand-alone options, the GLC-Class can easily be customized to suit your needs.
The nice thing about the GLC-Class is that, regardless of which trim level you buy, you will not be spending the small fortune you otherwise would on other vehicles in this class. Just because it is more affordably priced does not mean that the GLC cannot best its competition. In fact, the cost is more than justifiable for the average driver.
Most consumers will be taken with the base GLC 300, which is quite well-equipped. It packs in a good amount of standard features without coming across as so high-tech that it's not drive-able. For the eco-minded driver, there's also a plug-in hybrid variant that is called the 350e 4MATIC. (4MATIC is Mercedes-Benz's fancy way of referring to its all-wheel drive system.) Of course, if it is luxury and high-powered performance that you crave, the top-of-the-line AMG GLC 63 knocks it out of the park.
In a segment that is saturated with high-priced SUVs, the GLC-Class stands out. Each trim level has something special to offer. So, which one might fit your needs the best? Let us contrast the five different trim levels and find out.

Compare the 2019 Mercedes Benz GLC Class 300 vs 300 4MATIC - What is the difference?
As far as base trims go on luxury vehicles, the GLC 300 is about as good as it gets. Loaded to the brim with standard features and powerful mechanics, this rear-wheel drive midsize SUV has a lot to offer the average driver at a reasonable price. The 2.0-L inline-4 turbocharged engine is able to generate 241 hp and 273 lb-ft of torque. Paired with Mercedes-Benz's 9G-TRONIC 9-speed automatic transmission, the GLC 300 is able to easily get up to speed. In fact, it can go from 0 to 60 mph on the highway is a swift 6.3 seconds.
Of course, if you live in a place where the weather gets rough (or if you plan on doing some casual off-roading), the all-wheel drive version of this vehicle is a smart option. The GLC 300 4MATIC has the same powertrain, but with all-wheel drive equipped, the acceleration slows down ever so slightly to 6.4 seconds. Still, this is not a bad showing for a midsize luxury SUV. Both vehicles have options for equipping a sport braking system and a class II trailer hitch. On the 300 4MATIC, you can choose to add on the Off-Road Engineering Package.
On the outside, both vehicles are designed with functionality in mind. The anodized roof rails are given a low profile design with a silver shadow finish, and the body sits atop 18-inch five-spoke wheels with painted gray inlays. Privacy glass covers the rear quarters, doors, and liftgate. As far as paint goes, either trim can be decked out in your choice from a list of ten color options. Essentially, it can be hard to distinguish the regular GLC 300 from the 300 4MATIC just by looking at it from the outside.
On the inside, however, things are slightly different. The GLC 300 comes with several choices for standard trims, including a natural grain brown ash wood trim, which also comes standard on the 4MATIC. The regular 300 also comes with dark brown linden wood, light brown linden wood, and burl walnut wood trims. A stunning natural grain black ash wood and trim is available as an option on both vehicles and gives the cabin an elevated sense of luxury. Other luxury features include a 14-way power-adjustable driver's seat with memory settings, heating on both front seats, and a brake hold feature that allows you to keep pressure on the brakes without using your foot.
The 2019 Mercedes-Benz GLC-Class is, of course, loaded up with helpful safety features. Both the GLC 300 and 300 4MATIC come with active brake assist, an emergency calling service, and Attention Assist (which helps monitor 70 different driving parameters to maintain a driver's attention). Other standard safety features in both variants are crosswind assist, a rearview camera, trailer stability assist, rain-sensing windshield wipers, an advanced tire pressure monitoring system, an antitheft alarm system, and a keyless start.
Those features might not be enough for some drivers, so quite a few advanced driver aids are listed as add-ons. Blind-spot monitoring, active parking assist, and a 360-degree surround view camera system are all optional features that can be equipped on the GLC 300 and 300 4MATIC.
The 300 and 300 4MATIC also have the same multimedia functions. Each of these models comes with a standard 7-inch touchscreen infotainment display. The FrontBass audio system includes two subwoofers that have resonance chambers which are built into the front frame on each side of the vehicle. This helps to save some space inside the cabin and still provides excellent sound quality. The vehicle also comes with HD radio, is pre-wired for a GARMIN MAP PILOT, and has two USB audio ports. In-vehicle WiFi, a CD/DVD player, and smartphone app integration via Android Auto and Apple CarPlay are all available as options on the 300 and 300 4MATIC.
Compare the 2019 GLC Class 300 4MATIC vs 350e 4MATIC Trims. What is the difference?
Looking for a plug-in hybrid variant? Well, then look no further than the 2019 Mercedes-Benz GLC-Class 350e 4MATIC. This trim level takes everything that you get on the 300 4MATIC and adds a plug-in hybrid capacity. The 2.0-L inline-4 engine found on the 300 and 300 4MATIC is paired up with an electric motor and lithium ion battery pack on the 350e 4MATIC. This all-wheel drive model comes with a 7-speed automatic transmission. Together, the powertrain components generate a total of 320 hp and 413 lb-ft of torque.
As far as fuel efficiency goes, the 350e 4MATIC is not exactly miserly with its fuel consumption. It has an electric-only range of just about 10 miles. Its combined miles per gallon is only rated at 25, which is only slightly better than what the gasoline-powered 300 gets. The 300 4MATIC gets 22 mpg in the city and 27 mpg on the highway. However, the 350e has a slightly spunkier acceleration, going from 0 to 60 mph in 6.2 seconds, as opposed to the 6.4 that the 300 4MATIC has been clocked at.
Other than the fact that it has a hybrid powertrain, most things on the 350e echo the features found on the 300 4MATIC. However, there is an optional Intelligent Hybrid Navigation and Multimedia Package that, for just a few thousand dollars more, gives you a huge suite of tech upgrades. The 7-inch touchscreen is swapped for a larger 8.4-inch screen, and voice control is included.
Compare the GLC Class 350e 4MATIC vs AMG GLC 43 - What is the difference?
While the plug-in hybrid variant has a few good selling points, it really does not have the eco-friendly nature one might expect. It also isn't the height of luxury for the 300 line-up. That title is reserved for the two line-topping trims, the AMG GLC 43 and 63. The AMG GLC 43 is starkly different from the lower trim levels with its extremely powerful 3.0-L V6 twin-turbo engine, which musters up 362 hp and 384 lb-ft of torque. With this much power, the AMG GLC 43 has no issue with getting up to speed in just 4.8 seconds.
With 12 color options to choose from, the exterior can be highly customized. Unlike the lower trims, the AMG GLC 43 sits atop 20-inch silver multi-spoke wheels. 21-inch wheels are optional. The glossy black accent trims on the exterior help to set the 43 apart from the rest of the pack and give it an added sense of luxury when viewing the vehicle from the outside.
On the inside, the 43 also steps up the luxury. There is a HomeLINK garage door opener, sport steering wheel, and heated front and rear seats that add more comfort and convenience. While mbrace Connect comes standard, there are three additional mbrace packages that you can equip on the 43. You can also choose to add multicolor LED ambient lighting throughout the cabin, equip leather upholstery, and get hands-free access.
Compare the GLC Class AMG GLC 43 vs AMG GLC 63 Trims. What is the difference?
If you want even more power and luxury, the AMG GLC 63 has it. This line-topping trim has an even stronger engine than the 43. Powered by a 4.0-L V8, the 63 receives a stellar 469 hp and 479 lb-ft of torque. That is certainly more than enough to power this midsize vehicle and offers up quite the exciting ride.
There are also a few other upgrades that need to be mentioned. For example, the AMG GLC 63 has upgraded brakes that give it a sportier and even more secure performance on the road. Also, there are LED headlights that give the exterior a greater sense of luxury. The variable torque distribution on the all-wheel drive system marks yet another upgrade over the lower trim levels.
One of the coolest upgrades (and one that music lovers will surely enjoy) is the 14-speaker Burmester surround-sound audio system. On this system, the sound is crystal clear, full, and seems to envelop the entire cabin. Additionally, SiriusXM Radio comes with a 6-month all access trial, allowing you to expand your listening options. Unfortunately, smartphone app integration remains optional, whereas most automakers include it as a standard feature on their line-topping trim levels.
Buying Tip:
To avoid overpaying on a new car, shop prices online first. Get up front pricing before you walk into a dealership. We recommend the following free services;
Car Clearance Deals,
NADAguides,
CarsDirect &
Motortrend.
These free services will offer you
the lowest prices
and supply you with multiple competing price quotes. You will know the best price before you visit the dealer.
Which One Should You Choose?
Make no mistake, the 2019 Mercedes-Benz GLC-Class has a lot to offer on each of its trim levels. However, some of them are better deals than the others. The 300 and 300 4MATIC are both solid options. The only real difference between them is the inclusion of all-wheel drive on the 4MATIC.
The 350e is the alternative to the gas-only 300 and 300 4MATIC, but there are stronger plug-in hybrid options out there. In fact, it really just functions like a clunkier version of the 300 4MATIC. If you are really looking for something spunky, the AMG GLC 43 is a nice compromise between affordability and luxury. Its powertrain is solidly built, and the number of standard options you get will feel sufficient.
Save Money on a 2019 Mercedes Benz GLC Class:
Find New Car Clearance Prices - Many Vehicles are Selling Below Dealer Invoice Prices.
Every dealer offers a secret price. Many prices are below invoice.
Find yours here
.