Pros VS Cons • Configurations
2020 Subaru Crosstrek
Performance • Comparisons
In the market for a capable off-roader with a fair amount of space in the cabin space? Then you might find the 2020 Subaru Crosstrek to be to your liking. It is athletic in style and gives the driver plenty of comfort. But there are some things to be leery of with the Crosstrek, especially if you need a lot of cargo space and want something that can get up to speed right away. Read on to learn more about the 2020 Subaru Crosstrek and what it has to offer buyers. Could this be the right SUV for you?
What's New for 2020?
A few changes have been made to the 2020 Subaru Crosstrek. First of all, the Crosstrek gets new LED lighting for the exterior. There is also now engine stop-start functionality and rear seat reminders. Overall, more previously optional features have been standardized, which is a good thing considering that the Crosstrek's price range can go into the $35,000 range. The more features you can get for the price, the better.
The Pros and Cons of the 2020 Subaru Crosstrek
The Pros:
✅ A Ton of Ground Clearance
If you are looking for something that will be a strong off-roading vehicle, then you will want something with a lot of ground clearance. The 2020 Subaru Crosstrek has a respectable 8.7 inches of ground clearance, which definitely makes it easy to avoid scraping the bottom of the vehicle on the ground. Bottoming out is something you certainly want to avoid, and you will be able to avoid doing that when you take the Crosstrek off the beaten path. You do also get hill descent control, and the standard all-wheel drive works really well at keeping the Crosstrek secure on all types of road surfaces, in all types of weather conditions.
✅ A Roomy Rear Seat
There are not too many hatchbacks that have spacious rear seats. The 2020 Subaru Crosstrek, however, does. Even taller passengers can comfortably fit their heads, shoulders, hips, and knees into the rear. The roof does not slope down in a way that limits head space, which is a problem that you will find in other vehicles in this class. While this does put a damper on the cargo area, if it is rear seat space you need, you will get enough of it in the Crosstrek. The rear seat is a perfect fit for two larger adults or three children. Of course, there is plenty of room up front in the cockpit too.
✅ A Cozy Ride Quality
One of the other things that Subaru gets right on the Crosstrek is its comfortable ride quality. The suspension is tuned well and helps to smooth out all different sizes of bumps. You will not feel them making their way into the cabin as you glide over rough pavement. Also, the wheels feel appropriately sized and absorb a lot of the bumps with ease. Overall, you should have a calm enough ride quality when you take the Crosstrek out for a spin.
✅ Excellent Outward Visibility
From your place in the driver's seat, you will be able to look out and see all around the vehicle. Fore and aft, side to side, your visibility is pretty clear. The front windshield is wide, and the roof pillars are slender in their design. You can also see well out of the big side windows. The second row's head restraints do not get in the way of rear visibility. Also, blind spots look to be rather minimal for a vehicle in this segment. Of course, blind spot monitoring and the rearview camera system help when you need them to be your second set of eyes.
The Cons:
❌ Minimal Cargo Space
The biggest downside here is that the 2020 Subaru Crosstrek trades more rear seat space for less cargo space. If you do not need much cargo space, then this should not be much of an issue. But, if you are like many of us, you need that extra cargo space for hauling everything from groceries to bulky double strollers to hefty camping gear. With all seats in place, there is just 20.8 cubic feet of cargo space available. If you let down the rear seats, that number tops out at 55.3 cubes. You can get more space from smaller hatchbacks. This is disappointing and will probably compel some potential buyers to look at the Crosstrek's competitors instead.
❌ A Mediocre Driving Performance
The driving performance on the Crosstrek is surprisingly bland. Its base 2.0-L 4-cylinder engine only musters up 152 hp and 180 lb-ft of torque. With the CVT equipped, the acceleration feels downright sluggish. There is a 6-speed manual transmission available, but it does not give much improvement here; it is the engine that is the real problem. Getting from 0 to 60 mph takes a ridiculously slow 10.3 seconds. Even vehicles notorious for being slow (like the Toyota Prius) can outperform the Crosstrek in this regard. Also, the handling feels dull and a bit unrefined. That is not something you normally find in vehicles in this segment.
View more pros and cons of the 2020 Crosstrek. ›
Configurations / Trim Levels
Before you say 'yes' or 'no' to the 2020 Subaru Crosstrek, you should probably learn more about its different trim levels first. The base trim is fairly basic, of course, and the higher up you go, the more standard features you get. But just how much are you willing (and able) to pay for those features? Are they really that necessary? Would the base trim do just fine for what you need? Let us take a look.
Base
The 2020 Subaru Crosstrek has a base trim known simply as the Base trim. As already mentioned, AWD is standard, as is the 2.0-L engine. The 6-speed manual transmission is standard on this trim level, but you can still opt for the CVT if you prefer that. This trim - along with the other three gas-only versions of the Crosstrek - is able to tow up to 1,500 pounds. It comes with active torque vectoring and traction control. With the 6-speed equipped, the Base gets 29 mpg on the highway and 22 mpg in the city.
The Base Crosstrek rides atop 17-inch wheels and comes with all-season tires. The front fascia has halogen headlights, and there are black folding side mirrors and a roof spoiler. You also get body-colored door handles, black roof rails, and wheel arch cladding. On the inside, you will find manually adjustable front seats, 60/40-split folding rear seats, cloth upholstery, and a multi-function display up front.
Creature comforts include electronic cruise control, numerous controls mounted onto the steering wheel, power for the side mirrors, and a bottle holder on each door. The cargo area, though small, comes with four tie-down hooks and two grocery bag hooks. Automatic climate control is standard, and the Base trim has the StarLink 6.5-inch multimedia infotainment system. Also, there is a 4-speaker sound system and the option for adding EyeSight Driver Assist Technology.
Premium
Now, if you step it up a trim level to the Premium, you get a lot of the same mechanical features but more added to the interior and exterior. On the outside, you get fog lights tacked on as well as body-colored folding side mirrors, de-icer on the windshield wipers, heated side mirrors, and an option for a power tilting moonroof.
Inside, the front seats gain heating, and you can opt for power seats up front. There is a leather-wrapped steering wheel with orange stitching, and you can get an automatic transmission handle done in the same way if you equip the CVT instead of the 6-speed manual transmission. Orange stitching is also standard on the cloth upholstery.
Creature comforts are more abundant too. You get auto on/off headlights added on in addition to features like two USB inputs up front, illuminated vanity mirrors on the sun visors, and a rear cargo tray. The infotainment system upgrades you with access to SiriusXM, 4G LTE WiFi connectivity gets included, and the sound system gains two speakers. An option opens up for a blind spot monitoring system, and EyeSight is still optional as well. Subaru STARLINK Safety and Security is included though, which gives you access to SOS Emergency Assistance, concierge services, and Enhanced Roadside Assistance.
Limited
If you have the extra money to spend, you can get the line-topping Limited trim level. The Limited comes with the same powertrain, of course, but a lot more features get added on. Subaru Intelligent Drive and automatic engine stop/start become standard issue, as does the CVT. X-mode and Hill Descent Control are standard as well, and the fuel economy jumps up to 33 mpg on the highway and 27 mpg in the city - not bad for an AWD hatchback SUV.
Black, machine-finished 18-inch alloy wheels get equipped on the Limited. LED Steering Responsive Headlights (SRHs) get added to the mix, as do LED fog lights, integrated turn signals on the body-colored power-folding side mirrors, and a power-adjustable driver's seat. Inside, you will find a leather-wrapped steering wheel, leather-wrapped gear shift knob, and leather upholstery that are all done with orange stitching. There is a bigger 4.2-inch instrument cluster, a color multi-function display, two USB charging ports in the rear seat, folding arm rests with double cupholders, and the STARLINK 8.0-inch Multimedia Plus infotainment system. A Harman Kardon sound system is available as an upgrade, as is built-in Navigation on the infotainment system.
Of course, the Limited gives you standard access to EyeSight driver aids. But you also get blind-spot monitoring, high beam assist, and reverse automatic braking to round out the list of standard safety features. They can certainly come in handy when you need them and are nice to have as standard features.
Hybrid
The Limited also has a hybrid variant available. This means you essentially get everything that comes on the gas-only Limited but with a hybrid powertrain. It is a lot more expensive, so if you do not have room in your budget for a $35,000 hybrid vehicle, then this is not the right one for you.
For a detailed comparison of these trim levels, see our recent research into the 2020 Subaru Crosstrek Trim Level Comparisons and Configurations. ›
Driving Impressions and Performance
Here is where the 2020 Subaru Crosstrek is problematic. Its driving performance is not what you would expect from an athletic-looking hatchback SUV. Whether you are driving it around the city or trying to get it up to speed on the highway, the Crosstrek feels sloth-like. The engine is the real problem here. This 2.0-L contraption is massively under-powered and, therefore, ill-suited for a vehicle like this. The Crosstrek is meant to be an off-roader, to be sure, but it needs to be a capable on-roader too. The fact that a puny Toyota Prius can get from 0 to 60 mph faster than the Crosstrek's 10.3 seconds speaks volumes about its overall performance. Most vehicles in this class do better when it comes to sending power to the wheels.
We must also mention the handling. On the beaten path, the Crosstrek feels a bit flimsy. Everything just feels bland, and you will not always know exactly how the tires are tracking across regular paved roads. The trail is where the Crosstrek really shines. Its ground clearance, AWD system, and hill descent control (which Subaru calls X-Mode) all work together to make the Crosstrek's off-roading performance really superb. It's just a shame that it cannot echo that performance on regular roadways. But, that being said, you do get a good performance from the brakes, and you can safely make a panic stop from a high rate of speed.
Safety
Here is another spot where the 2020 Subaru Crosstrek outshines some of its competitors. If you get the EyeSight suite of driver aids equipped, you are good to go. Of course, as we already mentioned, you get them standard on the Limited and its hybrid variant. Adding the blind-spot monitoring system is also a smart idea if you feel like you need a second set of eyes to judge what is going on in the car's blind spots (which are relatively small).
But what do the big crash test associations have to say about this year's Crosstrek line-up? Let us start with the National Highway Traffic and Safety Administration (otherwise known as NHTSA), who assigned the 2020 Subaru Crosstrek an overall rating of five out of five stars. Not bad, right? NHTSA did deduct a point on both the front driver and passenger sides for the front crash test, which is simulated to happen at 35 mph. All aspects of the side crash test received a perfect five-star rating, and the rollover test showed no tip and a 15.60% rollover risk (which is about average for a vehicle in this segment).

Naturally, the Insurance Institute of Highway Safety (IIHS for short) had something to say about the 2020 Subaru Crosstrek. And what they had to say was: This is a Top Safey Pick for 2020. But why is that? Well, IIHS thinks that equipping the EyeSight bundle is a smart idea, which makes the Limited trim level come highly recommended. Therefore, the award really only goes to the Limited trim level. The Limited trim got "Good" as its score for the LED headlights, but the base halogens were rated as "Poor." The LEDs provide excellent visibility while driving on the straight-and-narrow and while taking turns. The low beams did not exceed the glare limits, and the high beams compensated for the low beams when necessary. Unfortunately, the halogens' high and low beams had more limited visibility while taking turns.
Interior
The interior of the 2020 Subaru Crosstrek reeks of functionality and utility. The ride height is just high enough for slipping in and out of the cabin to be easy for almost everyone. And the rear seats are remarkably spacious for a vehicle like this. Most people should find the standard cloth seats to be comfy enough, although the leather that comes standard on the Limited looks really posh. However, the seat padding might feel too firm for most bums. If you are planning to take a lot of long rides, you might need to invest in extra seat cushions for additional comfort. The front seats both have reasonable bolstering though.
One downside is how loud the engine gets. It is to the point of being invasive. Take this thing up to full throttle and see what we mean. The cabin just is not insulated enough from its growling, which can even be heard while scooting about in the city. To top that all off, there are some air vents right next to the steering wheel on either side, which will blow air right onto your hands as you drive. It might be a bit annoying to drivers who do not want anything blowing on their hands.
Exterior Color Options
Grey Khaki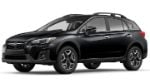 Crystal Black Silica
Crystal White Pearl
Dark Blue Pearl
Ice Silver Metallic
Magnetite Grey Metallic
Pure Red
Sunshine Orange
Reliability
How does the 2020 Subaru Crosstrek hold up in terms of reliability? Well, time will tell us that. For now, we have to go on the Crosstrek's record since the start of its second (and current) generation back in 2018. Sure, it has only been a few years, but drivers already have a lot to say about the Crosstrek.
People like a lot of things about the Crosstrek, but one of the things they do not like are the plethora of controls mounted onto the steering wheel. For many people, it just feels excessive and even a bit distracting. It is easy to accidentally graze a button with your hand or shirt sleeve.
The cloth seats are a hit with customers though. They find that the cloth holds up well over time, and it obviously does not retain heat the way that leather does. The cloth looks nice and is pretty chic for the type of fabric that it is. Overall, it seems as though the interior pieces are well-made, and you will not get anything rattling or rolling when the vehicle is in motion. The parts are made from quality materials, and drivers pick up on that and appreciate their durability.
How Does It Compare
2020 Subaru Crosstrek vs 2020 Subaru Forester
Now that you know how the Crosstrek operates, it is time to stack it up against the competition. The first vehicle we will compare it to is the 2020 Subaru Forester. This has historically been a top-selling vehicle for Subaru, and there is little wonder to be had as to why this is so. The 2020 Subaru Forester is powered by a 2.5-L 4-cylinder engine that gets paired with a CVT. All-wheel drive is standard, as is the case on every Subaru vehicle. Like the Crosstrek, the Forester has a vast amount of ground clearance, making it a very capable off-roading vehicle. It also has a plethora of driver aids that come in handy.
The downsides? The 2.5-L engine is not really an improvement over the Crosstrek's 2.0-L. Again, this engine just feels under-powered for a vehicle in this segment. Acceleration is mediocre at best. You also get somewhat low towing capacity for this segment, which really puts a damper on the vehicle's true utility.
See our In-Depth Comparison of the 2020 Crosstrek and the Forester Here
2020 Subaru Crosstrek vs 2020 Subaru Outback
Up next is another Subaru - the 2020 Subaru Outback. Obviously, it comes with all-wheel drive, which automatically makes it an appealing choice for many people. The spacious cabin design also makes the Outback seem pretty attractive. Up front and in the rear, occupants get a generous amount of space. Also, if you opt for the turbocharged engine, you will get a decent amount of power - much better than what the Crosstrek is able to muster up.
Not only do you get more power, but the Outback is a bit easier to load than the competition. The ride height is low enough so that you can easily slide things onto the roof or into the cargo area. And, of course, the Outback is an excellent off-roader like its Crossback sibling.
It does have a few flaws though. The Outback has a chunky touchscreen display that limits the amount of small item storage areas you get on the front console. When you go into the infotainment system to use the climate control buttons, you will likely find them to be too small to easily push. Also, the Outback's ride quality is sub par on the XT models (which have the turbo engine equipped). Essentially, you get more power but a worse ride quality.
See our In-Depth Comparison of the 2020 Crosstrek and the Outback Here
2020 Subaru Crosstrek vs 2020 Hyundai Kona
Next up is the 2020 Hyundai Kona. The Kona is a sporty SUV that comes with an optional turbocharged engine for an extra boost of power. This engine helps get the Kona up to speed on the highway or around town with ease, something that you cannot find on the Crosstrek's line-up. It also has some spiritedly handling capabilities, again far outperforming what the Crosstrek is able to do. You also get a ton of features for your money.
There are definitely some downsides though. If you get the base engine, it feels vastly under-powered. So, yes, you will have to spend more to get a better performance. The transmission that does get paired with the turbo engine has some funky gear shifting that feels a bit too unrefined. To make things worse, the interior is adorned with too many cheap-looking hard plastic surfaces.
See our In-Depth Comparison of the 2020 Crosstrek and the Kona Here
2020 Subaru Crosstrek vs 2020 Honda HR-V
The Crosstrek gets some stiff competition from the 2020 Honda HR-V. This is a best-in-class vehicle in a lot of different ways. The cabin is spacious, and the cargo area is too. The cabin and cargo area also have a lot of versatility to their designs, and you can easily maneuver the rear seats to maximize the cavernous cargo area. You also get an impressive fuel economy for a vehicle in this class, and the HR-V pulls some of the best numbers. To top it all off, outward visibility is vast.
However, the HR-V has a few pitfalls. The standard engine is not that powerful, which is kind of a disappointment. You will struggle to accelerate, much as you would in the Crosstrek. The engine also generates a good amount of noise, especially when you push it up to full throttle. You will also get a lot of vibrations making their way into the cabin as you do this. The fact that the touchscreen is difficult to operate really does not help matters, but it is a minor complaint next to the others.
See our In-Depth Comparison of the 2020 Crosstrek and the HR-V Here
2020 Subaru Crosstrek vs 2020 Subaru Impreza
Finally, we have the 2020 Subaru Impreza, which can be bought as either a sedan or SUV. Its AWD system makes it a strong off-roader, but it also has smooth handling out on the paved path. Quiet and cozy, the cabin offers a lot of creature comforts for the price. Like the Crosstrek, this vehicle has an available manual transmission if you do not mind driving a stick. Otherwise, you can opt for a CVT with a 2.0-L 4-cylinder engine.
Unfortunately, the Impreza suffers some of the same pitfalls as the Crosstrek. Its 2.0-L engine feels pretty underwhelming, and it gets noisy as you try to accelerate. You also will not find as many soft touch surfaces inside the cabin, which slightly cheapens the experience. Also, the fuel economy might not be all it is cracked up to be as real world tests fall short of the EPA estimates.
See our In-Depth Comparison of the 2020 Crosstrek and the Impreza Here