Reasons to Buy • Pros vs. Cons
2020 Audi TT
Should you buy? Find out below..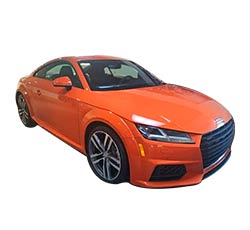 Buying Tip:
Before you walk into a dealership, price shop Online first. Avoid overpaying by using the following pricing services:
With these services you can:
• Force dealers to compete for your business.
• Start your own online price war.
• Many prices are not advertised online.
• It's Free and No Obligation.

Visit
Car Clearance Deals
,
CarsDirect
&
MotorTrend.
Despite not receiving a full redesign in a very long time, the 2020 Audi TT still remains one of today's hottest coupes. Drivers enjoy the Audi TT's lively performance and high-quality interior. Many people are also charmed by the TT's exclusive styling. Like every other car, it does have a few weak points to consider. Let's find out if this European coupe is worth the cash.
What's New for 2020?
This year, the TT comes standard with an upgraded anti-theft system. Audi also updated the TT's popular Black Optic package with a new set of 20-inch alloy wheels. If you want to make a big splash, go for the new Pulse Orange paint option. A 20th Anniversary Edition has arrived as well.
Top 10 Reasons to Buy a 2020 Audi TT – The Pros
1. Engaging Powertrain Comes Standard
When it comes to driving excitement, the 2020 Audi TT lives up to the hype. Its standard powertrain is certainly no weakling. Resting under the hood is a well-liked 2.0-liter, turbocharged four-cylinder engine. Audi tunes it to spawn 228 horsepower and roughly 260 pound-feet of torque. When stepping on the accelerator, this car feels even stronger than the numbers may suggest. Testers have clocked the TT with a competitive 0-60 mph run of 5.2 seconds.
2. Quattro All-Wheel Drive
Unlike some sports cars, the 2020 Audi TT benefits from a standard AWD system. Audi's Quattro AWD system definitely aids the TT's performance. When accelerating and taking corners, it helps the car to stick to the pavement. Expect the TT to inspire more confidence than a typical rear-wheel-drive sports coupe. You'll also appreciate Quattro during inclement weather. Even on snowy days, the Audi TT can be used for commuting.
3. Unbelievably Good Handling
The 2020 Audi TT is a great substitute for a more expensive Porsche sports car. Its crisp handling gives drivers a strong sense of control. You'll be able to conquer curves without feeling nervous. An electric-assisted steering system enhances the TT's maneuverability. Performance summer tires and a functional spoiler come standard. An optional sports-tuned suspension transforms the TT into an even more capable sports car. Fortunately, ride comfort is still quite good on rough roads.
4. Unique Styling
Despite being one of the oldest models in the segment, the 2020 Audi TT still looks fresh and exciting. It's sleek exterior design never fails to impress. Drivers also enjoy the coupe's attention-grabbing front fascia, which is highlighted by Audi's signature Singleframe grille. You can give the TT a sportier look with the optional S Line package. It features a special set of 19-inch Audi Sport wheels and red brake calipers. Blacked-out exterior accents also help boosts the TT's curb appeal.
5. Offers a Great View of the Road
When behind the wheel of the new 2020 Audi TT, you'll be able to obtain a fantastic driving position. A power-adjustable driver's seat comes standard, which enables you to obtain an ideal view of the road. Visibility out the front are rear is exceptional. You don't even really need the assistance of a blind-spot monitor. Simply take a quick glance in the car's rearview mirror. You should not have any trouble spotting other cars on the highway.
6. Virtual Cockpit
No longer does the Audi TT feature traditional analog gauges. Instead, it uses Audi's modern Virtual Cockpit system. This high-resolution display offers stunning graphics. Even on sunny days, you won't have to worry about any distracting glare. Drivers can customize the system in several different ways, including making the speedometer larger and changing the background color. When traveling, take advantage of the Virtual Cockpit's 3D Google Earth mapping. This feature helps you to easily find your way to destinations.
7. Fun Convertible
If you don't mind spending a little extra money, you'll be able to ride with the top down. The convertible version of the Audi TT is definitely fun to drive during the warmer months. If you happen to be driving on a cool evening, an available neck-warming feature helps keep you comfortable. It only takes the power-operated roof 10 seconds to close, which helps prevent you from getting wet during an unexpected rainstorm. Remember, getting the TT convertible does not have a backseat.
8. Excellent MMI Infotainment System
Audi's MMI infotainment system has received many great reviews. Users love the interface's fast response times. While the system may seem complicated to use at first, it's actually simple to operate. A console-mounted controller allows you to quickly scroll through the various apps. Voice commands make using this interface even more rewarding. Apple CarPlay and Android Auto are available as an option. However, you can still connect your phone using the standard integration features.
9. Bang & Olufsen Sound System
A nine-speaker stereo system with satellite radio comes standard on the new 2020 Audi TT. It delivers enough sound to keep you entertained. However, don't hesitate to upgrade to the Bang & Olufsen premium audio system. It features a total of 12 speakers, which are powered by a 680-watt amplifier. When you turn up the volume, sound quality remains superb.
10. A Few Helpful Safety Technologies
Audi does offer the TT with a few helpful driving aids. If you spend a lot of time on busy roadways, Audi's Side Assist will come in handy. It uses radar technology to detect vehicles approaching from behind. A backup camera and parking sensors come standard.
Buying Tip:
To avoid overpaying on a new car, shop prices online first. Get up front pricing before you walk into a dealership. We recommend the following free services;
Car Clearance Deals,
CarsDirect &
MotorTrend.
These free services will offer you
the lowest prices
and supply you with multiple competing price quotes. You will know the best price before you visit the dealer.
Reasons Not to Buy a 2020 Audi TT – The Cons
1. Backseat is not Passenger-Friendly
The coupe version of the 2020 Audi TT benefits from a backseat. Unfortunately, it does not provide enough space for adults to travel in comfort. Head- and legroom is very compromised to say the least. While small kids can fit in the back, everyone else will feel stiff and confined. Most owners simply use the rear seating area as a place to store extra stuff. If you need space for your friends, consider the four-door Audi A4.
2. You Can't Get a Manual Gearbox
A seven-speed, dual-clutch automatic transmission is found on the 2020 Audi TT. While this transmission is fast and responsive, some sports car lovers will miss being able to shift gears. Paddle shifters are no substitute for a legitimate manual transmission. If you don't like automatic transmissions, consider the 2020 Porsche 718 Cayman. It continues to offer a traditional stick-shift gearbox.
3. Options Can Cause Total Cost to Soar
The new Audi TT has a reasonable starting MSRP of less than $46,000. If you desire optional equipment, prepare to reach a bit deeper into your pocket. Boasting features like advanced smartphone support and a Bang & Olufsen sound system, Audi's optional Technology package demands about $3,500. Opting for the sports-tuned suspension and other goodies will cost you even more money.
4. Passengers Can't Use the Infotainment System
To access the TT's infotainment features, you'll have to do so via the standard Virtual Cockpit gauge cluster. While this won't be an issue for most people, it may be a deal breaker for others. Passengers simply can't use the system. When traveling, no longer can your passenger read maps from the infotainment display.
5. Lacks Some Safety Features
Some active safety features are not offered on the 2020 Audi TT. Many drivers will miss not having automatic emergency braking. This has become one of today's top accident-prevention features. You also won't be able to enjoy adaptive cruise control.
How It Stacks Up to the Competition
2020 Porsche 718 Cayman
Many car reviewers rave about the 2020 Porsche 718 Cayman's world-class performance. However, this car demands nearly $100,000. By choosing the 2020 Audi TT, you stand to save more than $50,000. Because of the TT's exceptional interior quality and great handling, drivers won't be making any serious sacrifices.
2020 Toyota Supra
The new 2020 Toyota Supra has impressed many people. It's slightly more expensive than the Audi TT. You should also consider the Supra's rear-wheel-drive system, which limits the car's ability to travel in slippery conditions. Quattro all-wheel drive gives the TT the upper hand. Remember, Toyota does not make a convertible version of the Supra. Folks seeking an open-air driving experiencing will be happier with the TT.
2020 Mazda MX-5 Miata
The 2020 Mazda MX-5 Miata is obviously more affordable than the Audi TT. In terms of performance, expect the Audi TT to outperform the MX-5 Miata. When sitting in the TT, you'll immediately notice the superior quality of its cabin. There's not overlooking the TT's stronger sense of luxury.
Conclusion
While quite a few new sports cars have hit the streets over the past few years, the 2020 Audi TT is still a solid pick. Quattro all-wheel drive certainly adds to the TT's appeal. You won't need to park the TT during the winter. While there are some pricey options are available, this car is loaded with enough standard equipment to please most buyers. However, a cramped backseat does make the TT less appropriate for drivers who have children.
Did you find this article useful?
Please rate this page. Select a star rating from 1 to 5 below:


Save Money on a 2020 Audi TT:
Find New Car Clearance Prices - Many Vehicles are Selling Below Dealer Invoice Prices.
Every dealer offers a secret price. Many prices are below invoice.
Find yours here
.