2019 Jeep Compass vs Grand Cherokee
Jeep has become one of the most prominent SUV manufacturers on the planet, with many crediting the brand for popularizing the category. This has been driven by its lineup of five SUVs, with the Compass and Grand Cherokee being two of the more popular of these.
The two models have been consistently updated and improved with each edition. This has led to many people having difficulty choosing between them with every new edition. Much of this is driven by the fact that both the Grand Cherokee and Compass occupy the Compact SUV category and offer many similarities.
Jeep has designed both models of the SUVs with specific categories in mind. As a result, the two choices have a variety of notable differences once you get past the many obvious similarities. While many of these will need a somewhat deeper look at the vehicles, they should quickly become apparent.
If you're struggling to decide between the two, then these are what you should naturally pay attention to. With a close inspection under the hood, as well as a deep-dive into what else sets the 2019 Grand Cherokee from the Compass, you should have no problem coming to a decision.
While cost will naturally be a significant factor in this, you should also consider what you'll be getting for the price. This is especially true given that there can be quite a considerable difference in the MSRP. The features that can be offered with the vehicles will highlight what value you can expect to get for your money.
Much of this will come down to what your individual preferences are. With that, it's worth taking a look at what separates the 2019 Jeep Compass from the Grand Cherokee.
Size & Styling
Size is one of the most significant differences between the Jeep Compass and Grand Cherokee, with the former being a compact crossover and the latter being a mid-size SUV. The Compass is 173 inches in length while the Grand Cherokee measures 189.8 inches; this size difference is also true when it comes to both vehicle's width.
As you would expect from this difference, the 2019 Grand Cherokee offers much more internal space, which means that it can provide a larger degree of legroom and comfort. Alongside there is more room for passengers, there is much more cargo space available, which many potential buyers may want to capitalize on.
The size difference may work to the 2019 Compass' advantage somewhat, as it means that the SUV is much easier to drive around the city than the Grand Cherokee. If this is something that you're looking for, then the smaller amount of cargo space may be an easy sacrifice.
In terms of styling, there are several noticeable similarities, with much of this being because both vehicles are built on the same platform. However, there are a variety of smaller changes that make it much easier than you may think to distinguish between the two.
When it comes to Jeep's famous 7-slot grille, there are a few differences between the Grand Cherokee and the Compass that help tell them apart. The 2019 Compass, for example, has a shorter grille while the Grand Cherokee's has a much more noticeable curve.
While the Compass' grille is shorter, it does connect with the vehicle's headlights, which are noticeably wider than the Grand Cherokee's. Alongside this is that the Grand Cherokee's headlights wrap around the front of the SUV, which is one of its distinguishing traits.
The length of the two vehicles will also play a role in telling them apart, which is also something that can be said of their overall shape.
The interior of both SUVs has much more in common than many people might initially assume, with both coming with a large number of similar design choices and technology. This includes UConnect 4 inch and 7-inch displays that come as standard, with both the Grand Cherokee and Compass having an optional 8.4-inch touchscreen.
One of the few noticeable differences between the two interiors is that the 2019 Grand Cherokee's front center console is much wider than the Compass'. While many people would expect that there will be a variety of differences when it comes to the trims, this isn't the case, as both offer the same number to choose from.
Drivability
Like many other vehicles, when you're buying an SUV, you'll want to have a peek under the hood before you buy. While there are a variety of similarities between the 2019 Jeep Compass and the Grand Cherokee in terms of looks and technology, there are few when it comes to the engine and performance.
The only similarity of note is that both vehicles come with a 2.4-liter 180 horsepower engine as standard, although this is where much of the similarities stop. If you're looking for power and performance, then the Grand Cherokee may be the one for you, especially if you decide to upgrade the engine.
By doing so, you'll be able to take advantage of a 3.2-liter V6 engine that offers 271 horsepower; you might also want to take a look at the turbocharged option that's on offer. Though this mightn't make a considerable difference when it comes to driving, it can play a role when it comes to towing power.
With all of the extra additions, the Grand Cherokee can tow up to 4,500 pounds without much of a struggle. This is significantly larger than the Jeep Compass, which can't even half that and pulls up to 2,000 pounds, even with any upgrades that you can choose from.
While many SUVs will have a significant number of off-roading capabilities, the Jeep Grand Cherokee also takes the win here, although this isn't by too much. Either one of the choices should be noticeably better than many other vehicles offered by the manufacturer.
Both of the vehicles offer 4x4 options alongside a Trailhawk trim level, which may prove to be beneficial, if not mandatory, when off-roading. However, the Grand Cherokee offers much more in this regard than the Compass, as it has more advanced 4x4 systems.
Many buyers will want to look at fuel performance before they buy. While SUVs typically don't offer a large number of miles per gallon, there's still a noticeable difference here. As it's a larger vehicle, the Jeep Grand Cherokee provides up to 18 city miles per gallon and up to 25 on the highway.
Compared to this, the 2019 Compass can offer up to 23 miles per gallon in the city and approximately 32 when on the highway.
The Grand Cherokee also offers much more maneuverability and traction than the Compass, which means that it can often be much easier to drive, even for drivers who aren't overly familiar with SUVs.
While the majority of this is focused on the vehicle's off-roading capabilities, it can also extend to the road, giving drivers better handling wherever they are.
Comfort, Options & Performance
As the 2019 Grand Cherokee is the larger SUV, it offers much more comfort when driving, although the Jeep Compass doesn't lag too far behind in this department. Where the majority of the differences lie in this regard are whether you're planning on off-roading.
Much of this is driven by the variety of trims that both SUVs offer. While both vehicles have trims that are Trail Rated, the 2019 Compass only has one that is, with this being the Trailhawk. This is also available for the Jeep Grand Cherokee, which has several other trims that meet the high-performance criteria for being Trail Rated.
One of the only other differences between the trim options available for the Compass and 2019 Grand Cherokee is that the former offers a much more budget-friendly approach to them, which is mainly seen with the Compass' Sport trim, with prices beginning to step up from there.
When it comes to driving in the city, there isn't much of a difference between the trims, although the smaller size of the Compass naturally has its benefits.
The Grand Cherokee may provide much more value for money than the 2019 Compass, with much of this being because of the wealth of extra features and upgrades that come as standard with it. While the Compass is noticeably more affordable, it lacks quite a significant number of features that many buyers may want.
These will inevitably need to be purchased, which means that the potential cost-savings will start going away quickly. Even with each of these installed, the vehicle may not properly live up to some of the standards that the Grand Cherokee has set, especially when it comes to performance and towing power.
Buying Tip:
To avoid overpaying on a new car, shop prices online first. Get up front pricing before you walk into a dealership. We recommend the following free services;
Car Clearance Deals,
NADAguides,
CarsDirect & &
Motortrend.
These free services will offer you
the lowest prices
and supply you with multiple competing price quotes. You will know the best price before you visit the dealer.
Safety
While both the 2019 Jeep Grand Cherokee and Compass offer a variety of similar, and high-quality, safety features, there are a few noticeable differences. In terms of what they have in common, both SUVs include cross-lane detection and blind-spot detection for when you're switching lanes.
Alongside this is a ParkView rear back up camera, which means that you should be able to avoid any collisions when you're reversing. Outside of there, there are a considerable number of differences between the two, as they both feature various safety technologies that the other doesn't.
The Jeep Compass has much fewer safety features, with the majority of its trims only coming with a ParkSense Rear Park-Assist System and LaneSense Departure Warning as standard. While there are a variety of optional upgrades that you can choose, you may need to spend a significant amount of money to get these.
Depending on your outlook, these may or may not be worth it. The 2019 Jeep Grand Cherokee, however, does have quite a large number of safety features to boast about. One of the most notable of these is an upgraded version of the LaneSense Departure Warning system that comes with the Compass and has been called the Plus.
Alongside this is both a parallel and perpendicular parking assistance system, which should avoid any accidents from occurring. Lastly is the Full Speed Forward Collision Warning Plus, which is something that many drivers may want to take advantage of.
This naturally makes the Grand Cherokee much safer than the Compass, which means that it can be the smart choice for anybody who looks to put safety first when they're making the purchase. While the Jeep Compass isn't an unsafe SUV, it may be something that you might want to pay attention to.
Much of this may be driven by the fact that the 2019 Jeep Grand Cherokee is geared somewhat more toward off-roading. As such, it means that the manufacturer has spent more time ensuring that it's as safe as possible while you're driving.
If the Compass is the SUV that you want and you're focused on ensuring that it's as safe as possible, then you may want to go for the optional upgrades that can come with the vehicle. The car does start at a much lower price than the Grand Cherokee, so you might be able to get many of these upgrades while still saving money, although this can depend heavily on the extras, as well as the trim.
Which Model to Choose?
If you're looking for a more budget-friendly SUV, then the 2019 Jeep Compass may be the right choice for you. This is especially true if you want an off-road vehicle that offers quite a significant amount of comfort without breaking the bank. Costing about $4,000 less than its counterpart, there is a sizable price difference.
With quite a limited amount of safety features and other technology that comes with the Grand Cherokee as standard, this cost saving may not be as large as you might think. Depending on the upgrades that you may want, you could see this shrivel up much more than you might have thought.
If you want a little bit more bang for your buck, however, then the Jeep Grand Cherokee will be the smarter decision. Despite being the more expensive choice, there is a lot on offer with the SUV, with much of this being focused on its overall performance.
With the size difference between the two, the Jeep Compass is much more of a city car than the Grand Cherokee. This makes it much easier to get around the city while also making sure that you shouldn't have many issues parking, which is, unfortunately, something that affects many SUVs.
This is primarily driven by the variety of engine options, availability of features, and a large towing capacity, which could mean that it's worth the extra money. While it may not hold up to the Compass in terms of comfort while off-roading, that doesn't mean that the 2019 Grand Cherokee is uncomfortable while driving.
While it is somewhat bumpier, there shouldn't be too many issues while you drive off-road. If you're sticking to the streets, however, then this may also be the better decision when choosing between them.
Value for money can play a large role when you're deciding which of the compact SUVs to buy. While the cost difference between the Compass and Grand Cherokee is notable, so too is the number of features that are included. As such, you shouldn't let the price be the deciding factor in the purchase; in many cases, it's what you're getting for it that counts.
Save Money on a 2019 Jeep Compass:
Are you Shopping for a New Vehicle? Find the Best Deals with "Free - No Hassle" Prices Quotes.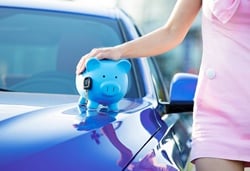 Get up to 4 local dealers to compete for your business by offering free, competitive pricing. Know before you go to the dealer.
Every dealer offers a secret price. Find yours here.