2021 MINI Clubman Prices: MSRP vs Dealer Invoice vs True Dealer Cost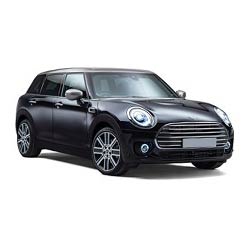 Price terms Used:
MSRP |
Invoice Price |
Destination Fee |
Holdback |
Dealer Cost
2021 Cooper Clubman - Style: S - 2-Door Hatchback w/FWD. Powered by a 2L, 4 Cylinder, Gas Engine w/ Manual Transmission.

2021 Cooper Clubman ALL4 - Style: S - 2-Door Hatchback w/FWD. Powered by a 2L, 4 Cylinder, Gas Engine w/ Manual Transmission.

Price Tip:
To avoid overpaying on a new MINI Clubman, shop prices online first. Get up front pricing before you walk into a dealership. We recommend the following free services;
These services will offer you the lowest prices and supply you with multiple competing price quotes. You will know the best price before you visit the dealer.
MINI Price Guides:
MINI Clubman Overview:
While it might be classified more along the lines of a station wagon, that definitely is not a bad thing for the 2021 MINI Clubman. In fact, we would say that gives the Clubman an advantage to buyers who want something a bit bigger than the average MINI, which is indeed quite limited when it comes to passenger and cargo space. Depending on which trim level you get, you could end up with a sporty little number. The John Cooper Works (JCW for short) is known for being especially athletic and is bound to be a popular trim level choice for 2021. But is it the right pick for you? Should you get a different MINI? Let's take a look at what the 2021 MINI Clubman has to offer so that you can make a more informed decision as to whether you should buy - or at least test-drive - the new Clubman.
What's New For 2021?
Returning for the 2021 model year is the 6-speed manual transmission, which had been put on a brief hiatus. It comes standard on the Classic sub-trim and is an option for the Signature and Iconic sub-trims. Real-time traffic updates and in-dash navigation now come standard on the Signature trim level.
Available Styles
The 2021 MINI Clubman is available as a hatchback. It is similar in design to the MINI Cooper Hardtop and is essentially a stretched-out version of it, lending more space to the rear seat and cargo area.
Available Trims
There are three main trims on the 2021 MINI Clubman: the base Cooper S, the Cooper S Clubman All4 (which means that it is equipped with all-wheel drive), and the line-topping, performance-oriented John Cooper Works (JCW) All4. Each can come with any of the three available sub-trims: the Classic, Signature, or Iconic.
Let's break down the main trims first, starting with the Cooper S. This trim is powered by a 2.0-L turbo inline-4 cylinder engine that generates 189 hp and 207 lb-ft of torque. This gets paired up with a 6-speed manual transmission on the Classic or a 7-speed dual-clutch automatic transmission (DCT) on the Signature or Iconic. This version has front-wheel drive, but if you opt for the Cooper S Clubman All4, you get all-wheel drive, which is essentially the only difference.
The JCW All4, of course, has AWD, but it comes with a more powerful engine: a turbo 2.0-L 4-cylinder that puts up a power output of 301 hp and 332 lb-ft of torque. An 8-speed automatic transmission gets swapped in instead of the DCT. It also gains special JCW features like cloth-upholstered sport seats, bigger brakes, a sport-tuned suspension, extra bracing on the chassis in order to enhance the stiffness, a unique roof-mounted spoiler and JCW-style front and rear bumpers.
The three sub-trims start off with the Classic, which now comes with the standard 6-speed manual transmission (something that is getting tougher to find these days). Also, it rides atop 17-inch alloy wheels and has a 6.5-inch infotainment display placed front and center on the dash. The steering wheel is wrapped in leather, and the cabin is adorned in simulated leather upholstery to match. Standard climate control heats and cools the cabin to your liking, and the premium audio system provides the background sounds.
Stepping it up to the mid-tier Signature trim level will get you keyless entry, a panoramic sunroof, LED headlights up front, and dual-zone automatic climate control from which you and your passengers can all benefit. The adjustable suspension dampers make it so that you can change the ride quality to something stiffer for a sportier ride or smoother for a more comfortable and luxurious ride.
At the very top is the Iconic trim level, which adds 18-inch wheels, an 8.8-inch touchscreen display with smartphone app integration via Apple CarPlay, and a wireless charging pad. Also, the upgraded leather front seats come with power adjustability.
There are several optional packages you can tack on: Connected Media System (which has remote connectivity features), Driver Assistance (parking assistance, traffic-adaptive cruise control), and Touchscreen Navigation (which incorporates Connected Media System with Apple CarPlay, built-in navigation, and the wireless charging pad).
Driving Impressions
The 2021 MINI Clubman experience depends on whether you go for the Cooper S or the JCW All4. The Cooper S is practical and a money-saver, but its ride comfort leaves something to be desired. Without the adaptive suspension, you cannot change it to a stiffened or smoother ride. Its handling capabilities are athletic enough though, so the average buyer will enjoy that.
However, we recommend checking out the JCW All4. The more powerful 4-cylinder engine outperforms the Cooper S's inline-4, hands-down. Hairpin-tight turns are not a problem, as the JCW All4 will corner right on through them. It isn't nearly as aggressive as some of the Clubmans from the past and shows a lot of refinement. The ride quality is quite composed, especially with the adaptive dampers equipped on the suspension.
Fuel Economy
EPA estimates peg the base 2021 MINI Clubman Cooper S with the Classic equipped at 26 mpg in the city and 34 mpg on the highway. This bests rivals like the Fiat 500L, but once you equip the All4 AWD system, the numbers take a hit. The Cooper S Clubman ALl4 gets about 23 mpg in the city and 32 mpg on the highway. As far as the JCW All4 goes, real-world tests have shown it can get about 32 mpg combined - not a bad showing.
The 2021 MINI Clubman is a fun little hatchback with a distinctively British style. The JCW All4 is a remarkably fun trim that, while it costs significantly more, is still fuel-efficient for a turbo engine with AWD equipped. A fun ride quality, a lot of customization options, and its unique style make the Clubman stand out.
How to Calculate The Dealer Cost of a MINI Clubman
:
Formula for Calculating Dealer Cost:
Example: Base MINI Clubman invoice price + the dealer Invoice price of options + destination - Holdback = Total Dealer Cost.
What is Holdback? A hidden amount that manufacturers give back to a dealer. It is a percentage of the MSRP or the Invoice price.
Total Dealer Cost - Rebate and Incentive + Taxes / Licensing Fees = True Dealer Cost. (You can get rebates and incentives here.)
Note: All MINI Clubman MSRP, invoice and dealer cost dollar figures above are approximate amounts. Prices are subject to change without notice.
A note about rebates: Most rebates are subtracted from the "on the road" figure. In most cases, you can have the rebate if you are arranging your own financing or you are paying cash. If you decide to use the manufacturer's low interest financing, you do not usually get the rebate. Ask your dealer for details.