2022 Ford Explorer vs Honda Pilot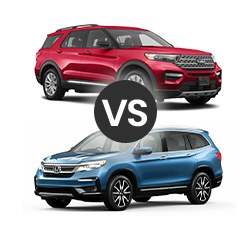 The 2022 Ford Explorer is a large, full-sized SUV that offers three rows of seats. It can accommodate up to seven people and has massive amounts of cargo space. There's 18.2 cubic-feet of storage space behind the third row. With the rear seats let down, this can be expanded up to 87.8 cubic-feet of storage space. The Explorer measures in at 199-inches long, 79-inches wide and 70-inches high.
The Explorer provides a smooth and comfortable ride. The interior is cozy, well-equipped and roomy enough for passengers to stretch out in. There's plenty of modern tech in the Explorer for convenience, entertainment and safety. One of its biggest competitors for 2022 in this class of SUVs is the Honda Pilot.
The 2022 Honda Pilot is also a full-sized SUV. It has room for up to seven or eight occupants. The Pilot shares a similar size with the Explorer at 196.5-inches long, 78.6-inches wide and 70.6-inches high. It offers 16.5 cubic-feet of storage space behind the third row, 46.8 cubic-feet behind the second row and 83.9 cubic-feet of space when all of the rear seats are folded down.
Just like the Explorer, the Pilot provides a smooth and refined ride in most situations. The interior is roomy and well equipped. Like Ford, Honda has also equipped this large SUV with plenty of modern tech, safety equipment and other amenities. The Honda may be a bit nicer on the inside, while the Ford is more sporty and offers superior off-road capabilities.
Both of these SUVs are solid vehicles. They each have some unique things to offer. The 2022 Ford Explorer and 2022 Honda Pilot may appeal to different buyers for a variety of reasons. Here's a closer look at how these vehicles stack up to each other in some key categories. We will also look at the overall value of each SUV and try to decide which is the best choice for most consumers.
The Powertrain
Ford offers the 2022 Explorer in a total of eight different trim levels. There are three different powertrains for this SUV. The first four trim levels get a 2.3-liter EcoBoost I4 engine that makes 300 horsepower. This engine also features Start/Stop Technology for better fuel efficiency. Models equipped with this engine should get around 20 miles-per-gallon in the city and 27 miles-per-gallon on the highway.
The Explorer's fuel efficiency will fall below those numbers on models with all-wheel drive (AWD). Starting with the ST trim level and on to the top-tier Platinum trim, the Explorer gets a 3.0-liter V6 engine with dual turbochargers. This power-plant makes 400 horsepower and 415 pound-feet of torque. This engine has an EPA-estimated, combined fuel-economy rating of 25 miles-per-gallon. Just like the I4 engine, the V6 gets Start/Stop Technology too.
Last of all, Ford offers the Explorer with a hybrid powertrain. This option is only available with the Platinum trim level. It combines a 3.3-liter V6 engine with an electric motor for a combined output of 318 horsepower. This is the most fuel-efficient choice, but not by a significant margin. This setup gets 27 miles-per-gallon in the city and 29 miles-per-gallon on the highway.
All three powertrains come with a 10-speed automatic transmission. Rear-wheel drive (RWD) is standard, though Intelligent 4WD is available for most trim levels. The Intelligent 4WD System has seven different driving modes and is paired with a Hill-Descent Control feature.
The 2022 Honda Pilot has six trim levels but only one powertrain option. It's powered by a 3.5-liter V6 engine that cranks out 280 horsepower with 262 pound-feet of torque. It's fairly quick for a large SUV and can reach 60 miles-per-hour in just under 6 seconds. The Pilot has an EPA combined fuel-economy rating of 23 miles-per-gallon on models with 2WD. As usual, this drops a bit on models with AWD.
The Pilot has optional AWD with Intelligent Traction Management. This system provides different driving modes for snow, sand or mud. Every version of the Pilot comes equipped with a 9-speed automatic transmission. Honda's Pilot also features a MacPherson front suspension and a multi-link rear suspension with a stabilizer bar for both the front and the rear. The Explorer and Pilot both have ABS brakes to prevent brake lockups.
Drivability
Ford offers multiple powertrain options for the Explorer, while Honda only offers one for the Pilot. Ford offers significantly more horsepower for their SUV. This is even true when comparing the weakest engine for the base model of the Explorer to the Honda Pilot's one-and-only engine. Acceleration and passing power are far superior in the Explorer, especially if one chooses a model with the turbocharged V6 engine. Horsepower is extremely important in a large, heavy SUV that's designed to transport people and cargo around.
Slowing down is more than adequate in both of these large SUVs. Braking power is strong and smooth for both. They also both have great suspension systems that provide a smooth and comfortable ride over most surfaces. Steering and handling are somewhat better in the Honda Pilot than in the Ford Explorer. The Pilot has more accurate steering and is actually quite nimble when navigating curvy roads.
The Ford Explorer is no slouch when it comes to steering dynamics, but doesn't quite measure up to the Honda. It does, however, perform far better over off-road terrain, if going off-road is something you plan to do with these SUVs. The Honda has a good AWD system, but lacks the ground clearance and other sporty mechanical features of the Ford. The Ford Explorer can also tow more weight, if you wish to take a trailer or boat along for the ride.
Interior comfort and entertainment have a great effect on a vehicle's overall drivability. Both of these SUVs have available 10-way power seats with lumbar support up front. They both offer leather upholstery as well as heating for the seats and steering wheel. They even have ventilated seats for a cooler riding experience during those hot summer days.
The Honda has a Tri-Zone Automatic Climate-Control System with Humidity Control and Air Filtration. The Ford has Tri-Zone Automatic Temperature Control. Both are fine systems, though the Honda Pilot's system is superior. Most models of the Explorer have Ford's SYNC 3 Infotainment System with an 8-inch touchscreen. Higher trim levels get a 10.1-inch LCD display with swipe and pinch-to-zoom capabilities.
The SYNC 3 System has Bluetooth for music streaming and Voice-Command Technology. A navigation system can be added on as well. Apple CarPlay and Android Auto work with the infotainment system. Music lovers will enjoy the available 980-watt stereo and 14 speakers with a subwoofer by Bang & Olufsen®.
Honda's infotainment system is less intuitive to use. It also has Bluetooth, Voice Recognition and an available navigation system. It's compatible with Apple CarPlay and Android Auto, just like the Ford system. Both infotainment systems have an available WiFi hotspot so everyone can connect to the internet. The Pilot offers an 8-inch or 10.2-inch touchscreen, depending on the trim level.
The Pilot's audio setup includes 10 speakers, an AM/FM stereo and compatibility with SiriusXM Radio. Both SUVs offer wireless charging for smartphones and other devices. The Honda also offers a rear entertainment system with multiple screens and a Blu-Ray player to keep your passengers occupied.
Safety
Everyone wants a safe vehicle to protect them and their loved ones. Both Ford and Honda have put a lot of thought, smart engineering and impressive technology into these vehicles for just that purpose. They both share some basic, standard features like advanced airbag systems. They both also have rear-view cameras, tire-pressure monitors, child safety locks and the LATCH system for securing child safety seats.
The Ford Explorer has dual-stage front airbags as well as side-impact airbags and knee protection for the driver and front passenger. Ford also utilizes a side-curtain airbag system that they call their Safety Canopy. This protects passengers in all three rows and even has a rollover sensor.
The Honda Pilot also has front- and side-impact airbags for the driver and front passenger. It even has a similar side-curtain airbag system, complete with a rollover sensor. Honda uses the ACE body structure to reinforce the vehicle for better protection of its occupants. The Pilot has 3-point seat-belts at every position.
Ford equips all of their vehicles with an advanced system called Ford Co-Pilot360™ Technology. Even though every Explorer gets this technology, the higher trim levels will have more individual features. As part of this package, every Explorer has AdvanceTrac® Traction Control with Roll Stability Control™.
Ford's Co-Pilot360 tech also has a Lane-Keeping System with a Lane-Departure Alert. The rear camera has an assist grid that appears on the infotainment display to aid in backing up. There's an available 360-degree camera for the higher trim levels. There are parking sensors up front and in the rear, as well as an available Active Park Assist 2.0 System.
The Honda Pilot also has technology to keep things stable and to improve traction. Every trim level of the Pilot has Vehicle Stability Assist™ with Traction Control. Honda Sensing Technologies is similar to Ford's Co-Pilot360 system. It has its own Lane-Keeping Assist System, Collision-Mitigation Braking and a Forward-Collision Alert. There's even a unique Road-Departure Mitigation System that's proprietary to Honda.
Which Has the Best Value?
The 2022 Ford Explorer has a starting MSRP of $33,745. The highest trim level, called the Platinum model, starts out at $51,860. These prices can go up by quite a bit once available options and packages are added on. The 2022 Honda Pilot has a starting MSRP of $38,080 with its top trim level, the Elite, coming in at $50,370.
If you're aiming for the top-tier trim level, then the Ford is a bit more expensive, though it's close. The difference will be negligible for most buyers. For those looking for a bargain, the base-model of the Ford is significantly cheaper than the base model of the Honda. It also offers more horsepower and better overall performance. The Honda, however, provides more standard technology and safety features.
The Ford Explorer has the better infotainment system, but the buyer would need to move up to a higher trim level or add it as an option. At that point, it may not be worth the cost increase. Something else to consider is that the Honda Pilot has a more upscale interior overall. The Honda brand has one of the best reputations for reliability and longevity too.
Honda's 2022 Pilot offers the best value here. When comparing the lower trim levels, the Ford has more horsepower, but it's not as significantly more from the base engine. One would need to move up to a higher trim for the turbocharged V6 to make a major difference. At that point, they would be paying much more and still not getting the number of driver-assist and convenience features as the Honda Pilot.
Honda simply offers more for less, though the base-model Explorer may still be a better choice for those on the tightest of budgets.
Which is Better?
Most buyers looking for a new full-sized SUV would be happy with either the 2022 Ford Explorer or the 2022 Honda Pilot. Which is better largely depends on what the buyer prioritizes. The Explorer has slightly more cargo space, while the Pilot has room for one more passenger. Both have unique and attractive exterior styles and beautiful, well-designed interiors.
The Ford Explorer is the best performer at every comparable trim level. For the ultimate in horsepower and torque, the Ford's turbocharged V6 is far better than anything Honda offers here. For acceleration, towing and just hauling around heavy cargo and a bunch of people, the Explorer is better. Ford also offers the best infotainment system and audio setup.
It's worth noting that Honda's Pilot has the better interior, overall. The design, materials and build quality are all superior. There's a really great rear entertainment system and a lot more comfort and convenience features. The seats are more comfortable too. Both vehicles are about equal when it comes to ride quality, though the Pilot has better steering dynamics.
The Honda Pilot may be the better bargain. Honda has loaded down even the base trim level with so much stuff. There's more and better safety features and driver-assist technology. If this is your priority, then the Honda is a fine choice, and well worth the money. If you can do without some of the driver-assist stuff, and you prioritize power and performance, the Explorer is probably your best bet.