Reasons to Buy • Pros vs. Cons
2020 GMC Savana Cargo
Should you buy? Find out below..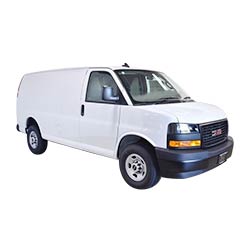 Buying Tip:
Before you walk into a dealership, price shop Online first. Avoid overpaying by using the following pricing services:
With these services you can:
• Force dealers to compete for your business.
• Start your own online price war.
• Many prices are not advertised online.
• It's Free and No Obligation.

Visit
Car Clearance Deals
,
CarsDirect
&
MotorTrend.
Finding the right cargo van to add to your fleet sounds a lot easier than it really is. There are a few makes and models out there to choose from, and the 2020 line-ups all look pretty impressive. But, as you probably already know, it is all about two things when it comes to cargo vans: how well-designed and spacious the cargo area is and how well the driving mechanics work in everyday scenarios. With the 2020 GMC Savana Cargo, you will find that you get a lot of power, but you do not get the right cargo configurations. Space is, unfortunately, limited, as are your design choices.
What's New for 2020?
Not a whole lot has changed on the 2020 GMC Savana Cargo. As rumors have it though, you should expect to see big changes around 2021, as hints have been dropped that a purely-electric Savanna will replace the Chevy Express and the GMC Savana. Big changes are (finally) coming, but they are not here quite yet.
Top 10 Reasons to Buy a 2020 GMC Savana Cargo – The Pros
1. The V8 Engine Option
Skip the standard V6 engine (a 4.3-L V6 that gets 276 hp and 298 lb-ft of torque) and go right for the optional V8 engine option. The 2020 GMC Savana Cargo draws a lot more power from this 6.0-L Vortec V8, as it musters up a nice 341 hp and 373 lb-ft of torque. This gives the van more capabilities when it comes time to get onto the highway and get up to speed. Unfortunately, the V6 engines fall a bit flat. But the V8 makes the driving performance seem stronger and more capable. It does pair up well with the equipped 6-speed automatic transmission. (An 8-speed automatic is standard with the V6.)
2. Controls are Easy to Find and Use
The Savana has a pretty basic set-up. The controls are kept to a minimum, and they are all laid out in a way that should feel intuitive to the average driver. Using them is also pretty simple, as most of them have a straightforward way of functioning. Just turn a knob a particular way or push a button and you are good to go. The driver information display is easy to read, and the air conditioning system should look familiar to those who have driven older vehicles. There is no fussing around with confusing touchscreen menus here.
3. 4G LTE WiFi Hot Spot Connectivity is Standard
Productivity is not limited to just going to a location and doing some manual labor. Oh, no, there is much more to it than that. This is why the 2020 GMC Savana Cargo is given standard 4G LTE WiFi hot spot connectivity. Whenever you have work that needs to be done online, you can use hot spot to help you access WiFi in your area. It is easy to use and comes in handy for all different types of work.
4. The Communications Package
Although it costs an extra $2,090, the Communications Package feels like it is an essential purchase for the Savana Cargo van. This package gets you the V8 engine as well as helpful features like Bluetooth connectivity, SiriusXM Satellite Radio, controls mounted onto the steering wheel, and GM Commercial Link. Having Bluetooth connectivity allows you to keep your hands on the steering wheel instead of fussing around with your cellphone, and GM Commercial Link offers vehicle management and fleet tracking services.
5. Affordability
Let's just be honest here. The real reason people still go for the old-school styling of the 2020 GMC Savana Cargo is the price. It comes in well below a lot of competitors and offers several low-priced packages that can be added on. With a starting MSRP of under $33,000, buyers looking to save will be drawn to the Savana Cargo despite its outdated exterior. For a vehicle that has a tried-and-true reputation, the investment is totally appealing at this price.
6. Excellent Towing and Payload Capacities
The Savana Cargo van offers the best towing capacity in its class. If you go for the 6.0-L V8 engine, get the optional Trailering Equipment Package. This gives the Savana a whopping 9,600-pound towing capacity and a payload capacity of 3,578 pounds. And that is just on the standard wheelbase. Go for the longer wheelbase with the V8 and Trailering Equipment Package and you will get a maximum towing capacity of 10,000 pounds and a max payload capacity of 4,312. No other vehicle in this segment can match those numbers.
7. The myGMC Mobile App
The 2020 GMC Savana Cargo comes with the ability to link your van with your smartphone via an app known as myGMC. It is an app that is easy to install and set up. It has quite a few helpful functions on it, including one that allows you to unlock your doors without having to whip out your key. It is a handy app if you are an avid cellphone user. But even if you're more on the novice side of things, it will be user-friendly toward you.
8. A Good Amount of Driver Aids
The 2020 Savana Cargo van has a decent number of standard and available driver aids. If you upgrade to the LT trim, you can get forward collision warning and lane departure warning. While a rear view camera is standard (and definitely comes in handy when trying to back up out of a parking spot or parallel park), a blind spot monitoring system remains optional. But it is an option you should add since big vans like these have large blind spots. Rear parking assist is also available and comes highly recommended.
9. The Convenience Package
Want to spice things up a little more? Opt to get the Convenience Package installed on the 2020 GMC Savana Cargo. This package gives you cruise control and a tilt-adjustable steering wheel. Having a tilting steering wheel allows you to adjust as needed to give you the right amount of space between your abdomen and the wheel. And, of course, having cruise control makes things nice if you drive on the highway a lot. The package is not terribly expensive either.
10. It is a Tried-and-true Performer
The Savana is a van that has been around for a long time and has a good reputation. It might not have the most creature comforts, the most space, or the most contemporary design, but it will keep running for years. A work van needs to be able to endure wear-and-tear and be something you can put a lot of miles on without it falling apart on you. The Savana is that van. Drivers give it a lot of praise despite its shortcomings.
Buying Tip:
To avoid overpaying on a new car, shop prices online first. Get up front pricing before you walk into a dealership. We recommend the following free services;
Car Clearance Deals,
CarsDirect &
MotorTrend.
These free services will offer you
the lowest prices
and supply you with multiple competing price quotes. You will know the best price before you visit the dealer.
Reasons Not to Buy a 2020 GMC Savana Cargo – The Cons
1. Difficulty Maneuvering Inside of the Van
The 2020 GMC Savana Cargo does not have a high roof option, so taller folks will have a hard time getting around in the cargo area. Competitors come with higher roof options and longer cargo floors, making it easier to get around. The Savana just feels cramped for space.
2. A Lot of Hard Plastics
The materials used in the Savana Cargo van look basic. And that is because they are basic. There are hard plastics galore, which lend to the vehicle looking a bit tacky and cheap. Competitors are using more soft touch surfaces, so let us hope that the revamped Savana that is coming in the near future will follow that trend. Having these materials look so dated and cheap is not necessarily a deal-breaker, but if you are going to spend over $30,000 on a vehicle, you probably want it to look the price.
3. Not As Much Storage As Competitors
The utility aspects of the 2020 GMC Savana Cargo are somewhat minimal. The cargo area on the shorter wheelbase comes in at just 239.7 cubic feet while the longer wheelbase only expands that to 284.4 cubes. Not great. Competitors vastly outdo these low numbers, and having more cargo space gives them leeway to create more storage items for work tools and gear.
4. No All-Wheel-Drive Option
All-wheel-drive is not an option on the Savana Cargo van. Rear-wheel drive is standard, and this is not at all ideal for those who have to drive around in inclement weather. Having the AWD option would probably attract more buyers, so it is a wonder that GMC is not offering it on this van.
How It Stacks Up to the Competition:
2020 GMC Savana Cargo vs. 2020 Ford Transit
The 2020 Ford Transit is a leader in this segment, making the 2020 GMC Savana Cargo seem wildly outdated. There are so many different engine configurations to choose from, and the engine options are all powerful. The van performs well when it comes to steering and handling, and the ride quality feels comfortable enough. You also get to have the SYNC 3 infotainment system, which is one of the better systems out there. It is very user-friendly. The only downside is that its towing capacity does not match that of the Savana.
2020 GMC Savana Cargo vs. 2020 Nissan NV Cargo Van
The Savana also sees some stiff competition from the 2020 Nissan NV Cargo Van. This van also has great V6 and V8 engine options that you can choose from, but it does keep the configurations simplified. That does not leave a ton of room for customization. There is no diesel engine option available (as there is on the Savana and some other vans in this segment), which makes your choices feel even more sparse.
Conclusion
The 2020 GMC Savana Cargo van is definitely an old-school work van. It will likely experience significant changes in the next few years, but, for now, if you want to get something affordable and forego some of the creature comforts other vans offer, then the Savana might just work out well for you.
Did you find this article useful?
Please rate this page. Select a star rating from 1 to 5 below:


Save Money on a 2020 GMC Savana Cargo:
Find New Car Clearance Prices - Many Vehicles are Selling Below Dealer Invoice Prices.
Every dealer offers a secret price. Many prices are below invoice.
Find yours here
.