2022 Hyundai IONIQ 5 Pros Vs Cons. Should You Buy?
Lately, electric vehicles have been generating a lot of buzz, and for good reason. Modern electric vehicles are powerful, efficient, and packed with high-tech features. The 2022 Hyundai IONIQ 5 is a perfect example of how well-designed and capable an electric vehicle can be. This vehicle is an SUV that has good range and great power as well as an elegant cabin.
What's New for 2022?
This is a brand-new vehicle for 2022.
Top 10 Reasons to Buy a 2022 Hyundai IONIQ 5 – The Pros
1. Excellent Range
Range is so important when considering which all-electric vehicle to buy. It can be somewhat inconvenient to have to charge a vehicle frequently, especially when traveling far from home. Potential customers will be so pleased to hear that the IONIQ 5 can have a range of up to 303 miles. This range applies if the SUV has been set up with rear-wheel drive. Even if the IONIQ 5 has all-wheel drive, it does well with an estimated range of 256 miles.
250 or 300 miles is a lot to drive in a day, so IONIQ 5 drivers shouldn't have to stop to charge their vehicles too often.
2. Quick Charging
The topic of charging goes hand-in-hand with range, and there's more good news. It's simple to charge the IONIQ 5, as it can be plugged into residential outlets as well as certain types of public charging stations.
This model is compatible with an 800-volt ultra-fast DC charger. With this equipment, it only takes five minutes to add 68 miles to the range, and it's estimated that the battery can go from a 10% to an 80% charge in only 18 minutes. To be realistic, it's important to note that 800-volt DC fast chargers cannot be easily found in every community, and 400-volt DC charging stations may be more common in certain regions. Using this type of equipment, it takes approximately 25 minutes for the battery to go from a 10% to an 80% charge. This method is still really fast.
Charging at home is convenient as well. With a a 240-volt system, which can be easily installed at a residence, a full charge can be achieved in approximately seven hours. Charging the vehicle overnight on the weekend will work out for many users.
3. Regenerative Braking Level Is Adjustable
Regenerative braking is a term that refers to how a hybrid or electric vehicle can capture energy released when decelerating or coasting and can then turn that energy into electricity. The electricity can be stored for future use, and therefore, it can extend range.
With the IONIQ 5, the level of regenerative braking can be adjusted. At the high level, one-pedal driving can happen. This means that taking one's foot off the accelerator is enough to bring the vehicle to a stop. The low level of regenerative braking allows for long, smooth coasting when pressure is taken off of the accelerator. There's also a smart mode that allows the Hyundai to adjust the level of regenerative braking according to its speed and how close it is to the vehicle in front of it.
4. A Strong Performer
The way the IONIQ 5 drives is impressive. With rear-wheel drive, it can make 225 horsepower and 258 pound-feet of torque. With all-wheel drive, it does even better, thanks to another motor. In this case, torque is an amazing 446 pound-feet, and horsepower is 320. These numbers aren't commonly found in non-electric SUVs, so it's yet another way in which the IONIQ 5 stands apart from regular models.
5. A Futuristic Appearance
The IONIQ 5 has an intriguing look. Its pixelated lighting is unique, and so are some of the available wheel designs. The minimal front grille is noticeable, going along with the adage of "less is more". The twin array spoiler and active air flaps are both nice touches.
Perhaps the coolest things are the auto-retracting flush door handles. Those handles can automatically pop out when the vehicle is unlocked. Some trims have door handles that pop out automatically when the key fob approaches the cabin, presumably along with the driver.
6. High-Tech Dashboard
The dashboard of the IONIQ 5 is unlike what's found in nearly every other vehicle. The dashboard doesn't have a hood over it, so it feels quite open. A pair of 12.3-inch displays have been integrated into that dashboard. The one directly in front of the driver is a digital instrument cluster, and the other one is a touchscreen with smartphone compatibility, Bluetooth, SiriusXM, and navigation. All kinds of information can be accessed through these screens, and each component has been designed to be user-friendly.
7. Plenty of Interior Space
As a two-row SUV, the IONIQ 5 has a good deal of interior room. It offers 39.4 inches of rear-seat leg room. Behind that second row of seats, there's a cargo hold that has a volume of 27.2 cubic feet. Cargo capacity can be increased to almost 60 cubic feet by lowering the rear seats down.
A hidden surprise is a front trunk that can be accessed from the front of the vehicle. It's small, with a volume of under one cubic feet, but it can be ideal for certain items.
8. Actively Protects Passengers
Hyundai has given the IONIQ 5 numerous driver-assist technologies, such as blind-spot collision-avoidance assist, parking distance warning, and forward collision-avoidance assist with pedestrian and cyclist detection. To those who aren't familiar with this type of terminology, it basically means that the IONIQ 5 can warn drivers about potential problems and help them avoid certain types of accidents. It can mitigate situations by applying pressure to the brakes or correcting steering, and it can do so in a safe manner.
The safety package on the IONIQ 5 is really comprehensive. Besides what was just mentioned, it includes driver attention warning, highway driving assist, adaptive cruise control, and automatic high beams, among other features. There's even an available remote smart parking assist function, which gives the SUV the ability to park itself in a spot. This happens after the driver steps out of the parking spot and finds a safe spot to wait on the sidewalk or nearby.
9. Cabin Feels Pretty Upscale
There are three trims of the IONIQ 5. All of them have power-adjustable driver's seats with power lumbar support, and all trims come with heated front seats. Some higher-end amenities are available, such as ventilated front seats, a memory system and relaxation function for the driver's seat, and a Vision roof. This Vision roof is one glass panel that practically goes from one end of the vehicle to the other, making the cabin feel very open.
10. Supplies Power
The IONIQ 5 can come in handy whenever people are away from home and need to power smaller appliances, electrical equipment, power tools, computers, or lighting. It can come with a 120-volt charging outlet which can be so useful in certain scenarios.
Reasons Not to Buy a 2022 Hyundai IONIQ 5 – The Cons
1. It's Expensive
The IONIQ 5 has a stunning design and excellent capability, but customers will have to pay a hefty sum for all that it has to offer. The SE trim has a starting price of just under $44,000. The SEL is about $2,000 more expansive than the SE, and the Limited tops things off with a price that's a little more than $50,000. These are high prices that don't make the IONIQ 5 that practical from a budgetary standpoint.
2. Not That Rugged
The three trims of the IONIQ 5 are all refined and do handle themselves well. Some buyers, though, may be specifically looking for rugged SUVs that can confidently deal with rough conditions off the pavement. While the all-wheel-drive Hyundai IONIQ 5 might be able to do pretty well in this type of situation, the fact remains that there isn't a version of this SUV that's particularly suited for off-roading. In contrast, some competitors do make trims designed for just that.
3. Only Three Trims
In general, customers appreciate having choices. With there begin only three trims of this model, some may feel that their choices are limited. There isn't a cheaper trim that's even more basic than the SE, nor are there any mid-range options other than the SEL.
How It Stacks Up to the Competition:
2022 Hyundai IONIQ 5 vs 2022 Ford Mustang Mach E
One of Ford's electric vehicles is the Mustang Mach E . It has one more year in the market than the IONIQ 5 does. It's very powerful and exciting to drive, but it takes a little bit more time to charge than the IONIQ 5 does. Some might also feel that the IONIQ 5 has a more open cabin, especially if it has a Vision roof. The IONIQ 5 has more standard safety systems by a small margin. While the two models are comparable in terms of their starting prices, the most expensive Mustang Mach E is considerably more expensive than the Limited trim of the IONIQ 5.
2022 Hyundai IONIQ 5 vs 2022 Kia Niro EV
What works in the Kia Niro EV's favor is its cheaper price. However, it's not as powerful as the IONIQ 5. It doesn't have as much horsepower as the Hyundai does, and notably, it's only available with front-wheel drive. Further, its range of 239 miles doesn't match up to the range on the IONIQ 5. One other factor to keep in mind is that the Kia Niro EV is a bit smaller than the Hyundai IONIQ 5 is. It has less cargo room as well as a smaller rear seat, and this may be important to certain buyers.
Conclusion
The 2022 Hyundai IONIQ 5 is certainly worthy of all the hype. This is mainly because of its power, range, and ability to charge quickly. Aside from all of this, the SUV is equipped with advanced technology and it feels luxurious. It's a great option for anyone who can afford its somewhat high starting cost.
Are you Shopping for a New Vehicle? Find the Best Deals with "Free - No Hassle" Prices Quotes.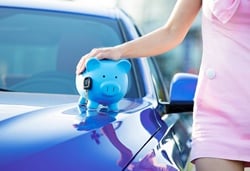 Get up to 4 local dealers to compete for your business by offering free, competitive pricing. Know before you go to the dealer.
Every dealer offers a secret price. Find yours here.