Reasons to Buy • Pros vs. Cons
2020 Infiniti QX60
Should you buy? Find out below..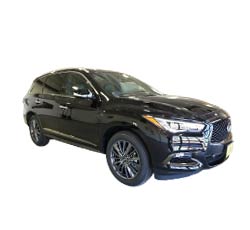 Buying Tip:
Before you walk into a dealership, price shop Online first. Avoid overpaying by using the following pricing services:
With these services you can:
• Force dealers to compete for your business.
• Start your own online price war.
• Many prices are not advertised online.
• It's Free and No Obligation.

Visit
Car Clearance Deals
,
CarsDirect
&
MotorTrend.
Reserved. Smooth. Spacious. All three words can be used to describe the 2020 INFINITI QX60. It isn't the most popular luxury SUV out there since it does not reach out and grab your attention. Unfortunately, that means that quite a few people pass it over. It might not be the creme de la creme of its segment, but it is actually a pretty solid vehicle. It might not be as sporty as the competition, but it is a comfortable and sensible vehicle that should not be ruled out right away in a quest for the right luxury SUV.
What's New for 2020?
Everything on the 2020 INFINITI QX60 carries over from the previous model year. This vehicle is still in its first generation, having been introduced to the market back in 2014. There will be a total redesign for 2021 that will include a new infotainment system.
Top 10 Reasons to Buy a 2020 Infiniti QX60 – The Pros
1. A Cozy Ride
One of the first things that drivers will notice about the 2020 INFINITI QX60 is that it offers a pleasant ride. The second-row has stadium-style seats, which adds to some of its comfort. There is little in the way of exterior noise that seeps its way into the cabin. In fact, the cabin is muted from just about any intrusive noise you can imagine. There will be no need to crank up the music just to hear it or raise your voice just to speak to a third-row passenger.
2. Getting to the Third Row is Easy
Accessing the third-row seats is remarkably easy since there is enough space to get beyond the second row of seats. A lot of third-row SUVs do not offer such easy access, but the QX60 does with its mindful design. Adults and children alike can make their way through to the third row without getting too crunched in.
3. Comfy Seats
The 2020 INFINITI QX60 has some seriously comfortable seats, which just adds to its overall pleasantness. The plush seats offer a good amount of support. Up front, there is more than enough lateral and lumbar support, and the thighs get proper support too. In the second row, things are just as good. There is a good deal of head, shoulder, and leg space in addition to the comfortable seats. Even the third row of seats is comfortable. The best part of those seats is that they recline, which can definitely help passengers relax.
4. The Transition Shifts Gears Smoothly
The QX60's continuously variable transmission (CVT) provides for some smooth shifts between gears. At no point does it seem to spend time searching for gears. It pairs up pretty well with the standard V6 engine, as they work together to get 295 hp and 270 lb-ft of torque. It is a good show of power, and the seamless transitions make it all that much sweeter.
5. A User-friendly Climate Control System
The 2020 INFINITI QX60 has a climate control system that is both user-friendly and effective. The ventilation on the front seats keeps them cool, whereas some of the competitors have seats that barely feel different. The climate control system's menu is very clear-cut, and the physical buttons are easy to find and use. Overall, it is one of the better systems out there right now.
6. The Infotainment System is Easy to Use
Infotainment systems are still hit or miss on new vehicles. The technology behind them is always in development, and, year after year, automakers compete even more to see who can come up with the best system. INFINITI manages to do pretty well with theirs. It does look a bit dated, but it is still very much functional and easy to use. It should only take the average driver a few days to really get used to it. Of course, next year's QX60 will have a brand new infotainment system, which will likely be much more up-to-date.
7. Plenty of Small Item Storage Areas
Everywhere you look in the 2020 INFINITI QX60, it seems like there is cleverly crafted storage space to be found. There are enough bins, pockets, and cupholders to keep all occupants happy. In fact, there are so many cupholders that it will be difficult to put all of them to use at once.
8. Cargo Space Expands A Lot When the Seats Are Folded
When all seats are in place, the QX60 only has 15.8 cubic feet of cargo space. However, when you fold the third and second rows of seats down, this number gets boosted to 76.2 cubes. For a vehicle in this segment, that is a decent showing. It does not put the QX60 at the top of the pack, but with the way that space is designed, utility abounds. Getting the seats down is super easy too.
9. The LATCH System is Simple to Access
Parents of children in car seats, worry not! The 2020 INFINITI QX60 has a LATCH system that is not a total pain in the back. You will quickly find the four lower anchors on the outboard seats in the second row, and the third row has a single set. The anchors are between seat cushions, which tends to pose a problem in other vehicles. In the QC60, however, it is no big deal since there is plenty of space for installing the car seats in both rows of seats.
10. A Superb Build Quality
While it might not look the part upon initial viewing, the QX60 is absolutely a luxury vehicle built of high-quality materials. Everything about this SUV feels strong and durable. Nothing shakes, rattles, or rolls while driving along the highway. And, of course, there are a lot of plush, soft-touch surfaces all around the cabin. As far as everything that is under the hood, it should be mechanically sound and hold together well.
Buying Tip:
To avoid overpaying on a new car, shop prices online first. Get up front pricing before you walk into a dealership. We recommend the following free services;
Car Clearance Deals,
CarsDirect &
MotorTrend.
These free services will offer you
the lowest prices
and supply you with multiple competing price quotes. You will know the best price before you visit the dealer.
Reasons Not to Buy a 2020 Infiniti QX60 – The Cons
1. Limited Third-row Leg Space for Adults
Bigger adults will need to sit in the front and second-row passenger seats. Those with longer legs might feel a bit too crammed into the third-row of the 2020 INFINITI QX60. Head space is sufficient, but, as is often the case with third-row SUVs, leg room suffers. It is not an unusual complaint for this segment, but it does decrease comfort a little bit for taller folks.
2. It Isn't Very Sporty
The QX60's V6 is not as zippy as luxury car buyers might want - or expect. It is not exactly underwhelming, but it does not give off a good thrust of power that comes on some of the competition. It can sprint from 0 to 60 mph in 7.3 seconds though, which is not too terrible. It just is not that sporty of a ride. The soft suspension holds the QX60 back from achieving more pizzazz.
3. Cannot Be Taken Off-roading
The 2020 INFINITI QX60 really is not meant for off-roading. You do not get a whole lot of ground clearance, and the powertrain and suspension do not really make for a good off-roader. Plus, the steering feels kind of bland, not giving the kind of feedback you would want to have while going on an off-road adventure. And, let's face it, with front-wheel drive, you are not going to have as much traction and stability as you would with all-wheel drive.
4. In-demand Features Get Bundled Into Packages
Possibly the biggest downfall to owning this vehicle is the fact that a lot of in-demand features (many of which come as standard on the competition) are sloshed together in pricey packages. Also, you can only get the packages on the line-topping Luxe trim. So, if you want any of the features that you will find in the Theater, ProAssist, or Sensory packages, you will already have to spend a bunch of money on the fanciest trim level. There are a lot of competitors who offer a lot more for a lot less.
How it Stacks Up to the Competition:
2020 INFINITI QX60 vs. 2020 Audi Q7
The 2020 Audi Q7 is likely going to draw in bigger sales numbers than the 2020 INFINITI QX60. Why? First of all, it offers way more standard safety and infotainment features than the QX60. Even the lowest of its trim levels is packed with a lot of features. Second, the ride quality is supremely comfortable. And, of course, there is the fact that Audi utilizes a lot of magnificent materials in order to build the Q7. The only real pitfalls it suffers from are the third row of seats being small and there not being a ton of cargo space.
2020 INFINITI QX60 vs. 2020 Acura MDX
The 2020 Acura MDX gives incredible value, especially considering how many features get crammed into it. The optional SH-AWD system gives the vehicle better traction during all kinds of inclement weather. The MDX's V6 engine is surprisingly nimble, which gives the MDX a bit of an advantage over the QX60 and its V6. On the downside, the cabin does not seem as upscale as the QX60's, and the dual touchscreen system is not at all user-friendly. If anything, it is more of a distraction while driving.
Conclusion
There are some things that could be done better on the 2020 INFINITI QX60. Readjusting the features from the optional packages to make more of them standard (or at least single options) on more of the trim levels would be a good place for the automaker to start. With any amount of luck, the right changes will be made for the 2021 overhaul. If you can hold on one more year, it might be worth it to see what the next generation of the QX60 has to offer.
Did you find this article useful?
Please rate this page. Select a star rating from 1 to 5 below:


Save Money on a 2020 Infiniti QX60:
Find New Car Clearance Prices - Many Vehicles are Selling Below Dealer Invoice Prices.
Every dealer offers a secret price. Many prices are below invoice.
Find yours here
.