2022 Jaguar E-PACE Trim Levels, Configurations & Comparisons.
Although the 2022 Jaguar E-PACE is a relatively small SUV, it is still quite mighty. And, yeah, this cat loves to purr. With standard all-wheel drive (AWD) and an engine that displays some snappy acceleration, the 2022 E-PACE is an extra-small crossover luxury SUV that shows more athletic prowess than many of its competitors in this segment. Its proportions might be small, but they certainly evoke the Jag aesthetic, from the sloping roofline to the undulating lines along the body.
Since the E-PACE first debuted in 2018, it has become a fan favorite, especially after last year's mid-cycle refresh. The exterior styling cues were overhauled, and mild hybrid technology was placed into the 300 Sport's engine. A brand new infotainment system was also introduced on the E-PACE, and the trim level line-up was revised. This year, nothing much changes - just some minor revisions to the list of features.
If you live or work in a city characterized by tight parking spaces and crowded, narrow, slow-speed streets, then the small stature and maneuverability of the E-PACE should suit you well. It can easily be navigated into cramped spots, but it also fares well on the highway, cruising along at higher rates of speed. The E-PACE's downfall is its price tag. The Jaguar brand warrants a higher cost than some other manufacturers, and with how unrefined some of the advanced driver aids are on the E-PACE, the cost might be hard for some buyers to justify.
There are three trim levels to choose from on the E-PACE: the P250, P250 SE, and 300 Sport. All three are powered by the same 2.0-L turbocharged 4-cylinder engine, which gets matched up with a 9-speed automatic transmission. Both of the P250 trims have power output ratings that come in at 246 horsepower and 269 lb-ft of torque. Meanwhile, the 300 Sport trim level receives a power boost that takes it up to 296 hp and 295 lb-ft of torque. As already mentioned, all-wheel drive is the standard drivetrain on all of the E-PACE's trims.
So, which trim level is most fitted toward your needs? Is the base P250 going to meet your requirements, or is the line-topping 300 Sport more your speed? Is the mid-tier P250 SE the best overall deal? It is high time that you find out.
Compare the P250 vs P250 SE Trims. What is the difference?
Let's start off our comparison of the 2022 Jaguar E-PACE by pitting the base P250 against the mid-tier P250 SE trim level. As you can reasonably surmise by their shared name, these two trim levels are relatively similar. As already mentioned above, they share the same engine, transmission, and drivetrain that comes standard across the entire line-up. This compact performance SUV also rides atop standard 18-inch wheels that are done in alloy.
On the front fascia, the Jaguar E-PACE P250 sports LED headlights and side mirrors that are both power folding and heated. With the standard AWD drivetrain equipped, you get Jaguar's selectable drive modes equipped on all three trim levels.
Inside of the Jag E-PACE, you will find standard leather upholstery on the P250's seats. This leather is breathable and won't trap too much heat inside of itself on hot summer days. Both of the front seats have power adjustability on them and come with a heating function that you can use to warm yourself up on a cold winter morning or to help your muscles relax after working out at the gym. The driver's seat comes with memory settings for the seat itself, the steering wheel, and the position of the side mirrors.
You won't need a key to get this vehicle up and running. Just use the keyless entry to get into the vehicle, then utilize the keyless ignition to get the engine started. You can use the built-in dual-zone climate control system to set the temperatures for each zone. The system will get to the set temperature and maintains it fairly well.
In the cockpit, drivers will find an array of helpful and engaging technology, punctuated by the 11.4-inch infotainment touchscreen display. The infotainment system is referred to as the Pivi Pro, and it proves to be an attractive centerpiece for the cabin. Its layout is pretty straightforward, allowing you to sift through the menus and use the controls you want. This system has some clear, sharp graphics that make the system all the more appealing to the eye. Smartphone app integration via Apple CarPlay and Android Auto is standard issue. Additionally, along with the numerous ways you can charge using USB-A and -C charging options, the E-PACE gives you a wireless charging pad to use with your compatible smartphone for quick, easy, and clutter-free charging. Voice controls are standard but seemingly a bit glitchy when put to use. You might have to wait 10-15 seconds after a command before the system responds to your input.
Jaguar does not skimp on the advanced driver aids like some of their top competitors do, but they could stand to tweak the ones put into the E-PACE a bit further. This vehicle does give you, as standard issue on the base P250 trim level, automatic emergency braking (which will alert you if a frontal collision is imminent and can put on the brakes for you if the system senses that you are not responding quickly enough),
a driver attention warning (which sends out an alert if the E-PACE's sensors detect you become drowsy or distracted), lane keeping assist (which works by steering the E-Pace back into its intended driving lane if it begins to drift over the line), and multiple
parking sensors (which will warn you about obstacles that you might not be able to see in front of or behind the E-PACE when you go to park it).
Now, if you are thinking of going to the mid-tier P250 SE trim level, you will find a few welcome upgrades on this middle-of-the-line trim. The LED lights you see on the front of this trim level's swooping, athletic fascia are upgraded from those that come on the base P250 trim level. Also, take note of the wheel size - these wheels are an inch larger, coming in at 19 inches in size - but they are still done in alloy material. In the back, the standard liftgate gets upgraded to a power operated version for even easier access to the E-PACE's cargo area.
There are a few changes to the inside of the P250 SE too, starting with the automatically dimming rear-view mirror that you get up front. Also, in this trim level, the Pivi Pro infotainment system is upgraded to include a built-in navigation system that takes the burden off of using your smartphone to navigate to and from places and look up points of interest even more efficiently.
There is also a snazzy looking 12.3-inch digital gauge display, which takes place of the analog gauge cluster, up in the cockpit. This gives you multiple forms of important vehicle and driving data and is definitely easy to glance at while you drive. Blind-spot monitor with a rear cross-traffic alert gets tacked on to the list of standard driver aids, and it will warn you if a vehicle is driving in your blind spot when you go to put the E-PACE into reverse or are trying to change lanes. Even though the E-PACE is easy enough to see out of with the naked eye thanks to its slender roof pillars in the rear, this can certainly help when you need a little bit of extra visibility in the places where your eyes - and side mirrors - cannot see.
Compare the P250 SE vs 300 Sport Trims. What is the difference?
At the top of the 2022 Jaguar E-PACE line-up is the 300 Sport trim level. If you opt to buy this trim, you get a much sportier exterior design, which includes some sleek black trim on the body. The 300 Sport is designed to be more athletic, and looks-wise, it hits the mark. There are larger 20-inch wheels equipped on this trim level and adaptive suspension dampers that serve to enhance ride comfort and the E-PACE's handling performance.
Inside, you can sit in the front sport seats, which, for being sport seats, are actually comfortable enough for a long ride. They do have that extra support and bolstering that is required for high-octane, twisting-and-turning driving styles. Also included in the interior design is a black headliner to keep up with the sport aesthetic.
Not much is added in terms of available features. However, you do get a standard head-up display, which has the neat - and helpful - ability to project important driving info onto the windshield in front of your eyes. This way, as you drive, you won't be distracted by looking down all the time. You can simply keep your eyes at the road level.
There are some package options left over that you can tack on too. The Convenience package includes a hands-free liftgate, a convenient wearable smart key, and some additional power ports inside of the cabin. The Dynamic Handling package adds an adaptive suspension and red brake calipers while the Cold Climate Package deals out a heated windshield and heated steering wheel.
A handful of stand-alone options get left over as well. You can take your pick from a 360-degree surround-view camera system (which gives you a top-down view of everything surrounding your E-PACE), adaptive cruise control, a panoramic glass roof, a 15-speaker premium sound system, a digital rearview mirror, heated rear outboard seats, and ventilated front seats.
Which Trim to Choose?
You have some leeway for customizing your own 2022 Jaguar E-PACE, though not so much that you will feel completely overwhelmed. That being said, here is how we would craft our version of the E-PACE: go middle-of-the-road with the P250 SE. It adds enough extra features to justify the cost while still keeping enough options open. The headlights look much nicer, and the upgraded infotainment system is definitely worth the cost.
Also, if you snag the P250 SE, think about getting the Dynamic Handling package. The adaptive suspension really does enhance ride quality on this vehicle, and the red brake calipers provide a nice, sporty edge that the E-PACE just seems to demand.
All in all, no matter how you choose to design your 2022 E-PACE, there is no denying that this vehicle is truly a crowd-pleaser. Is it pricier than other vehicles in this segment? Of course. But does it also embody everything we have come to expect from a brand name auto manufacturer like Jaguar? Oh yeah. This kitty will purr when you take her down slow speed roads, but her roar is a pleasant one when you kick her into full throttle. You can absolutely have fun driving this extra-small crossover luxury SUV, which is not something we can say for some of its rivals.
Are you Shopping for a New Vehicle? Find the Best Deals with "Free - No Hassle" Prices Quotes.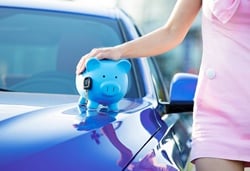 Get up to 4 local dealers to compete for your business by offering free, competitive pricing. Know before you go to the dealer.
Every dealer offers a secret price. Find yours here.