2019 Hyundai Santa Fe vs Toyota RAV4
When first introduced nearly 20 years ago, the Hyundai Santa Fe was a small SUV that offered a surprising amount of rugged appeal. Since then, it's morphed into a much more serious looking SUV and gained quite a significant amount of size and maturity, with its ruggedness being placed front and center.
This has led to it becoming one of the more popular vehicles that the brand has to offer. With the release of the 2019 Hyundai Santa Fe, the SUV has taken another large leap forward, with the majority of this being seen in its overall design, as well as a few new features and upgrades.
The Toyota RAV4 has been around for about 25 years, receiving four generations of vehicles during that time. Throughout this history, the manufacturer has taken the time needed to ensure that each new edition of the range offers a variety of improvements and upgrades.
This is seen in the fifth generation of the SUV, with the 2019 Toyota RAV4 being incredibly advanced compared to many others on the market. Alongside this is the fact that it offers much more space, as well as a significant amount of tech, than even the most recent of its predecessors.
As a result of the drastic improvements that the 2019 Santa Fe and 2019 RAV4 have seen, many people may be forgiven for struggling to figure out which is the better SUV. While both offer quite a large amount of similarities, there are even more differences between the two that need to be looked at.
At first glance, it may seem as though the two aren't much different from their predecessors, or even from each other. Aside from the aesthetic similarities that may be there, both cars have had close to a complete overhaul when it comes to the interiors, and more importantly, under the hood.
While both the 2019 Toyota RAV4 and 2019 Santa Fe offer a significant amount of style, power, and comfort, as well as the essential safety features, each does so in a unique way. As such, if you're looking for a quality mid-sized SUV, then you shouldn't go wrong with either.
However, there are a few areas where both of the vehicles stand out from each other, as well as the rest of the crowd. Taking an in-depth look into what they offer can prove helpful for people looking to make a choice between the RAV4 and Santa Fe.
The Powertrain
While both the 2019 Hyundai Santa Fe and 2019 Toyota RAV4 offer two powertrain options, each of the choices couldn't be more different from each other. The basic option for the Santa Fe is a 2.4-liter four-cylinder petrol engine with a six-speed automatic transmission that puts out 185 horsepower.
Also on offer is a 2.2-liter four-cylinder turbo-diesel engine with a new eight-speed automatic transmission that significantly increases the horsepower. It should be noted, however, that both of these engines can be trim-specific, with only the Active model offering a choice of either.
Each of the trims offer an HTRAC all-wheel-drive (AWD) system that provides a certain amount of versatility in how to drive.
While the 2019 RAV4 offers a large amount of power, it doesn't match up to that of the 2019 Santa Fe, regardless of which engine you choose. The first of these is a 2.0-liter four-cylinder petrol engine.
Though there's the choice of either a six-speed manual transmission for the GX or a CVT auto gearbox for GXL and Cruiser, buyers will have to stick with a front-wheel-drive (FWD). Many drivers may want to avoid this, which would mean leaning toward the Hyundai Santa Fe. However, there is the option of a 2.5-liter petrol-electric hybrid which can be used in conjunction with a four-cylinder Atkinson Cycle engine.
This is a significant step up in power for the RAV4, although the option is only available for the GX, GXL and Cruiser models. If you happen to be looking for an AWD, then this is a choice with this engine, which also comes alongside a CVT automatic transmission as standard.
In terms of towing power, the Toyota RAV4 can't take as much as the Hyundai Santa Fe, especially if you're comparing the same level of engine. While much of this can depend on the trim that you choose, towing power with the 2019 Santa Fe starts at 2000kg, which is considerably higher than the 2019 RAV4.
Where the Toyota RAV4 does take the lead, however, is with its fuel consumption. EPA estimates for the all-wheel-drive setup of the trims are 29 miles per gallon combined, although the Adventure and Limited trims can run up to 27 mpg combined. Toyota has suggested that its Hybrid engine should fetch a combined 40 mpg.
The Hyundai Santa Fe, however, racks up 25 mpg combined, with the majority of its trims reaching low-20s in the city. The only area that it stands out here is with its highway mileage. With 29 mpg on the highway, however, it's still less than what the 2019 Toyota RAV4 offers.
As such, when you're choosing between both SUVs, you'll be sacrificing on either pure power or overall performance. While there's only a small but notable difference between the two vehicles, it can play a much larger role in a decision than many people might believe.
Drivability
Both the 2019 Toyota RAV4 and 2019 Hyundai Santa Fe are designed to offer a significant amount of luxury when you're driving. As such, there's an extensive amount of space and features to take advantage of, although it seems as though the Santa Fe takes the lead here.
While neither could be considered luxury SUVs, there's undoubtedly a significant amount of style available with both. In terms of head and legroom, the Santa Fe takes the win, as it offers several inches of extra space compared to the RAV4.
Alongside this is that the 2019 Hyundai Santa Fe offers a considerable number of extra features as standard when compared to the 2019 RAV4. These include heated rear seats and a leg cushion extension for driver seat, which makes the Hyundai much more comfortable for everyone.
Alongside this, you'll be able to take advantage of a premium audio system, proximity key entry with push-button start, elegant leather seat, a sunroof, and a hands-free liftgate. Should you upgrade to some of the Santa Fe's more high-end trims, then you should be able to take advantage of a variety of other features, although these depend on the trim itself.
While the 2019 Toyota RAV4 has some of these features as standard, many of the others are optional extras or simply unavailable. As such, it offers a much less comfortable drive with less to take advantage of than its competition.
Though it's higher-end trims do have a variety of extra features as standard, this could be like playing catch-up with the Santa Fe's more basic models. As such, it mightn't be worth the extra money.
Buying Tip:
To avoid overpaying on a new car, shop prices online first. Get up front pricing before you walk into a dealership. We recommend the following free services;
Car Clearance Deals,
NADAguides,
CarsDirect & &
Motortrend.
These free services will offer you
the lowest prices
and supply you with multiple competing price quotes. You will know the best price before you visit the dealer.
Safety
Safety is something that Toyota and Hyundai put a significant amount of effort into when designing both of the SUVs, with this being highlighted by the various features that are on offer. While the majority of these are available as standard, there are also a few optional extras.
The 2019 Hyundai Santa Fe comes with blind-spot warning, auto emergency braking (AEB) that includes pedestrian and cyclist detection, lane-keeping assistance, active cruise control, and rear cross-traffic alert. One of the standouts here is the blind spot warning, as it also includes collision avoidance, which many may want to take advantage of.
If you choose to go for either the Santa Fe Elite or Highlander trims, then there are a few other safety features as standard. The most notable of these is what's called a Safe Exit Assist, which keeps back seats locked when you're parked if the surround-view camera detects any cars approaching. You'll also be able to take advantage of a self-parking feature.
The 2019 Toyota RAV4 also has a variety of safety features to take advantage of, including AEB that includes both day/night pedestrian detection and daytime cyclist detection, adaptive cruise control, and lane-keeping assist.
Alongside this are auto high beam lights, a rear cross-traffic alert, road sign recognition and alerts, and blind-spot monitoring. There are also a variety of features available with higher-end trims, although there aren't many.
In terms of airbags, the RAV4 does seem to have more, as each model has seven airbags, which are spread out across the dual front, front side, side curtain, and driver's knee. While the Santa Fe has airbags that cover all of the first two rows, they only do so on the windows of the third row.
While the 2019 RAV4's list of safety features is relatively long, the 2019 Santa Fe seems to takes the lead with the volume of features that are available as standard.
Which Has the Best Value?
There's quite a significant difference in price between the 2019 Toyota RAV4 and the 2019 Hyundai Santa Fe, which the 2019 RAV4 being considerably more affordable. Depending on the trim you choose, as well as whether you get any optional upgrades, you should expect to pay between $29,450 for a basic two-wheel drive GX up to $50,500 for the Cruiser 4x4.
While this is quite a large difference in price, the more expensive trims do some with considerably more features as standard, which helps to add a significant amount of value to the car. If you're looking to reduce the price and are prepared to compromise on features, there are a considerable number of trims between these two price points.
If you don't like the price of the RAV4, then there's a significant chance that you mightn't like the price points for the 2019 Santa Fe. The SUV ranges from $43,000 for an Active trim with all-wheel-drive (AWD) up to $60,795 for either the Highlander CRDi Satin Burg, Highlander CRDi Dark Burg AWD, Highlander CRDi Bury, each of which come with AWD.
Alongside these are a variety of other trims that come at various price tags, although the majority of them tend to stick to the more expensive side. The price factor alone makes the Toyota RAV4 the much more budget-friendly, although many people may wonder whether they're getting much value with the SUV.
Though both vehicles come with an extensive number of features as standard, especially with the higher-end trims, it does seem as though the 2019 RAV4 drives off with the title of better value. While you might be able to get some additional features with the 2019 Santa Fe, many of these don't seem to be worth the large asking price that comes with them.
This is especially true once you add in the warranty aspect, of which Toyota is going above and beyond. While the 2019 Santa Fe has Hyundai's five-year/unlimited-kilometer warranty alongside a lifetime service plan that costs about $400 a year. Alongside this is a complimentary first service after 1,500km.
The 2019 RAV4, however, gets a five-year unlimited-kilometer warranty, with an optional upgrade to a seven-year warranty, provided you have logbook servicing. On a more positive note, this servicing doesn't need to be done by a Toyota own dealer workshop.
Servicing cost also has a cap of $210 per maintenance visit, which is considerably lower than much of its competition. As such, the 2019 Toyota RAV4 offers much more value for your money, especially once each of the features that come as standard with the majority of its trims.
With that in mind, if you're looking for an SUV that's not going to break the bank and offers the majority of what you're looking for, then you should get exactly what you're looking for with the RAV4.
Which is Better?
Both the 2019 Toyota RAV4 and the 2019 Hyundai Santa Fe stand out in a variety of ways, with both being better in their own regards. The RAV4 could be one of the better-designed SUVs that Toyota has released in the past few years, with the mid-size SUV outmatching much of its competition.
If you're looking for something that's practical and reliable around the city, then the 2019 RAV4 may be the right choice for you. However, when compared to the 2019 Santa Fe, it does have a few notable drawbacks, with the majority of these being seen in its overall power and the features that it includes.
While Toyota has traditionally been a brand that's known for being more family-friendly, the Hyundai is much more of a family SUV here. This is primarily driven by the extra space that it offers, as well as the variety of as-standard entertainment features that are included.
Which of the two SUVs is better will depend on what your personal preferences are. While the Hyundai Santa Fe does offer much more, this is at quite a high cost. If you're looking for something that's just as reliable, if not more so, then the Toyota RAV4 is the better option.
This is further enhanced by the fact that the 2019 RAV4 costs considerably less up-front and isn't as expensive to run long-term as the 2019 Santa Fe, thanks in large part to a much better fuel economy and lower maintenance costs.
Save Money on a 2019 Hyundai Santa Fe:
Are you Shopping for a New Vehicle? Find the Best Deals with "Free - No Hassle" Prices Quotes.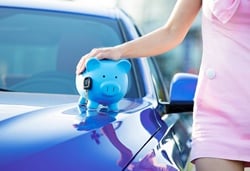 Get up to 4 local dealers to compete for your business by offering free, competitive pricing. Know before you go to the dealer.
Every dealer offers a secret price. Find yours here.