2022 Chevrolet Tahoe vs Toyota Sequoia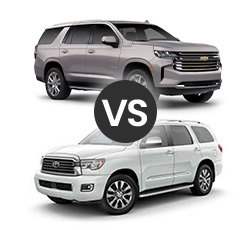 Looking for an SUV to take on all your life's big adventures? If size and dependability matter, then full-size SUVs are the perfect option. With their powerful engines and enormous cargo capacity, these vehicles can make road trips or family vacations smoother than ever before. Plus, with greater comfort features over compact models and more durability in comparison to midsize options - you're sure to get plenty of use out of a reliable ride that will last.
The 2022 Chevrolet Tahoe and Toyota Sequoia represent the best of what full-size SUVs have to offer. Both are eye catching, boasting a range of models that cater to diverse needs. Their robust designs ensure immense durability for years down the line – an ideal solution for those seeking practicality combined with luxuriousness in their vehicle choice.
Deciding between the 2022 Chevrolet and the Toyota Sequoia can be a difficult choice, so make sure you evaluate each one carefully by looking at everything it has to offer. Think about safety features, performance specs, and comfort levels - no matter which vehicle you choose in the end, both will provide great quality.
The Powertrain
Get ready for a wild ride in the 2022 Chevrolet Tahoe and Toyota Sequoia! These full-size SUVs pack quite a punch with their powerful V8 engines, guaranteed to give you an adrenaline rush as they accelerate from 0 to 60 like lightning. So hop inside these beasts and get your heart racing.
When it comes to power and acceleration, the Toyota Sequoia reigns supreme. But if you're looking for a vehicle that will take you farther on every tank of gas, then Chevy Tahoe's diesel engine makes it an obvious choice. While the 2022 Sequoia may not be ideal for long daily commutes or urban driving due its less-than stellar fuel efficiency rating, those searching for more space and guts would certainly appreciate all this full-size SUV has in store.
When it comes to driving, the Tahoe and Sequoia offer an identical experience with agile response times and a smooth ride quality. With standard RWD plus their renowned four-wheel drive systems, you're ready for whatever life throws your way - be it taking the family out around town or hauling a boat down to lakefront camping spots.
Whether you're looking for performance and longevity or just want to cruise down the highway, there's a powertrain option that will meet your needs. While both models offer impressive capabilities, The 2022 Chevrolet Tahoe stands out with an available diesel engine – something not offered by its counterpart, the Toyota Sequoia. So if it's peak oil efficiency and optimal torque control you're after, make sure to check out this year's Chevy Tahoe.
Purchasing a new SUV can involve worry, especially if you're coming off of bad repair experiences in other vehicles. However, the 2022 Chevrolet Tahoe and Toyota Sequoia provide peace of mind with their three year/36,000 mile standard warranties – no matter which one you choose.
Drivability
Cruise in luxurious comfort with the 2022 Chevrolet Tahoe and Toyota Sequoia. With their maximized cushioned interiors, these two hefty SUVs offer a plush ride that is perfect for long trips - though it may be slightly stiffer than other vehicles due to their sheer size. For drivers looking for extra stability on treacherous roads or rough terrain, they'll appreciate this stabilizing sensibility of both models.
Cargo space is an important selling element for each of these full-size SUVs. The Sequoia is slightly taller than the Tahoe at 77 inches, while the Tahoe is close behind at 75.8 inches. Comparatively, the Tahoe is nearly 211 inches longer than the Sequoia's 205 inches. While this may not matter to some, for those at the back, the extra space makes all the difference on road trips or maximizing space for packing.
If you're looking for the perfect vehicle to accommodate your entire family or business partners, then look no further! The 2022 Chevrolet Tahoe boasts seating for up to 8 passengers and ensures that everyone has enough legroom - even those in the back. So whether it's a road trip with friends or an important meeting on wheels, this SUV is sure to provide maximum comfort every time.
The Chevrolet Tahoe is an unparalleled cargo-hauler, with a whopping three more inches of room in the trunk and seven additional inches for passengers than industry leading competitor Toyota Sequoia. For those looking to store large items or transport extra people without hassle, the Tahoe delivers on both counts.
Safety
Ensuring the highest level of safety for your passengers is a priority – that's why Chevrolet Tahoe and Toyota Sequoia come with standard features like enhanced crash tests, ensuring you can ride in peace with confidence. No matter which car you choose, rest assured knowing both have been thoroughly tested to provide an optimal driving experience without compromising on passenger protection.
Both of the models offer brake assist, electronic stability control, and child safety locks as standard. In terms of enhanced safety and driver-assistive safety features, the Tahoe comes out a bit ahead offering lane-keeping assist as standard. In comparison, Sequoia makes cross-traffic alert a part of its standard package. Standard blind spot monitoring in the Toyota Sequoia alerts drivers to hazards nearby that they might not be aware of, while this feature is merely optional in the Chevrolet Tahoe.
Each of these full-size SUV models has its own, unique suite of driver-assistive safety features. In the Sequoia this setup is known as Toyota Safety Sense P, and in the Tahoe, it is referred to as Chevy Safety Assist. While the Toyota Sequoia has Dynamic Radar Control to detect hazards ahead and alter speeds accordingly, the Chevrolet Tahoe includes Intellibeam Auto High-Beam Assist, which adjusts bright lights to what may or may not be present on the road ahead.
However, you shouldn't take our word for how secure these two SUVs are. Although National Highway Traffic Safety Administration, which conducts accident tests, has given both of these cars good scores, neither has been crashed tested in their 2022 versions, yet, we can get a good indication of how they may perform from their prior model years. The Toyota Sequoia has consistently received top safety ratings among full-size SUVs in past years while the Chevrolet Tahoe follows close behind with a four-star rating.
Which Has the Best Value?
Are you struggling to decide between a Chevrolet Tahoe and Toyota Sequoia for your next full-size SUV? The Tahoe is perfect if power reigns supreme - it's unbeatable in that regard. But when navigating terrain requiring superior traction, look no further than the mighty Sequoia; its unrivaled ability to distribute power across all four wheels makes sure every journey goes off without a hitch.
If you're in the market for a reliable full-size SUV, then both the Tahoe and Sequoia are excellent options. They boast dependable performance without sacrificing drivability, plus they can easily achieve high mileage with regular maintenance - making expensive repair bills unlikely! Furthermore, their parts availability and service landscape is entirely manageable should repairs be needed along the way.
When it comes to the 2022 Chevrolet Tahoe and Toyota Sequoia, buyers have a difficult decision to make. The spaciousness of the Tahoe gives drivers increased utility for hauling cargo or passengers alike; however, those seeking comfortability may find that in its rival - with some refinements available at base levels unavailable on even top trims of the Tahoe. Ultimately there is no definitive answer as personal preference will come into play when deciding which SUV offers more bang-for-the-buck overall.
By making the leap up to Toyota's Sequoia, shoppers can receive an abundance of amenities without sacrificing a hefty chunk of their wallet. Taking this route enables them to find true luxury and convenience at lower trim levels than they could with the Chevrolet Tahoe - all while still receiving top-notch utility capabilities for whatever needs come their way.
Which is Better?
The 2022 Chevrolet Tahoe and Toyota Sequoia offer an array of features that make them both tempting options. From price, safety to dependability, these two SUVs are evenly matched; however there are subtle differences between the two which could be key in helping you choose one over the other - so it's time to evaluate what sets each vehicle apart.
The 2022 Chevrolet Tahoe is a force to be reckoned with! Ideal for daily or intense use, it's designed to deliver maximum utility and comfort. Featuring an impressive diesel engine option plus spacious second-and third-row seating, this reliable vehicle also boasts ample cargo space as well as an attractive cabin aesthetic - perfect for tackling your toughest tasks in style.
For those looking for upscale refinement in an SUV, the 2022 Toyota Sequoia sets a high bar. Its poised exterior sits taller than its competition and can be tuned to give it sportier lines should you choose. Underneath this striking frame is fuel efficiency that competes with some of the best cars on market – no small feat given its size. No matter how you customize your ride, one thing's certain: The elegant look of a luxurious Toyota will always remain apparent.
If you're looking for a vehicle to fit your daily the 2022 Toyota Sequoia is the one - providing safety, comfort and reliability without needing extra power. For those wanting more adventure in their ride however, then look no further than the 2022 Chevrolet Tahoe - offering hauling capacity and off-roading abilities that make it an ideal companion on any journey.