2022 Chevrolet Tahoe vs Toyota Sequoia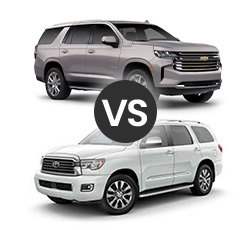 Full-size SUVs exist in a market of their own. They are over-sized, powerful, capable, and possess the maximum cargo capacity available in a personal vehicle. Not only can they be used to commute and for carpools, but they are also ideal for vacations and road trips. Since a full-size SUV will likely be used indefinitely, certain factors such as comfort and dependability are of utmost importance. In fact, many consumers will use a full-size SUV for an extended period, unlike mid-size or compact SUV models.
In this market, the Chevrolet Tahoe and the Toyota Sequoia are considered to be some of the best model options available. They are handsomely-styled, available in several model options, and are known for their longevity, Encompassing all the characteristics and attributes that full-size SUVs are known for, the 2022 Chevrolet Tahoe and the 2022 Toyota Sequoia are modern, useful, and strong.
It can certainly be difficult to decide whether the 2022 Chevrolet or the 2022 Toyota Sequoia is a better option for purchase. This is why you should carefully consider all of the safety features, performance offerings, and comfort attributes each one has to offer before making a final decision. Simply put, you can't really go wrong with either. It is just a matter of preference.
The Powertrain
If we're being honest, you really can't go wrong under the hood of the 2022 Chevrolet Tahoe or the 2022 Toyota Sequoia. There is a reason why many buyers prefer full-size SUVs, and power is a main bargaining point. Both of these SUVs offer powerful V8 engines under their hood.
Whereas the Chevrolet Tahoe excels in fuel economy in its diesel engine inclusion, the Toyota Sequoia is quicker to accelerate. In comparison, the 2022 Toyota Sequoia is not known for its fuel efficiency. So, if you're looking for a vehicle to be a daily driver for long commutes or city driving, the Sequoia wouldn't be your top choice. This doesn't mean that those looking for a bit more power or space would not appreciate the other benefits this full-size SUV has to offer, though.
In terms of driving style, you'll find similar agility, response, and ride quality between the Tahoe and the Sequoia. Both rely on an automatic transmission with standard RWD. Also, these SUVs are inherently known for their four-wheel drive offerings, which enhance their versatility. You can drive your family around town or you can haul a boat or camper to the lake with the same ease.
One of the major differences in the powertrain offerings of the Chevrolet Tahoe and the Toyota Sequoia is the Tahoe's offering of a diesel engine. The Sequoia simply can't match this. So, for those who enjoy the longevity and performance of a diesel engine, you would want to opt for the 2022 Chevrolet Tahoe over the 2022 Toyota Sequoia.
IF you've had a bad experience with large repairs in other vehicles you've owned, a reputable warranty may be something you're concerned about. There is no difference in the warranties of the 2022 Chevrolet Tahoe and the 2022 Toyota Sequoia, so that isn't something you have to worry about. Three years and 36,000 miles is the standard for each of these SUV manufacturer warranties.
Drivability
Inside these two SUVs, the interior boasts maximum comfort. This is especially true when you enter into the higher trims. However, one downfall of both models is that owners complain that their ride can be rather stiff. This is to be expected, due to the sheer size and structuring of these hefty SUVs. In fact, some owners enjoy this aspect of the 2022 Chevrolet Tahoe and the 2022 Toyota Sequoia, because it helps them feel a bit more grounded in their drive and more stable in hazardous driving conditions.
Cargo is one of the main selling points of each of these full-size SUV models. Differing a bit in their build, the Sequoia stands taller at 77 inches, while the Tahoe follows close behind at 75.8 inches. Comparatively, the Tahoe is longer at nearly 211 inches than the Sequoia at just over 205 inches. While this may not matter to some, for those in the back the extra space makes all the difference on road trips or maximizing space for packing.
Each of these SUVs can seat up to eight passengers, which is perfect for large families or for those planning to use them for business purposes. All around, passengers in all rows will get a few extra inches of legroom in the 2022 Chevrolet Tahoe. So, if you have older kids who will sit in the back, this may be a point to consider for comfort measures.
Additionally, the 2022 Chevrolet Tahoe has around three additional inches of cargo volume over the 2022 Toyota Sequoia. In fact, in the third row space, the Tahoe boasts nearly seven inches more space than its Sequoia rival. Overall, the total cargo volume throughout the 2022 Chevrolet Tahoe is unmatched by any top competitors, including the 2022 Toyota Sequoia.
Safety
When you are responsible for the well-being of multiple passengers, as is the case with the Tahoe and the Sequoia, safety enhancements and crash test results are of utmost importance. Having the comfort of driving around with the knowledge that your passengers are as safe as can be is a top priority for many. Throughout the 2022 Chevrolet Tahoe and the 2022 Toyota Sequoia, you'll find many of the same standard safety features that contribute to this priority.
Brake assist, electronic stability control, and child safety locks come as standard on both models. In terms of enhanced safety and driver-assistive safety features, the Tahoe comes out a bit ahead. It offers lane keeping assist as standard. In comparison, the Sequoia makes cross-traffic alert a part of its standard package. Standard blind spot monitoring in the 2022 Toyota Sequoia alerts drivers to hazards nearby they may not be aware of, while this feature is merely optional in the 2022 Chevrolet Tahoe.
Each of these full-size SUV models has their own, unique suite of driver-assistive safety features. In the Sequoia this setup is known as Toyota Safety Sense P, and in the Tahoe it is referred to as Chevy Safety Assist. While the 2022 Toyota Sequoia offers Dynamic Radar Control to sense hazards ahead and adjust speeds to its findings, the 2022 Chevrolet Tahoe has Intellibeam Auto High-Beam Assist that adjusts bright lights to what may or may not be present on the road ahead.
Don't just take our word for the safety of these two SUVs, though. The NHTSA, which is responsible for vehicle crash testing, even ranks both of these models highly. Although neither has been crash tested in their 2022 versions, yet, we can get a good indication of how they may perform from their prior model years. In previous years, the Toyota Sequoia has been ranked as one of the highest rated full-size SUVs for safety. The Chevrolet Tahoe follows close behind with a four-star rating in years past.
Which Has the Best Value?
Determining which full-size SUV is a better value between these two models depends on what each buyer's preferences are. For example, if you're interested in pulling heavier loads, then the 2022 Chevrolet Tahoe is hands down the best option. Yet, if you're looking for better traction and stability then the 2022 Toyota Sequoia does a better job of distributing power to its wheels than the Tahoe.
Yet, we all know that vehicle performance and drivability aren't the only considerations that should be made when purchasing a new SUV. The likelihood of breakdown, availability of parts, and ease of finding service repair shops willing to take on such repairs is also important. On this spectrum, neither the Tahoe nor the Sequoia are highly specialized to the point that you wouldn't be able to commonly find repair shops. Not to mention, the availability of replacement parts is fairly dependable. Both of these full-size SUV models are known for easily attaining high mileage without experiencing major repair bills, as long as they are routinely maintained.
Practicality is a consideration to make in comparing the 2022 Chevrolet Tahoe and the 2022 Toyota Sequoia. The Tahoe is certainly more utilitarian and spacious, while the Sequoia offers a level of refinement in base models that can only be reached in the top trims of the Tahoe. Versatility and cargo reign supreme in the top attributes of the 2022 Chevrolet Tahoe, while comfort and smooth driving are top features for the 2022 Toyota Sequoia. Whichever of these attributes holds a higher priority is highly individualized for each buyer, so it can be debatable which of these SUV models is a better value overall.
You'll find that you get more in lower trim levels in the 2022 Toyota Sequoia than is available in the 2022 Chevrolet Tahoe. In the Tahoe, you have to shell out more money and move up substantially in trims to get the same amenities that you would in the lower-tier models of the Sequoia. This may make a big difference for buyers who want an upscale feel with a utilitarian purpose, which the 2022 Toyota Sequoia can eaisly offer.
Which is Better?
Deciding between purchasing a 2022 Chevrolet Tahoe or a 2022 Toyota Sequoia can be tasking. Aside from being extremely comparable, these two models are competitive in price, safety features, and dependability. There are just a few areas in which these two SUVs distinguish themselves from one another, and that may be all a potential buyer needs to evaluate to come to the ultimate decision of buying one over the other.
If you're looking for a powerhouse that has plenty of cargo space, expansive room for passengers, and multiple powertrain options, then the 2022 Chevrolet Tahoe is the one for you. It offers a diesel engine option, spacious second-and third-row seating, and a utility aesthetic that flows throughout the cabin. This model is perfect for regular use and heavy towing, as well.
However, if you'd like a bit more refinement in your SUV's design then you may want to consider the 2022 Toyota Sequoia. Even in its base model, this full-size SUV is a bit more luxurious and sleek than the Chevrolet Tahoe. The Toyota Sequoia also has a larger exterior aesthetic, as it sits higher than the Tahoe. It can be modified to be more athletic and sporty, but its high-end concepts are still easily recognizable. Not to mention, it's fuel efficiency is pretty impressive for a vehicle of this size and stature.
Ultimately, if you plan on taking your SUV off-road or on hauling heavy, then the 2022 Chevrolet Tahoe would undoubtedly be a better option. If you are in search of a daily driver without the need for extra power or space, then the 2022 Toytoa Sequoia would be suitable.