2022 Hyundai Santa Cruz Prices: MSRP vs Dealer Invoice vs True Dealer Cost w/Holdback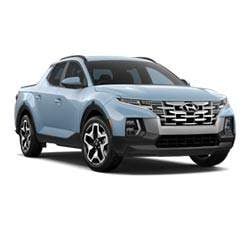 Price terms Used in this Guide:
MSRP |
Invoice Price |
Destination Fee |
Holdback |
Dealer Cost
Hyundai Santa Cruz Pricing for the SE, SEL, SEL Premium and Limited Trims
2022 Santa Cruz - Style: SE - 4-Door SUV with FWD. Powered by by a 2.5L, 4 Cylinder, Gas Engine w/ Automatic Transmission.

2022 Santa Cruz - Style: SE - 4-Door SUV with AWD. Powered by by a 2.5L, 4 Cylinder, Gas Engine w/ Automatic Transmission.

2022 Santa Cruz - Style: SEL - 4-Door SUV with FWD. Powered by by a 2.5L, 4 Cylinder, Gas Engine w/ Automatic Transmission.

2022 Santa Cruz - Style: SEL - 4-Door SUV with AWD. Powered by by a 2.5L, 4 Cylinder, Gas Engine w/ Automatic Transmission.

2022 Santa Cruz - Style: Turbo SEL Premium - 4-Door SUV with AWD. Powered by by a 2.5L, 4 Cylinder, Gas Engine w/ Automatic Transmission.

2022 Santa Cruz - Style: Turbo Limited - 4-Door SUV with AWD. Powered by by a 2.5L, 4 Cylinder, Gas Engine w/ Automatic Transmission.

These services will offer you the lowest prices and supply you with multiple competing price quotes. You will know the best price before you visit the dealer.
How to Calculate The Dealer Cost of a Hyundai Santa Cruz
Formula for Calculating Dealer Cost:
Example: Base Hyundai Santa Cruz invoice price + the dealer Invoice price of all the options + destination - Holdback = Total Dealer Cost.
What is Holdback? A hidden amount that manufacturers give back to a dealer. It is a percentage of the MSRP or the Invoice price.
Total Dealer Cost - Rebate and Incentive + Taxes / Licensing Fees = True Dealer Cost. (You can get rebates and incentives here)
Hyundai Santa Cruz Overview:
The 2022 Santa Cruz is a first for Hyundai. The company calls it a Sport Adventure Vehicle, and it's the first of its kind. This vehicle has a combination of features that make it similar to both a pickup truck and an SUV. Up front, it has a comfortable cabin similar to what an SUV offers, and in the back, there's a practical truck bed.
Exterior Features
When looking at the Santa Cruz from the exterior, it's clear that this vehicle has its own unique benefits. The truck bed is perfect for carrying a variety of gear. It's durable, and it has some useful components, including heavy-duty D-rings that can secure cargo.
There's an underfloor storage area built into the bed. This compartment can be used to store smaller items, and it can even be used as a cooler. Better yet, it can be locked so that items can stay safe. The tailgate itself has some interesting elements. It can be opened with the touch of a button on the key fob, and its height can be adjusted if long equipment needs to be supported.
To give people better access to the truck bed, there are integrated rear bumper steps. A person can use the step to get a boost if he/she is simply reaching in for something. In addition, some trims have a 115-volt power outlet and an adjustable utility track rail and cleat system. Plus, they could have an integrated tonneau cover.
LED lights make the Santa Cruz look more modern. It comes standard with LEDs in its daytime running lights and taillights, and it has an LED cargo light as well. Some of the trims have LED headlights instead of halogen ones, and they could even have premium LED daytime running lights and LED bed lights.
It's helpful that the headlights and high beams can turn themselves on and off. Also convenient are the available heated side mirrors. Those side mirrors can have LED turn signals integrated into them to make it easier for others to see if the driver of the Santa Cruz is planning a turn.
Mechanical Components
There are four trims of the 2022 Hyundai Santa Cruz. The first two use 2.5-liter, four-cylinder engines. The other two also have four-cylinder engines and displacements of 2.5 liters, but the big difference is that they have turbochargers. Without the turbocharger, the engine can make 191 horsepower and 181 pound-feet of torque. With the turbocharger, horsepower is increased to 281, and torque is 311 pound-feet.
Another important factor has to do with the Santa Cruz's drivetrain. The first two trims can have either front-wheel or all-wheel drive. Those equipped with turbo engines automatically come with all-wheel drive. They get to have eight-speed wet dual clutch transmissions rather than the standard eight-speed automatic transmissions that the lower trims have.
The good news for those who have big plans for their vehicles is that the Santa Cruz has a solid towing capacity. It can tow up to 5,000 pounds when properly equipped. When it's weighted down in the back, it can make adjustments in order to even itself out, thanks to a self-leveling rear suspension.
Fuel economy isn't bad with the Santa Cruz, but it isn't great, either. It can earn up to 27 miles per gallon on the highway and 21 miles per gallon in the city.
Inside the Cabin
With two rows of seats, the Santa Cruz can comfortably hold five passengers. Second-row leg room is decent, with there being 36.5 inches of leg room back there. This means that adults could ride in the back seat, even on longer road trips.
Three out of the four trims have cloth upholstery on their seats. The cloth isn't just a basic cloth; it's a stain- and odor-resistant material. The top trim has leather seats to add some refinement. A power-adjustable driver's seat with lumbar support is available, and so are heated front seats. The top trim takes things a step further with ventilated and heated front seats.
More high-end elements include a heated steering wheel, a leather-wrapped steering wheel, and LED interior lighting. Another available feature is a power tilt-and-slide sunroof. This can make the cabin feel more open and can be used to bring in some fresh air.
Technology is a strong suit for Hyundai. It has equipped this model with a touchscreen, Android Auto and Apple CarPlay, and Bluetooth. Trims higher up in the lineup have SiriusXM, remote engine start, and proximity key entry.
Most of the Santa Cruz models have touchscreens that measure eight inches. On the top-level trim, the touchscreen measures 10.25 inches, and it comes with navigation. People can use the information provided by the system to stay updated about traffic conditions.
To keep devices charged, there are a few options. Every trim has two USB outlets in the front row, and some can have a pair of USB outlets in the second row as well as wireless charging.
With its unique design, the Hyundai Santa Cruz should be able to make its presence known. It could be ideal for those who like going on adventures and have a lot of gear to take with them.
Note: All Hyundai Santa Cruz MSRP, invoice and dealer cost dollar figures above are subject to change without notice.
A note about rebates: Most rebates are subtracted from the "on the road" figure. In most cases, you can have the rebate if you are arranging your own financing or you are paying cash. If you decide to use the manufacturer's low interest financing, you do not usually get the rebate. Ask your dealer for details.